Sam Asghari is an Iranian-American model, fitness trainer and actor with well over 750,000 loyal followers to his name, he can also be described as a bonafide Instagram star. Asghari is definitely good at what he does as evidenced by the several features he has made in a number of notable magazines, however, this Iranian-born hunk has gained a lot of media attention following his whirlwind romance with music royalty Britney Spears. Despite the intense media scrutiny, not much is known about Sam Asghari. Let's unravel this "mysterious" multitalented internet star who is on the path to take Hollywood by storm.
His Bio, Age, Nationality
Born on March 3, 1994, Sam Asghari is of Iranian nationality. He was born to Mike and Fatima Asghari in Iran's capital city of Tehran and raised alongside three older siblings, sisters Maddie, Ellie, and Faye. At age 2, his father relocated to the United States while the rest of the family remained in Tehran. Eventually, Sam, alongside his mother and sisters, joined their father in the US when he was a teenager. One of his sisters Farzaneh "Faye" Asghari is also a fashion model.
From a pretty young age, Sam Asghari had ambitions of going into law enforcement or becoming a sports star. He eventually settled for sports when he arrived in Los Angeles at the age of 12. After a fairly successful high school football career, Asghari's dreams were cut short when he was dropped from the football team of the University of Nebraska-Lincoln. Having lost his chances of becoming a professional athlete, the youngster stopped exercising and equally paid little attention to his nutrition. As a result, his body weight hit an alarming 290 lbs which sent him into a bout of depression.
Sam Asghari was working 3 jobs at that time, one of which was as a gym sales rep. Six months after missing out on the college football scholarship, Sam Asghari made the life-changing decision to quit 2 of his 3 jobs to take up a fulltime at the gym. That decision paid off as he was able to reduce his body weight by nearly 100 lbs. Armed with the new-found confidence from a ripped body, the Iranian-born hunk spread his tentacles from just fitness training to showbiz as he delved into modeling and acting.
Since the inception of his modeling career, Sam Asghari has scored several magazine features including Iron Man Magazine and Men's Health (MH). He got signed to Wilhelmina models in April 2016. Asghari also featured in the music video of the song "Work from Home" by American girl group Fifth Harmony.
See Also: Toni Mahfud Bio, Brother, Ethnicity, Wiki, Age, Height, Gay, Girlfriend
Everything To Know About Sam Asghari
Girlfriend, Relationship with Britney Spears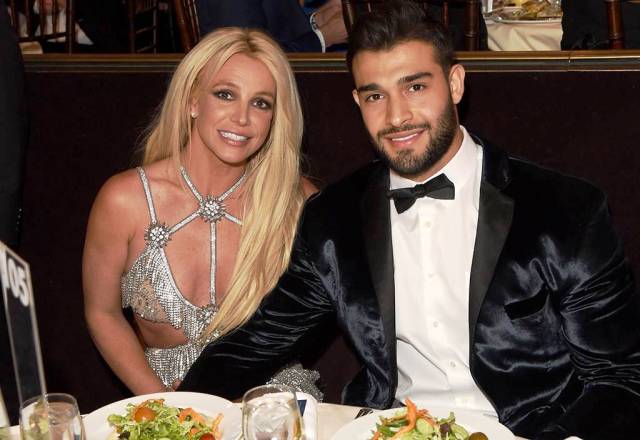 Sam Asghari and Britney Spears are said to have met while filming the video of the singer's 2016 hit single "Slumber Party". Asghari starred as the singer's love interest in the music video and their on-screen chemistry has since translated into a full-blown real-life relationship. Despite their initial connection, it is interesting to know that the couple did not get in touch until several months after their first meeting. Spears made the decision to call Asghari 5 months after they exchanged contacts and as they say, the rest is history.
Asgari and Spears kept their relationship private during it's earlier stages but once the lid got off, this couple has remained untamed. Their relationship was first known to the public in November 2016 after Asghari posted a social media picture of himself on a date with the singer. However, the photo was deleted almost as quickly as it was posted. The couple eventually certified the speculations to be true in March 2017 when Spears posted a video of Asghari's 23rd birthday celebration on her social media handle.
Despite the 12-year age gap between the two, the relationship between Sam Asghari and Britney Spears has lasted for a relatively long while, at least by Hollywood standards. There has been massive PDA, major public appearances, loved up social media posts and every other attribute of a modern Hollywood relationship. In January 2018, there were rumours of a possible engagement between the couple after Spears was spotted at a Hawaii beach wearing what seemed like a sparkly diamond engagement ring.
See Also: Alex Lange Bio, Age, Height and Other Facts To Know About The Model
Height And Other Body Measurements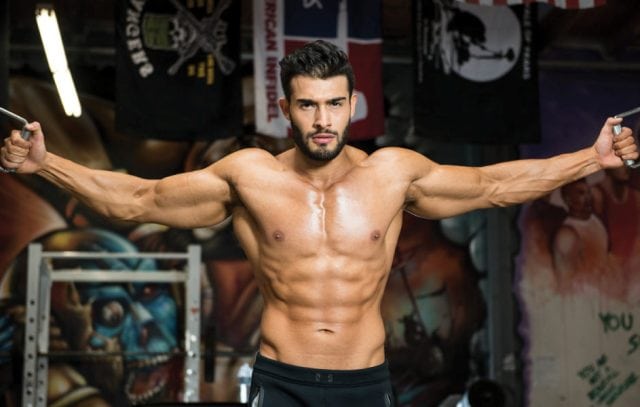 Sam Asghari stands at an impressive height of 6 feet 2 inches (188 cm). He sports an athletic physique with a body weight of 87 kg (192 lbs). Being a fitness trainer, it comes as no surprise that Asghari sports a perfectly-sculpted physique; eight-pack abs and massive biceps, this Iranian hunk is the total package. His chest circumference measures 46 inches (117 cm) while his biceps and waist sizes are 18.5 inches (47 cm) and 35 inches (89 cm) respectively. He has brown eyes and his hair is dark brown in colour.