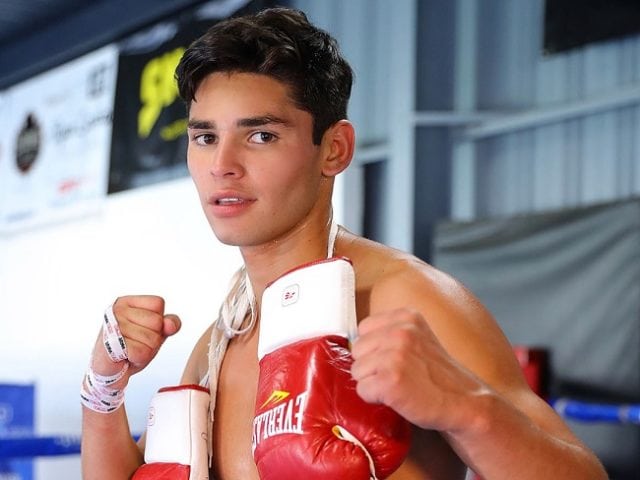 The World Boxing Hall of Fame (WBHF) and the International Boxing Hall of Fame (IBHOF) are the two internationally recognized establishments that acknowledge and honor the contributions of boxers and other individuals to the combat sport. Some inaugural inductees are Muhammad Ali, Joe Loius, and Ezzard Charles. These ones fought their way through to the top. Disregarding the veterans, several newbies in the profession are currently fighting to hopefully get their names inscribed in the hall of fame as well. Ryan Garcia is one of them.
Without a doubt, Ryan is one of the finest professional boxers around with a lot of promise. So far, he has never lost a single match since his debut in 2016.
Ryan Garcia Bio (Age)
Ryan Garcia is an American of Mexican descent born to Henry and Lisa Garcia on the 8th of August 1998. His dad once had a dream of being a boxer (like his brother, Sergio Garcia) but decided otherwise and became a trainer instead. He began training Ryan as early as age 7 and also trained his younger son, Sean Garcia and Ryan's best friend, Lawrence The Dawg King – a middleweight professional. Sean made his professional debut in 2017, he fights in the super bantamweight division.
Ryan trained for a long time with his father, brother, friend, and uncle who left boxing when he got married. He has three other younger siblings (sisters) besides Sean. The boxer and his brother continue to enjoy amazing support from both their mother and father who happen to be USA (Amateur) Boxing officials.
The Victorville, California born boxer is currently based in Los Angeles. He is popular for his amazing professional record and also well liked on social media. As of the time of this writing, he has over 104,000 followers on Twitter which he joined in June 2016. The Flash as he is fondly called also has a huge following on Instagram of about 1.3 million.
This bloke always looks for ways to give back to the society and has made a number of philanthropic donations. In 2017, he presented the Boxing Club at High Desert with new gym equipment and $1,000.
His Boxing Career
Ryan Garcia fights under the super featherweight division. He made his professional debut on the 9th of June 2016 in a fight against Edgar Meza which he won in the first round following a TKO. The fight was held at Tijuana, Baja, California. He already had a 215-15 boxing record during his career as an amateur.
The Flash could also boast of 14 different national titles. He came first in the Silver Gloves, National Pals, Junior Golden Gloves, and even Junior Olympics. He also finished second at the 2014 Junior Worlds event. Ryan 'Kingry' Garcia was signed up by the Golden Boy Promotions under the management of Oscar De La Hoya in 2016. The boxer is currently rated as the 24th of 1478 in the world and 4th of 174 in the USA. Of his 16 matches, 13 have been won by knockouts (KOs).
He has also fought with Hector Garcia, Luis Lozano, Christian Cruz, Jonathan Cruz, Mario Aguirre, Jose Antonio Martinez, Tyrone Luckey, Mario Macias, Cesar Alan Valenzuela, Noe Martinez Raygoza, Fernando Vargas, and Jayson Velez in his professional career. Ryan won the NABF Junior super-featherweight title in 2017 and retained it even after two contentions. On 4th May 2018, he won both the NABO and NABF super-featherweight titles.
One really astounding victory was in his fight with Miguel Carrizoza in 2017 where he knocked him out in less than 30 seconds. On the 1st of September 2018, he fought with Carlos Morales at Fantasy Springs Resort Casino in Indio, California. Ryan came out victorious after the 10th round by major decision. Although he won, the match was described by many as lackluster – it didn't meet up to the hype it had created.
Net Worth – How Rich Is He?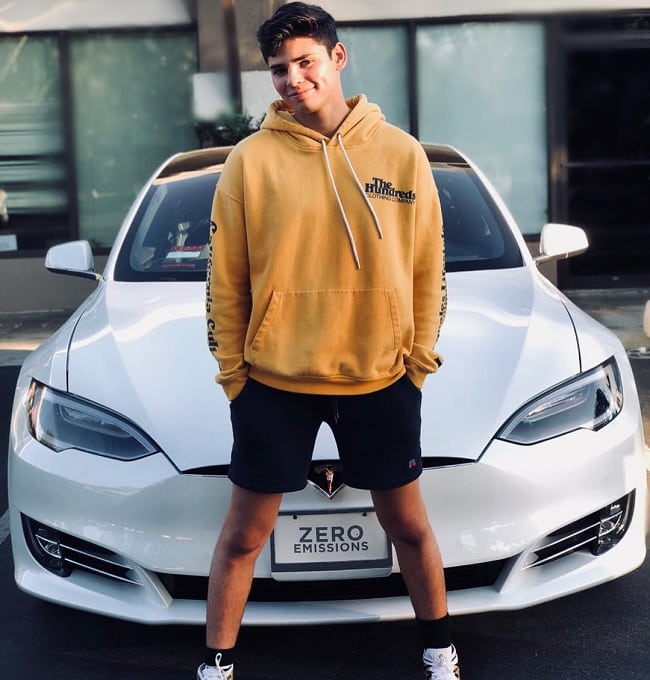 Ryan definitely has a lot to work on if he must remain undefeated and fulfill his dream of being an Olympian. Nevertheless, there is no denying that his boxing endeavor has enriched him. Several figures have been quoted as the overall worth of his wealth but we haven't been able to substantiate any of them.
See Also: Mikey Garcia Wife, Height, Weight, Net Worth, Boxing Career 
Height and Weight
The Flash is 5 feet 11 inches (178 cm) tall and as he competes in the junior lightweight division, his weight should be between 57 and 59 kg.