Rick Ross' net worth is estimated to be $40 million, and this makes him one of the richest rappers in the world. Rick Ross is an American rapper, songwriter, entrepreneur, record executive, producer and CEO who has sold millions of albums and tens of millions of singles worldwide
| Net Worth: | $40 Million |
| --- | --- |
| Age: | 47 years old |
| Born: | January 28, 1976 |
| Country of Origin: | United States of America |
| Source of Wealth: | Rapper/Producer |
| Last Updated: | 2022 |
The name Rick Ross rings a loud bell in the world of hip hop at the moment. There is probably no rap fan in the world, who does not know about the Rick Ross brand and this is understandable considering the many exploits the rapper has done since his career kick-started.
In the course of his illustrious career, the superstar rapper has solidified his presence in hip hop, winning awards in recognition of his excellence. All these has earned Rick Ross a net worth of $40 million
At the height of his fame, Rick Ross beamed his creative energy all over the USA and beyond and was one of the highly-mentioned names on the lips of every rap fan across the globe. He sold millions of records and has toured the world to thrill fans with his musical prowess. However, he has also faced several challenges in his career.
What Do We Know About Rick Ross' Childhood?
Rick Ross was born on the 28th day of January in the year 1976. It is noteworthy that even though he is now known globally as Rick Ross, his real birth name is William Leonard Roberts II.
Like we have hinted earlier, the rapper is a native of Clarksdale, a city in Mississippi, the USA.  Although he was born in Mississippi, it was in Carol City, Florida, that the rapper grew up.
He did have some form of formal education. Growing up, he attended the Miami Carol City Senior High School. There, he played football for his school, through which he earned a football scholarship to study at Albany State University, a historically black University.
His post-education days started with him working in the capacity of a correctional officer, a position he held from December 1995 until he quit in June 1997.
How The Rapper Got Into Music
While still working as a correctional officer, Rick Ross had his eyes on making music. He eventually resigned in 1997 to focus on rap. Eventually, he joined Suave House Records, where he made his debut. At the time, his stage name was Teflon Da Don, and he lent his skill on Eric Sermon's Def Squad Presents Erick Onasis song, "Ain't Shhh to Discuss." Thereafter, in the mid-2000s, he changed his stage name to Rick Ross.
This decision was based on inspiration from the name of a former drug lord "Freeway" Rick Ross. It is noteworthy that he has no connection with the drug kingpin. He soon moved on and signed to Slip-n-Slide, a subsidiary label of Def Jam Records since 2006. Here, he continued to grow his career with features and tours, most notably with label mate, Trick Daddy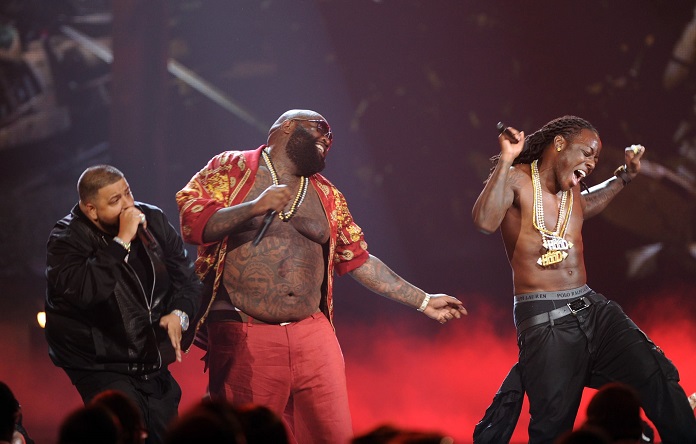 Rick Ross' Many Exploits in Hip Hop Music
Rick Ross went on to release his debut album titled Port of Miami under Slip-n-Slide. The album debuted at the No.1 spot on the Billboard 200 and sold over 187,000 units in its first week. It is the second single Push It was the theme song for the gangster movie Scarface. Later in the same year, he also did two features on DJ Khaled's debut album Listennn…the Album. Interestingly, his first album was also certified Gold by the RIAA on November 8, 2006.
March 2008 saw the release of his second studio album, Trilla, also debuting at the top spot on the Billboard 200. The album features popular stars such as R.Kelly and T-Pain, Nelly and Trey Songz. The first two single features earned him a number 21 and 17 spots on the U.S Billboard, Bubbling Under Hot 100 Singles and the Hot 100, respectively. The following year, which happens the year he signed up with P.Diddy's Ciroc Entertainment, Ross would release his next album titled Deeper Than Rap. In the single Valley of Death, he addressed issues on his time as a correctional officer.
He has released numerous projects since 2010 while working with top acts like JayZ, Meek Mill, and Jeezy. He received numerous Grammy nominations between 2012 and 2017. His 2013 God Forgives, I Don't album was nominated for Best Rap Album, while his single Purple Lamborghini was nominated for Best Song Written For Visual Media.
So far, he has released 10 studio albums, selling out millions of records. He has also built a large community of loyal followers online, with millions of fans following his every move on the internet.
Life Has Not Been Completely Rosy For Rick Ross
Having found huge success as a musician, and become wealthy as a result, Rick Ross now lives in luxury and opulence. However, it is noteworthy that life has not completely been a rosy journey for the superstar.
He Has Had Health Problems
Rick Ross has had health issues in the past. On the 14th of October in 2011, the rapper made headlines after suffering from two seizures on the very same day; one in the morning and the other in the evening.
The first seizure actually left Ross unconscious. He was resuscitated with CPR but after suffering the second seizure, he was instantly admitted to the hospital to recuperate and was soon declared fit again after a series of tests were conducted on him.
Again, in 2018 the rapper suffered another scary health challenge; he was rushed to hospital after he was found in an unresponsive state inside his home in Miami, Florida. A heart attack was suspected at the time. He was put on life support and was in the hospital for some days before he was released again.
The Rapper Has Had Legal Battles Too
Over the years, Rick Ross has fought a number of legal battles. In January 2008, he was arrested and charged with gun and marijuana possession. Not too long after, in August 2008, a YouTube entertainer called DJ Vlad filed a lawsuit against Ross for assault and battery.
In 2010, a drug trafficker named "Freeway" Rick Ross, sued Rick Ross to court, slamming him with a copyright infringement lawsuit and claiming that the rapper was using his name. Rick Ross later won the case which dragged till 2013.
Years later in 2015, Rick Ross and his bodyguard were arrested and charged with kidnapping and assault in Fayette County, Georgia. The two men were said to have beaten a lands keeper after forcing the man into a guesthouse.
What is His Net Worth and How Rich Is He Now?
There is no doubt at all that Rick Ross has made a lot of money from music. The rapper has recorded songs that have topped the U.S. Billboard 200 album chart and has sold millions of records in the process.
He has also performed all around the world, selling out concert venues and touring in front of enthused fans. Apparently, touring and other stage performances fetch him a lot of money. At the moment, Rick Ross' net worth has been pegged at about $40 million by different sources.