Princess Eugenie is a member of the British royal family. She is the younger daughter of Prince Andrew and Sarah Ferguson, Duke and Duchess of York respectively. She got married to an English bar manager and brand ambassador named Jack Brooksbank in 2018.
It's quite difficult to find someone who isn't intrigued by royalty. It is true that monarchs across the world no longer wield as much political power as they did in the past centuries but don't be fooled; they still hold so much influence, perhaps more than you'd like to believe.
The British Royal Family, arguably the peak of all monarchies in the world, steeped in history, never ceases to impress with its longevity. Headed by the matriarch of the House of Windsor, Queen Elizabeth II, some members of the Royal family have enjoyed the limelight more than others, some by design, and others by no efforts of theirs.
Some have deliberately, over the years, almost slipped under the radar unnoticed. One of these reserved members of the royal family is Princess Eugenie of York.
Summary of Princess Eugenie's Biography
Full name: Princess Eugenie
Nickname: Eugenie Victoria Helena
Gender: Female
Date of birth: 23 March 1990
Princess Eugenie's Age: 33 Years Old
Ethnicity: White
Nationality: British
Zodiac Sign: Aries
Sexual Orientation: Straight
Religion: Christianity
Marital Status: Married
Princess Eugenie's Husband: Jack Brooksbank
Princess Eugenie's Children:

 

August Philip Hawke Brooksbank

Princess Eugenie's Parents: Prince Andrew and Sarah Ferguson
Siblings: Princess Beatrice
Princess Eugenie's Height in Inches: 64.9
Princess Eugenie's Height in Centimetres: 165
Princess Eugenie's Net worth: About £792,869
Famous for: Being a member of the British royal family
Princess Eugenie's Instagram: princesseugenie
Twitter: Princess Eugenie
What Is Princess Eugenie Of York's Age and When Was She Born?
Born as Eugenie Victoria Helena on 23 March 1990 at the Portland Hospital for Women and Children London, Princess Eugenie is the younger daughter of Prince Andrew, Duke of York, and Sarah, Duchess of York.
Eugenie is Queen Elizabeth II's third of four granddaughters, and the tenth in line to the succession to the British Throne. Her father, Prince Andrew, Duke of York is the third child and second son of Queen Elizabeth II and Prince Philip, Duke of Edinburgh. As for her royal title, Eugenie is addressed as "Her Royal Highness Princess Eugenie of York."
Baptized at the Church of St Mary Magdalene, Sandringham, by the Bishop of Norwich, Eugenie is the first royal baby to have a public christening; the rest before her were private ceremonies.
She is also the only one among the Queen's grandchildren not to be baptized in the Lily Font. She and her elder sister Princess Beatrice are the only products of their parent's union.
When she was only six years old, her parents ended their marriage in a much-publicized divorce. Unlike most messy divorce cases, her parents' separation was handled with minimal rancor, with both parties gaining joint custody of the kids. Much later in life, Princess Eugenie would laud them as "the best-divorced couple" she knew.
At the age of 12, Eugenie underwent back surgery at the Royal National Orthopaedic Hospital in London to correct scoliosis. Scoliosis is a condition that affects the spine, causing it to curve and twist to the side. She has metal rods inserted in her back to help keep her straight.
She schooled at Winkfield Montessori from 1990 to 1993. Thereafter, she joined Upton House School in Windsor. The Princess also attended Coworth Park School and enrolled herself in St George's School. She acquired a combined BA Honours in Politics, History of Art, and English Literature from Newcastle University in 2012.
Princess Eugenie's Fact Card
What Does Princess Eugenie Do for a Living?
Princess Eugenie may be a member of the royal family and the youngest daughter of Prince Andrew and Sarah Ferguson, but she is practically not a "working royal," which simply means she performs no royal duties in the name of the queen as Harry and William do. That, however, is not to say that she does not attend royal events. As a non-working member of the royal family, she and her sister Beatrice are not entitled to benefits or allowances from either the Sovereign Grant or Royals Salaries.
Wealth and royalty go hand in hand, and no matter how un-involved the Princess is with the royal business, she is bound to be worth a substantial amount of money. Upon completing her education, the princess moved to New York in 2013. There, she began to work for the online auction firm Paddle8 as a benefits auction manager. She worked with Paddle8 for 2 years before returning to London in 2015.
While in London, she took the position of associate director at the London-based contemporary art gallery, Hauser & Wirth and has been there ever since. In 2016, the princess revealed that her love for arts dates back to her childhood years and that she is willing to continue sharing her passion for art with people.
In addition to her salaries from her job, Princess Eugenie is also a partaker of the Queen mother's 1994 trust estimated at £19 million (about $25.2 million). While Harry and William have the lion share from the money, the Queen's grandchildren, including Eugenie and her sister also have a good share from it.
When her parents separated, Eugenie, Beatrice, and their mother Ferguson received about $3.9 million as a settlement from the royal family. Out of the huge amount, the sum of $1.8 million was reportedly put in a trust for the two Princesses. When combined with her fast-rising salary, Princess Eugenie's net worth is believed to fall around $5 million.
Meet Princess Eugenie's Husband, Jack Brooksbank
The princess and her now-husband dated for nine years before settling down as a couple in 2018. Eugenie and Jack Brooksbank began their relationship in 2011 after they met through their mutual friends at the Swiss resort of Verbier. Jack worked as a London nightclub manager and party fixer. From there, he went on to work as the manager of the famous Mahiki Night Club in Mayfair. He later moved on and established his wine business. Currently, he serves as the brand ambassador of Casamigos Tequila, which was co-founded by George Clooney.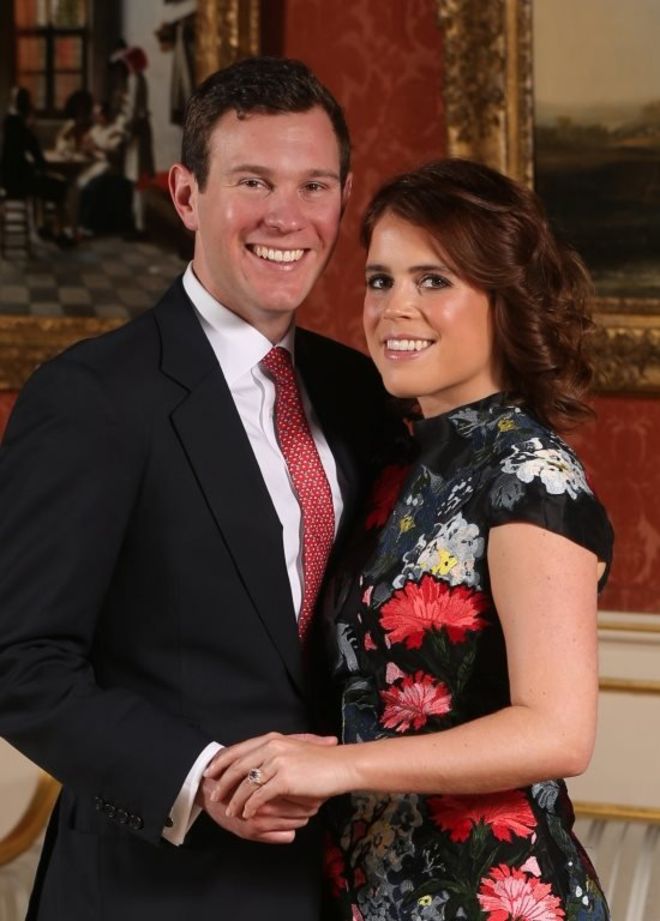 Buckingham Palace announced the engagement of Princess Eugenie and Jack Brooksbank on the 22nd of January 2018, and their wedding took place at St George's Chapel, Windsor Castle on October 12, 2018. The marriage between Eugenie and her long-time boyfriend caused no public stir of any sort as the queen's approval is not needed for them to unite.
Aside from being a couple, Eugenie and her husband are somehow related. They are both distant cousins as they share a common ancestor: Thomas William Coke, the 19th-century aristocrat and the 2nd Earl of Leicester.
Despite her royal status, Princess Eugenie remains the public's favorite, thanks to her down to earth approach. In her desire to live a normal life and to let people see and accept her without any royal attachment, she has been involved in charity works and has traveled to several places to fulfill her dreams of helping the needy.
She is the Patron of the Teenage Cancer Trust, as well as the ambassador for the Artemis Council of the New Museum. She was also named as the patron of Anti-Slavery International in October 2019.