Iconic Hollywood actor Peter Falk is fondly remembered for his portrayal of the titular character Lieutenant Columbo in the hit crime drama series Columbo which lasted from 1968 to 2003. Beyond his impressive work on the small screen, he also had notable big-screen credits, particularly in the comedy genre. Some of his most memorable film credits include Murder, Inc., Pocketful of Miracles, Anzio, A Woman Under the Influence, Murder by Death, and The Cheap Detective.
Falk was greatly lauded during his over 5-decade acting career, he earned 2 Oscar nominations, 5 Emmy Awards, and one Golden Globe Award. Back in 1961, he made history as the first actor to be nominated for an Academy Award and an Emmy Award in the same year, a feat which he replicated the following year. In 2013, the iconic actor was honored with a star on the Hollywood Walk of Fame.
Peter Falk Bio
Peter Michael Falk was born in September 1927 in Ossining, a village in Westchester County, New York. His mother Madeline (née Hochhauser) and his father Michael Peter Falk were both Jewish. He attended Ossining High School and for his college education, he studied literature and political science at the New School for Social Research in New York City. He equally earned a Masters degree in Public Administration from Syracuse University.
Prior to the start of his acting career, Peter Falk worked with the Connecticut State Budget Bureau in Hartford. While at it, he joined a local theatre group where he performed in stage plays and also enrolled for an acting class. He quit his job after a few months and relocated to Greenwich Village, New York, to pursue acting. He got signed to an agency and began his career as a stage actor.
Films and TV Shows
He marked his screen debut with a small role in the film Wind Across the Everglades (1958) followed by similarly small roles in The Bloody Brood (1959) and Pretty Boy Floyd (1960). He got his breakout role in the gangster film Murder, Inc. (1960) in which he portrayed the supporting character, Abe Reles. Falk's performance in the film earned him an Oscar nomination and it also transformed him into a bonafide movie star.
His next major role was in the comedy flick Pocketful of Miracles (1961) for which he received a second Oscar nomination for Best Supporting Actor. Falk was also on the star-studded cast of the comedy It's a Mad, Mad, Mad, Mad World (1963) and he also starred in Robin and the 7 Hoods (1964) and The Great Race (1965).
Peter Falk's television career began at about the same time as his film career. He received his first Emmy Award nomination in 1961 for guest-starring in the short-lived series The Law and Mr. Jones. In 1962, he won his first Primetime Emmy Award for his performance in the series The Dick Powell Theatre (1962-63). He also portrayed the titular character in the series The Trials of O'Brien (1965-66).
In 1968, the talented actor got his career-defining role as Lt. Columbo in the crime series Columbo (1968-2003). His performance here earned him much critical acclaim including 4 Primetime Emmy Awards (1972, 1975, 1976 & 1990) and 1 Golden Globe Award (1973). This iconic role was undoubtedly the high point of Falk's showbiz career.
The actor also appeared in several telefilms as well as feature films like Anzio (1968), A Woman Under the Influence (1974), Murder by Death (1976), The Cheap Detective (1978), The In-Laws (1979), Cookie (1989), Happy New Year (1987), Corky Romano (2001), Shark Tale (2004) and The Thing About My Folks (2005). His last role was in the film American Cowslip (2009).
His Net Worth
Peter Falk's Hollywood career was nothing short of successful. In addition to his lead role on Columbo which spanned nearly 2 decades, he also recorded a countless number of film credits. The actor was also not known to have made any major financial blunder during the course of his career and therefore, he was able to garner a massive net worth of $14 million.
Wife and Daughters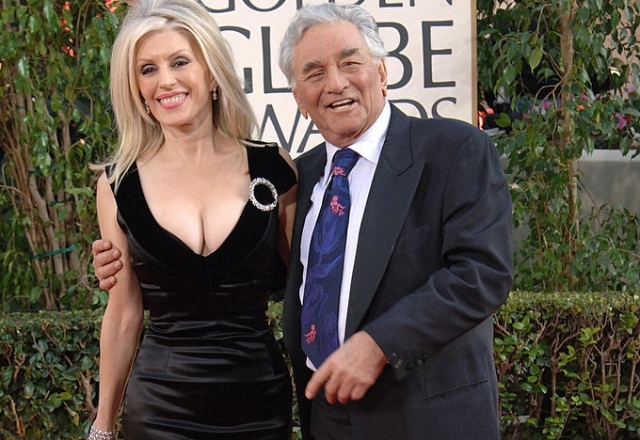 Peter Falk was married for 34 years to former actress Shera Danese. The duo met on the set of the Falk's hit show Columbo in which Danese made several guest appearances. They got married on December 7, 1977, and their union lasted until his death.
Prior to the above-stated union, Falk was married to Alyce Mayo, his college sweetheart. They got married on April 17, 1960, and they adopted 2 daughters together. Their first daughter Catherine is known to be a private investigator, however, not much is known about their second daughter Jackie.
See Also: 10 Famous Male Actors Who Are Older Than We Thought
Height and Other Body Stats
Peter Falk had an average stature as he was 5 feet 6 inches (168 cm) in height. He also maintained a relatively fit physique all through his career. The actor was known to have a trademark squint on his right eye, resulting from the fact that he wore an artificial eye. His real right eye had been surgically removed when he was three years old after he suffered retinoblastoma.
Is He Dead or Still Alive?
The iconic Hollywood actor is no more. His death occurred on June 23, 2011, at his Beverly Hills home. Pneumonia was the primary cause of his death coupled with complications of Alzheimer's disease. His remains were buried at Westwood Village Memorial Park Cemetery in LA, California.