Nikita Dragun is an American YouTube personality born in Belgium. Also a model make-up guru, and entrepreneur, she is best known for her YouTube beauty videos, her make-up line called Dragun, and also for being a voice for the transgender community.
The next time someone says 'Mother of Dragons' don't be quick to conclude they are referring to the one on HBO's Game of Thrones. There's another one on YouTube and her name is Nikita Dragun and she's also known as Mama Dragun.
The social media star discovered her inner self quite early and followed the right path to achieve her desires. She has built an admirable fanbase comprising millions of fans across the world, who derive inspiration from her beauty tutorial and lifestyle vlogs.
Additionally, Nikita Dragun's exploits as an LGBTQ+ activist has brought some major issues affecting the community under the spotlight. Interestingly, Dragun is transgender herself, thus, she understands in a special way, what it feels like to go through the transition.
We take you through the journey that led to where the internet star currently is.
Nikita Dragun's Discovery Of Her Transidentity
She was born as a male child on 31st January 1996, in Springfield, Virginia. Right from when she was still in pre-school, she felt something was different and acted too mature for her age. She started dressing like a girl at this early stage but quit the act temporarily when a teacher reported to her parents.
In high school, Dragun built up self-esteem and started portraying her true self. She would dress up in tight jeans, complete with a small purse and makeup that doesn't leave out long lashes. Her appearance set her aside among other gay students and before time, people started accepting her without much discrimination.
She also opened up about her sexual desires to her parents who raised her as a boy and though they were conservatives, they accepted her and offered their support. Having experienced a boost in her morale, Nikita Dragun went to college knowing what she really wants out of life. It was during her time in college that she began her transition journey.
Journey To Fame Post-transition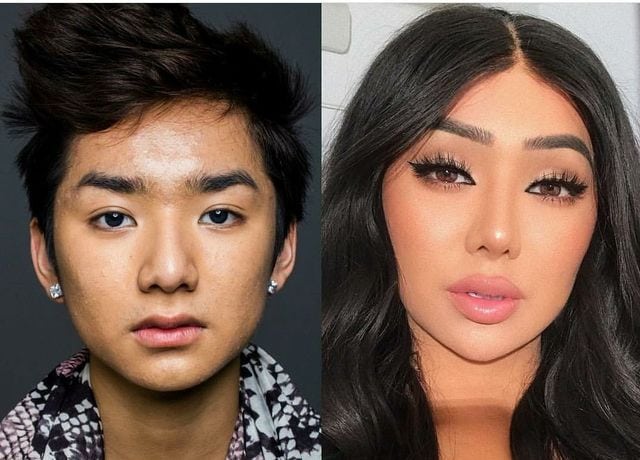 Nikita Dragun is a good example of what it's like to follow your dreams. She did not only transform her gender, but she also used the power of the internet to become a household name, setting many records on her path to stardom. Her YouTube channel, as well as Instagram account, were launched in 2013. At this time, her fans did not know her sexual identity. She was getting small deals from different brands at the time but when she came out as transgender in 2015, her fame hit the rooftop. Her coming out YouTube video is dubbed "I am TRANSGENDER" and it was uploaded on December 28, 2015.
A popular advocate for change, Dragun is poised to use her fame to push boundaries and get the deserved attention the trans community has been craving. Also, Nikita does not only love wearing makeup and looking pretty, she also produces them, especially for the trans community. She launched her makeup line (Dragun Beauty) in March 2019, the first trans to do so. needless, to say the products sold out in a few hours.
Driven by her passion for self-discovery, Nikita looks like she's ready to pull more weight in the industry and we expect to see more of her in years to come.
That Victoria's Secret Drama
Beyond her knack for everything fashion and beauty, Nikita Dragun is also outspoken when it comes to matters affecting the LGBT community. This trait manifested when she dragged Victoria's Secret for saying they won't hire plus-sized and transgender women as models.
The statement was made by Ed Razek, Chief Marketing Officer of L Brands, during an interview with Vogue in November 2019. Razek hinted that even though Victoria's Secret promotes a diverse cultural background, certain people like the transgenders may never make their show because they can't sell the fantasy.
As expected, the backlash was real and Victoria's Secret was pushed to offer an apology but that didn't stop Nikita from taking it to another level.
Please read this important message from Ed Razek, Chief Marketing Officer, L Brands (parent company of Victoria's Secret). pic.twitter.com/CW8BztmOaM

— Victoria's Secret (@VictoriasSecret) November 10, 2018
A few months after Nikita's online campaign against Victoria's Secret, the fashion brand hired its first transgender model. The chosen one, Brazilian trans model Valentina Sampaio, took to social media to share the awesome news and Nikita Dragun celebrated the victory.
Nikita, in a bid to show trans people can also sell the fantasy, shared her own fantasy video for more emphasis.
dear Victoria's Secret,
you said trans women can't sell the "fantasy" so here i am as a TRANS WOMAN selling the FANTASY! 👼🏻 pic.twitter.com/rKQHp7SLNq

— Nikita Dragun (@NikitaDragun) December 5, 2018
Is Nikita Dragun Dating Anyone?
Nikita Dragun may have a very active life on social media but her love life is not an open subject. The social media star doesn't share much about her love interest, though she has flaunted some men as her lovers. Nevertheless, none has been confirmed to be the one.
Prior to her gender transition, Oscar Utierre, a Los Angeles-based fashion designer was the man in her life but their relationship was kept away from the eye of the public. It was actually when Utierre appeared in one of Dragun's vlogs titled "EX BOYFRIEND DOES MY MAKEUP!" that their love story was made public, at this time, the relationship had already ended.