Natascha McElhone has earned the admiration of a lot of people because of her career; she is an English-Irish actress who performs both on stage and screen. The gorgeous actress whose real name is Natasha Abigail Taylor but known professionally as Natascha McElhone has had quite a fulfilling career but her family life has had her face disappointments and unexpected heartbreaks. First, she had to grow up with the realities of being from a broken home. Born in Walton-on-Thames, Surrey, England, on the 14th of December 1969 to a journalist couple named Noreen McElhone and Michael Taylor, the actress was only 2-years-old when her parents' marriage collapsed. As a result of that, her Irish mother relocated to Brighton with her and subsequently got remarried to a journalist and columnist named Roy Greenslade.
Because the actress adopted her mother's maiden name as her stage name, it was speculated that she was not on good terms with her father, nothing could be farther from the truth. When the man passed in 2014, Natascha related that the late deputy editor of the Manchester Daily Mirror adored her and painfully disclosed that alcoholism and Alzheimer's made it impossible for her dad to recognize her in the last 10 years of his life. In all the family heartaches she has had to deal with, the sudden and unexpected passing of her husband in 2008 has been incredibly agonizing for Natascha. She is yet to fully recover from the loss and it has left many wondering who the man was and the kind of marriage they had.
The Actress Has Been The Breadwinner of Her Family Since Her Husband Passed
With the unexpected death of her husband, the actress found herself in a difficult situation. While morning the love of her life, she had to take care of herself as she was pregnant and yet, had to cope with caring and providing for two kids; in addition to keeping up with her career commitments. It was indeed a difficult time for Natascha.
But Over the years, the actress has been able to conquer sole-parenting and being the breadwinner of her family. Based on what she has shared, this is a huge achievement as the family was only getting by when her husband died. At some point, she was worried they would lose their home. Things were that though because although her husband had life insurance, he died intestate.
In fact, the actress said her late husband left nothing behind as he had invested all his money into his medical practice. Natascha too had little or no money of her own as she practically emptied her account for their house. There was a lot of debt to pay and the actress had to support her sons, so she continued filming Californication a day after learning that her husband had passed.
The family is now financially stable, thanks to Natascha's relentless effort to provide for her kids. She believes her career as an actress made things easy. This is so because she has been able to work for just three months and earn enough money to support her and the kids for a year.
Natascha McElhone's Husband Was a Plastic and Reconstructive Surgeon
Full Name: Kelly, Martin Bernard Hirigoyen
Date of Birth: May 7, 1965
Date of Death: May 20, 2008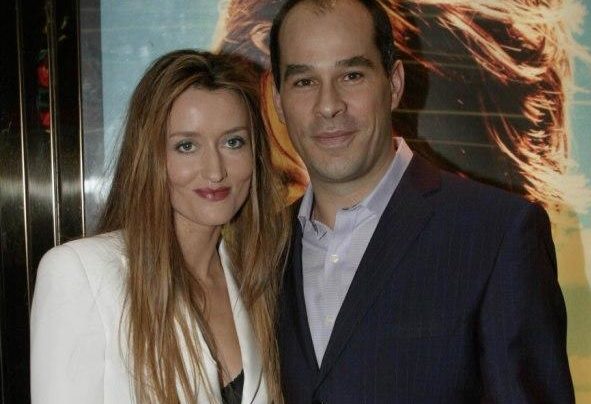 Until his death at the age of 43, Martin Kelly was a craniofacial plastic surgeon; he worked at the Chelsea and Westminster Hospital and the Royal Marsden Hospital. From what we gathered, he mostly devoted his medical practice to reconstructing faces with congenital deformities. He was also known for fixing defects that come with ablative surgery for neck tumors. Born in London to a father (Bernard Hirigoyen) said to be a French industrialist and a mother identified as Diane Kelly, Martin, like his wife, also adopted his mother's maiden name. This was after his parents parted ways when he was 17 years old. Though born in London, Martin was raised alongside four sisters in Paris where he had his early education. He would later attend Winchester College before he moved on to St Bartholomew's Hospital Medical School where he studied medicine.
Graduating from the medical school in 1989, Natascha McElhone's husband got trained in surgery and obtained his FRCS (Fellowship of the Royal Colleges of Surgeons) in 1993. Thereafter, he had a two-year fellowship in microsurgery and craniofacial reconstruction; this was acquired at Mount Sinai Hospital in New York. By 1997, he began training as a specialist registrar in plastic surgery and obtained his FRCS in the field before 2001 when he became a consultant craniofacial plastic surgeon at two hospitals he worked with before death came calling.
Martin was a member of medical associations like the European Society of Craniofacial Surgery, the British Association of Aesthetic Plastic Surgeons, and the British Association of Plastic Surgeons. He co-founded Facing the World with Norman Waterhouse. It is a charity organization that treats children with facial deformities across the globe. He was a compassionate man that enjoyed writing songs, playing the bass guitar and drums. He was also into painting, playing tennis, horse riding, and skiing.
The Actress and Martin Kelly Had Been Together Since She Was 15 and Got Married In 1998
As a child who took lessons in Irish dancing from the age of 6 to 12, Natascha acquired her early education at St. Mary's Hall School for Girls, a privately owned boarding school in Brighton, Sussex. While at the school, she also took acting classes and later got enrolled in the London Academy of Music and Dramatic Art from where she graduated in 1993. It was around this time that she met Martin Kelly.
While how they met and the circumstances surrounding the beginning of their relationship has remained unknown to the public, the actress once divulged that she had known Martin since she was 15; and that their love story began when they were teenagers. Theirs' was a fine relationship sustained by genuine love, mutual respect, and support for each other.
In a heartfelt tribute to the late surgeon years after he died, the actress revealed that they never raised their voices in anger against each other. She described Martin as a "magical, beautiful creature" who "was too good to be true". According to her, he was a loving, devoted, and supportive husband who pushed her to do things she didn't know she wanted to do. From their teenage year, Natasha Mcelhones had Martin Kelly dated until the 19th of May 1998 when they got married.
Natascha McElhone's Husband Died of Dilated Cardiomyopathy A Day After Their 10th Wedding Anniversary
Natascha McElhone got married to Dr. Martin Hirigoyen Kelly on the 19th of May 1998 and he passed away on the 20th of May 2008, a day after their 10th wedding anniversary. The couple lived in Fulham, West London, with their sons: Theodore (born 2000), Otis (born May 2003), and were expecting their third, Rex, when the celebrated plastic surgeon passed. Rex was born in October 2008, five months after Kelly's death.
Martin Kelly aged 43 had just returned from carrying out a late-night operation when he collapsed at his front door after suffering what was suspected to be a heart attack. His wife who was pregnant with their third child was said to be absolutely devastated when she received news of his passing in Los Angeles where she was filming the TV drama, Californication.
His body was found by a surgeon friend in the hall of the family's £2.5 million house in Fulham minutes after he had returned home from Chelsea and Westminster Hospital, where he was an NHS consultant. He was taken back to the hospital by ambulance where doctors tried in vain to resuscitate their colleague. One theory for the shocking death was that the surgeon's heart might have been damaged by a viral infection. A post-mortem report eventually revealed that the death was due to dilated cardiomyopathy. Medical experts say the disorder happens when chambers of the heart are enlarged because of weakened heart muscles that prevent it from pumping effectively.
Where Are Natascha McElhone's Children Now?
Natascha McElhone is a mother of three sons, all of whom she had with her late husband Martin Kelly. They were expecting the birth of the third son when Martin unexpected death happened. The actress took on all the responsibilities that revolve around raising the kids after her husband died and has undoubtedly done a good job thus far. Their first child is now an adult.
Theodore Kelly
Date of Birth: Sometime In 2000
Age: 23 Years Old
Occupation: Undetermined
Theodore Kelly is the first child of the actress and her late husband. They had him sometime in 2000, so Theodore was about eight years old when he lost his father. He shared a close bond with the man as they were fond of snowboarding together. Being the oldest child, he has a stronger memory of his father and had a hard time coping with his passing.
It is hard to tell what Theodore has been up to as his mother has been very protective of her kids. But he has been seen in public with Natascha on several occasions. For instance, they attended the premiere of The First drama series together in September 2018; the event was held at the California Science Center in Los Angeles, California. Theodore and his younger brothers remind his mother about her husband. The actress once said: "their brains are very much like Martin's…".
Otis Kelly
Date of Birth: Sometime In May 2003
Age: 19 Years Old
Occupation: Undetermined
Otis is the second son of Natascha McElhone and Martin Kelly. Born in 2003, he was barely five years old when his father died. He has limited memory of the man but remembers that they had a lot of fun together. Given his age when Martin passed, his mother had a lot of explanation to do about the whereabouts of his father.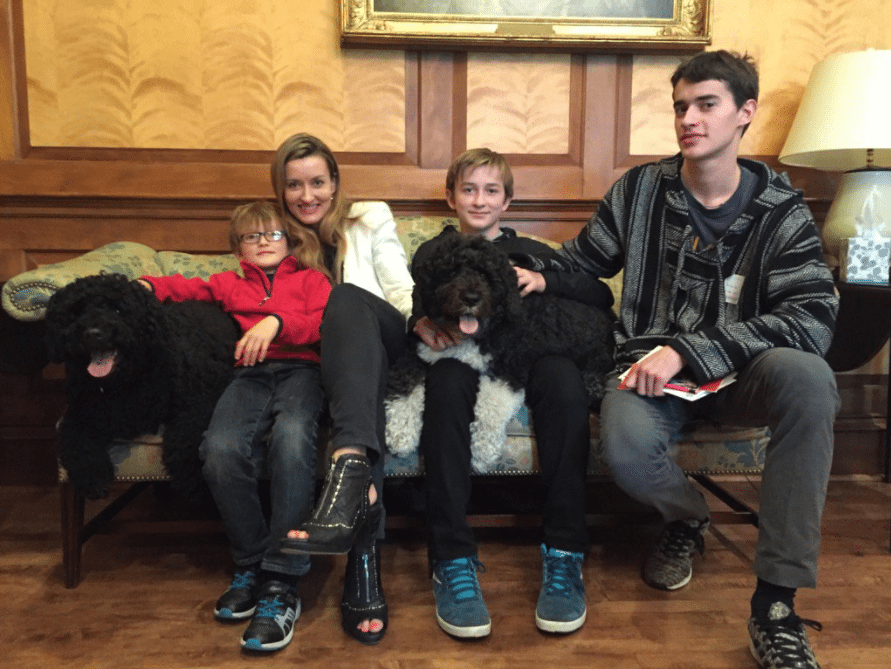 Rex Kelly
Date of Birth: November 11, 2008
Age: 14 Years Old
Occupation: Undetermined
Rex is the last child of the actress and the late craniofacial plastic surgeon. He was born five months after his father died and never got to meet the man. Like his older brothers, Rex takes Natascha McElhone's brother named Damon as a father figure. He is a scriptwriter who lives in Los Angeles.
Minutes before Martin passed, he sent Natascha a text that said he was glad Rex was doing fine and couldn't wait to see her; she had had a baby scan as she was pregnant with Rex.
What Is Natascha McElhone Doing Now?
While Martin's death left her devastated, it didn't make her abandon her career as she needed to become the breadwinner of the family. As such, Natascha McElhone has remained active in the entertainment industry. The adorable actress kicked off her acting journey in the theatre with starring roles in Richard III and A Midsummer Night's Dream at the Open Air Theatre, Regent's Park, London.
She decided to take her acting career a step further by moving on to the screen, consequently, Natascha made her television debut in BBC's Bergerac in 1991, and made an appearance in an episode of Absolutely Fabulous the following year. Natascha was also seen in the Dennis Potter TV mini-series, Karaoke. Her first major box office role came five years after she made her entry into the television world with Surviving Picasso, which required a full-frontal scene with co-star Anthony Hopkins.
In 2005, she co-starred in the NBC mini-series, Revelations, with actor Bill Pullman and also starred in a 2006 West End production of Honour at the Wyndham's Theatre alongside Diana Rigg and Martin Jarvis. With no intentions to slow down, she accepted a leading role in the Showtime cable television series, Californication. Natascha was filming the series when her husband passed. It was thought that the sad event would keep her away for a while but that didn't happen. The actress continued to work because she had to provide for her kids.
McElhone co-starred in a 2013 adaptation of Romeo and Juliet, as Juliet's mother, Lady Capulet, alongside Hailee Steinfeld and Damian Lewis. In 2014, she played the role of Alex Forrest in Fatal Attraction at the Theatre Royal Haymarket. The next year, Natascha McElhone starred as Sarah Churchill in the Royal Shakespeare Company's production of Helen Edmundson's Queen Anne. February 2016 came and she was cast in ABC's political drama Designated Survivor, which premiered in September 2016. As of 2021, she plays Dr. Catherine Halsey in Halo, a live-action science fiction television series.
Has Natascha Dated Anyone Else Since Kelly?
Lossing Martin Kelly was an unbearable pain for the actress. To cope, she wrote him letters about their kids and how they were coping with his death. The letters would later be published in July 2010 as a book titled After You: Letters of Love, and Loss, to a Husband and Father. 
It has been over a decade since the actress lost her husband but she is yet to be romantically linked to anyone. As far as we can tell, her priority has been all about the kids she has with the late plastic surgeon.