Michael Sheen is a Welsh actor, TV producer and political activist known for his numerous roles in films and stage plays including his role as Tony Blair in The Deal. Although he shares the same surname with American actor, Charlie Sheen, they share no biological relationship. Michael Sheen is not related to Charlie Sheen
If you know that Michael Sheen is a Welsh actor, then you should equally know that he's popular for playing Tony Blair in films like The Special Relationship, The Queen, and The Deal. The BAFTA award-winning actor is also famous for his many roles in both theatre and film, including his role as Aro in The Twilight Saga: New Moon, and Lucian in Underworld. 
With the release of the Amazon Prime show, Good Omens, Michael Sheen has once again found himself at the tip of the tongue of TV viewers.
We take a look at everything worth learning about the British actor, including his relationship with the American actor, Charlie Sheen. Check it out below.
Early Life and Background
The actor was born Michael Christopher Sheen in Newport, Wales, to Irene and Meyrick Sheen on the 5th of February and in the year 1969. His mother worked as a secretary while his father was a British steel corporation personnel manager at the time of his birth.
Apart from his parents' day jobs, they were also involved in theatrical activities. A fact that played a significant role in Michael's career choice.
Before he began life in the theatre as an actor, Michael Sheen flirted with a career as a footballer. He was offered a place in the under-12 team of the London football club, Arsenal. However, he was unable to follow through due to his parents' reluctance to relocate to London.
Having said goodbye to a football career, Sheen was free to pursue a career in acting and he started in his teens with the West Glamorgan Youth Theatre and National Youth Theatre of Wales.
For his formal education, he attended Blaenbaglan Primary School, Glan Afan Comprehensive School, and Neath Port Talbot College. When it was time for Michael Sheen to further his education at a higher institution, he attended the Royal Academy of Dramatic Art (RADA) where he obtained a BA in Acting in 1991.
Michael Sheen At A Glance
Life As An Actor
Sheen first started out as an actor in the theatres in 1990. He bagged his first professional role while he was in his final year in RADA. He played Alexandros Eliopoulos in Globe Theatre production of "When She Danced"
The following year, his performance in Royal Exchange's production of Romeo and Juliet earned him a nomination for the M.E.N. Theatre Award.
Since making his debut on stage, Michael Sheen has appeared in more than thirty stage plays, several of which include Shakesperean works like Romeo and Juliet and Hamlet.
Despite having a strong presence on stage, onscreen is where Michael earned his national and international breakthrough as an actor. Although he made his onscreen debut in 1993, on the show, Mystery!: Gallowglass, he waited ten years before achieving his breakthrough role in the film, The Deal, where he played former British Prime Minister, Tony Blair.
So far, the British actor has appeared in more than 80 movies and TV shows. His extensive filmography includes notable titles like the Underworld film series, Blood Diamond, Masters of Sex, Good Omens and The Good Fight.
As an actor, he has received more than 34 award nominations, winning at least 14 of them, including the Britannia Awards and British Independent Film Awards.
Is Michael Sheen Related To Charlie Sheen?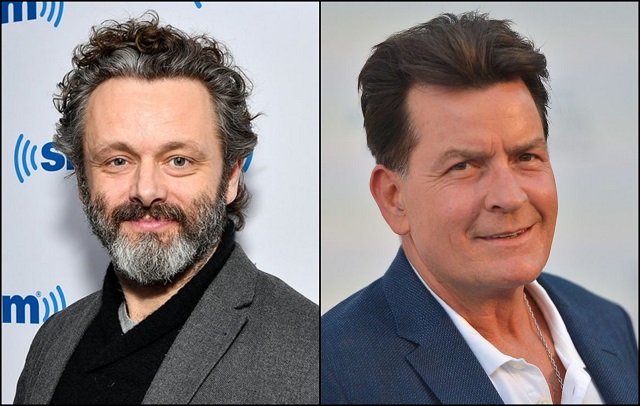 Michael Sheen is not related to Charlie Sheen. Not only are they not related, but according to Michael, he has never met Charlie Sheen. He has, however, met his famous father, Martin, once.
Sharing your last name with one of the most popular actors in Hollywood is bound to create rumours and misconceptions. Michael Sheen has had his fair share with regards to Charlie Sheen, the Two and a Half Men star.
The Two and a Half Men star has as many appearances onscreen as Michael but with a lot more controversies, earning a reputation as a Hollywood bad boy in the process.
But their similarities are only limited to their last name. While Michael is a native of Wales, Charlie is a New York native with roots in Spain and Ireland.
Life Beyond Acting
Michael Sheen has found success working as an actor for more than two decades but it isn't the only focus of his illustrious life. He has a production company, The Foundry, which he founded alongside Helen McCrory and Robert Delamere. The company was established in 1998 and it is focused on producing stage plays.
Sheen is also an active philanthropist and in view of that, he serves as the honorary President of Wales Council for Voluntary Action. He is also an ambassador for several charities and organizations, including TREAT Trust Wales, Royal Society for Public Health, Healing the Wounds and Into Film. He equally founded End High Cost Credit Alliance, an organization focused on creating affordable ways for people to borrow money.
Outside of his awards and recognition for his work as an actor, Michael Sheen is also a recipient of the Officer of the Order of the British Empire, as well as an honorary fellow of multiple universities, including the Royal Welsh College of Music & Drama.