London on da Track is a talented American record producer, rapper, and songwriter who is also known as Summer Walker's baby daddy. He and Walker have one child together but he has other children.
London has been making waves for his frequent collaborations with famous rap artists such as Drake, Young Thug, 2 Chainz, and other big names in the industry. He rose to prominence in his early teen years when he began producing beats for the Rich Kidz and got better over time.
Summary of London on da Track's Biography
Full Name: London Tyler Holmes
Nickname: London on da track
Gender: Male
Date of Birth: March 27, 1991
London on da Track's Age: 32 years old
Ethnicity: Mixed
Nationality: American
Zodiac Sign: Aries
Sexual Orientation: Straight
Religion: Christianity
Marital Status: Single
London on da Track ex-girlfriend: Summer Walker
London on da Track Children: London Jr (son), Paris (daughter), Cairo (son), Bubbles (daughter)
London on da Track's Height in Inches: 5 feet 11 inches
London on da Track's Parents: Mack Holmes (mother)
London on da Track's Net Worth: $2 million
Famous for: Being a record producer, rapper, and songwriter
London on da Track's Instagram: @londonondatrack
Twitter: WeGotLondonOnDaTrack
Facebook: London on da Track
London on da Track was Born in 1991
London Tyler Holmes was born to Atlanta-based model Cheryl Mack. Ms. Mack was an aspiring model when got pregnant with London. On March 27, 1991, she had London in Atlanta, Georgia, where he was also raised and resides now.
He earned his nickname from the location of the fashion show where his mother had envisaged having her big break in modeling before she conceived and put a hold on her modeling aspirations. London is of mixed ethnicity with American nationality.
He Started Showing His Inclination for Music From a Young Age
London has always had an attraction to music from a young age. He had played piano in his local church. Over time, he and a bunch of friends with a common interest in "music" came together to form a band "Dem Guyz ".
His little group would download beats in SoundClicks at 99cents per beat. Over time, London banked on his experience as a church pianist and started making beats for rappers. By doing this, he got relatively famous and was also perfecting his musical craft at the same time.
The Year 2011 was Remarkable in London on da Track's Music Career
London started his rap career at the age of 16 years with his local band "Dem Guyz".  He rolled up his sleeve and began making beats for rappers as a way to earn money for his little group. Over time, he got better in his art with the help of online software, and soon began producing beats for "Rich Kidz".
His deal with the Rich Kidz gained him local popularity which led others to him, asking for a composition. To build a network and further gain popularity, London would later give away his beats at no cost. Furthermore, "Pioen" by Rich Kidz was the first song he produced that was played by the radio station; this big break fueled his career aspirations.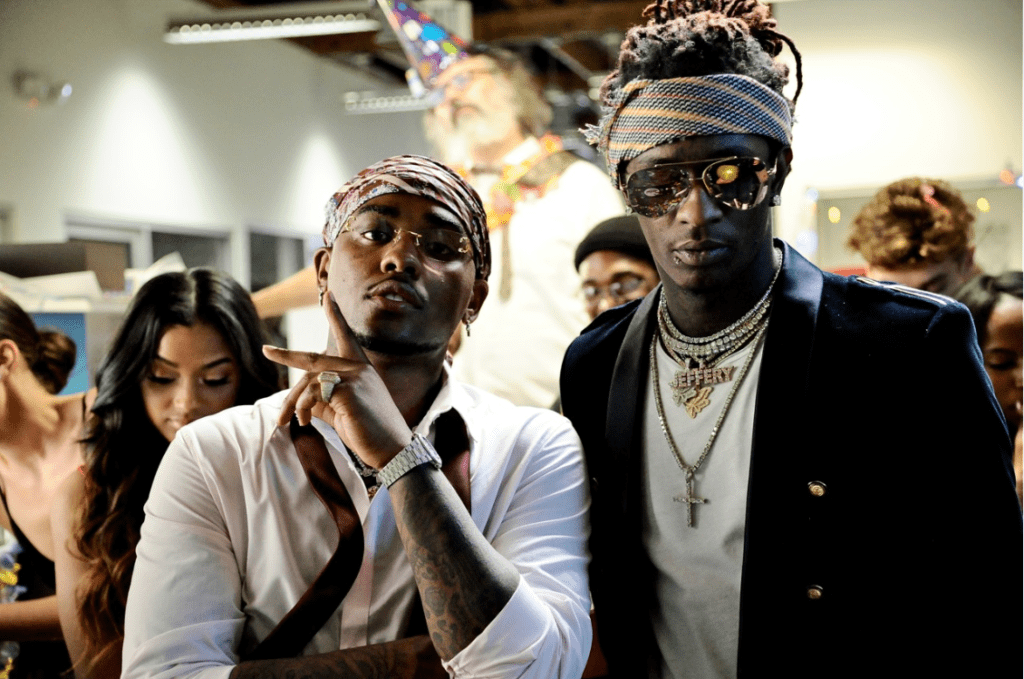 In 2011, he recorded his first collaboration with Young Thug titled "the curtain" and signed his first record deal with "Cash Money Records". London was named the best producer in the industry by his boss, Bryan Birdman Williams, American rapper & Ceo of Cash Money Records. London has had many collaborations with Atlanta-based rappers to produce some hit songs.
London on da Track Has Recorded Many Hit Songs and Earned Top Recognition From 2014 to Date
Birdman, Cash Money Records' chief executive officer whose real name is Bryan Christopher Williams, in August 2014 hailed the rapper and music producer as the best in the industry at that time. Many years later, London on da Track has not disappointed but instead proved him right with many chart-topping hit songs and collaborations with other artists to his credit.
The singles "Lifestyle", "About the Money", and "Hookah" which were released by London in 2014 charted on the Billboard Hot 100. In the years that followed, he earned recognition as a music producer of who knows his onion and was opportune to appear in Black Ink Crew: Chicago (2018), an African America reality TV show, and was also named to Spotify's Secret Genius Ambassador's list in the same year.
In the year 2019, London was on the finale episode of Netflix's Rhythm + Flow, as a producer advisor. The following year, he recorded Ariana Grande's song titled "Positions" which ended up becoming number 1 on the US Billboard Hot 100 and also the Billboard Global 200 and Billboard Global Excl. U.S. charts. The song became London on da Track's first chart-topping song which he was the trio of a composer, lyricist, and of course a producer.
Summary List of His Top 10 Charting Singles
"About the Money" (T.I. featuring Young Thug), 2014 Billboard US Rap number 10.
"Lifestyle" (Rich Gang featuring Young Thug and Rich Homie Quan), 2014 Billboard US R&B/HH and US Rap both number 4.
"Sneakin'" (Drake featuring 21 Savage), 2016 Billboard US R&B/HH number 8 and US Rap number 7.
"My Type" (Saweetie) Billboard US R&B/HH number 10 and US Rap number 8.
"Playing Games" (Summer Walker and Bryson Tiller) Billboard US R&B/HH number 9.
Summer Walker and London on da Track were Dating From 2019 Through 2021
Summer Walker and London on da Track started dating sometime in 2019 while Summer was working on her debut studio album "over it".  In an Instagram post, Summer had excitedly opened up about their first date and revealed that she had never met anyone who spent so much money on her.
She stated that they went bowling, ate, shopped, and switched things up at a strip club where she got drunk and fell. They later went to London's house that night and that possibly marked the beginning of their relationship. However, all was not well with their relationship as they went about it going on and off.
Throughout their love trajectory, the now ex-couple had an on-off relationship until their breakup in 2021, the reason for their split was not revealed but Summer took to Instagram to announce that she's single. The mother of one has ever since dragged London to filth, alongside his other baby mamas.
Who is Summer Walker's Baby Daddy?
In March 2019, R&B singer Summer Walker welcomed her first child with her on-off boyfriend, London on da Track. London had reportedly bailed on her while she was pregnant only to resurface at the birth of their baby.
Summer had dragged London numerous times on IG for being an absentee father not just to her child but to his other kids from previous relationships. For now, Summer's child with London is the youngest known child of the rapper and unlike her elder half-siblings, there were no controversies about her birth.
What is Summer Walker's Daughter's Name?
Summer Walker has been very private with her daughter probably because of the nay sayings she faced after giving birth to her in 2021. However, she chose to reveal the name and face of her daughter to the public four months after she gave birth. She took to Instagram to share adorable snapshots of her baby, Princess Bubblegum, with the caption "Baby Bubbles".
Fans believe Summer had named her daughter after a character "Bubbles" in the series "The Powerpuff Girls". Although it's not been verified if Bubbles is indeed Summer's daughter's real name, she prefers to address her thus.
What is Summer Walker's Baby's Age?
As of this year, Baby Bubbles, who was born on March 21, 2021, is 2 years old. To mark her first birthday, a huge party was thrown wherein Bubbles got the opportunity to meet her half-siblings alongside their mothers.
Who is London on da Track Dating Now?
London on da Track was spotted with Jamaican singer Shenseea, hands locked at 2022 Super Bowl LVI in Los Angeles. This fueled dating rumors which started in the fall of 2021. Shenseea had debunked the rumors making sway that she's dating London in an Instagram post, she added that London held her hand so that she wouldn't fall.
London on his part has not said anything yet. So whether or not the pair are romantically involved has not been confirmed by the two parties. Thus, it's safe to say that London on da Track is not seeing anyone yet.
Meet London on da Tracks Children With Their Baby Mamas
London has been romantically involved with a lot of ladies in times past, some of which had a child for him. The identity of his baby mamas and their children is not entirely public.
London Junior Is His Eldest Child
London's eldest son was born to him by his longtime girlfriend Erica Racine. London jr. is estimated to be about 10 years old as of this year which means he was born sometime in 2013. He is a special needs child who has a problem with his legs but is undergoing medical treatment so he can be able to use his legs properly.
Paris is London's First Daughter
Eboni Ivorii's relationship with London was blessed with a child, Paris, the eldest daughter of the renowned record producer. Unlike her elder half-sibling, her possible year of birth is not known though it is assumed she was born a few years before Cairo, London's second son.
London was Proved to be Cairo's Father After a DNA Test
Cairo Holmes was born to the popular social media influencer Dayira Jones aka Dayybella and London on da Track in 2019. London had outrightly denied being the father of his second son until Dayybella took to IG to share a DNA result that proves London as Cairo's father with a 99% probability of paternity.