Nicknamed The Bison, Matt Kemp is a professional baseball player in the Major League Baseball (MLB) for the Los Angeles Dodgers. He made his MLB debut in 2006 for the Dodgers before moving to play for San Diego Padres and then the Atlanta Braves before making it back to the Dodgers.
Through his career in the league, he has not only contributed to the various clubs he played for but has also recorded a good number of individual awards in the process.
Matt Kemp's Biography and Age
The Dodgers outfielder was born Matthew Ryan Kemp on September 23, 1984, in Midwest City, Oklahoma. He was raised by his mother, Judy Henderson, who was a registered nurse and his grandmother. His father, Carl Kemp, who did not marry his mother has worked for over 30 years as a field supervisor with OG&E.
Kemp was raised in Oklahoma where he attended the Midwest City High School. While there, he played both baseball and basketball for which he later got a scholarship to play for the Oklahoma Sooners. When he was still in High School, Kemp and his other teammates were accused of raping a woman during a basketball tournament. However, no charges were made because of a lack of evidence.
When it was time to make a serious career decision Kemp settled with Baseball rather than basketball, he entered the 2003 MLB draft and got selected by the Los Angeles Dodgers in the 6th round. On June 5 of the same year, he signed for the team getting a $130 thousand bonus.
Matt Kemp began his career playing in the Minor league for the Gulf Coast Dodgers. From there, he continued with the Columbus Catfish the following year and then the Vero Beach Dodgers from 2004 to 2005.  There, he made the Florida State League All-Star team. He had a successful run with the AA Jacksonville Suns in 2006 and thanks to that, he got the call to play in the Major League.
Kemp kept playing for the Dodgers until 2014 when he was traded alongside Tim Federowicz and $32 million for the San Diego Padres for Yasmani Grandal, Zach Eflin, and Joe Wieland. In 2016, he was traded to the Atlanta Braves for Héctor Olivera. While he would perform well for the Braves, he would again be traded to the Los Angeles Dodgers this time around for Brandon McCarthy, Scott Kazmir, Charlie Culberson, and Adrián González as well as cash consideration.
The best year Matt Kemp had in the MLB was in 2011 when he was named the NL RBI leader and NL home run leader. In the same year, he also won the NL Hank Aaron Award, as well as the second of his two Gold Glove Awards and the Silver Slugger Award. More so, the outfielder made 3 All-Stars and in 2015, he joined the class of player to hit for the cycle.
Net Worth
Kemp can easily be described as a very successful baseball player and for all his effort, he has a net worth that has been estimated at over $71 million. Based on the $160 million contract that he signed in 2012 which is to last till 2019, his salary for 2018 is over $21 million.
Wife, Girlfriend, Son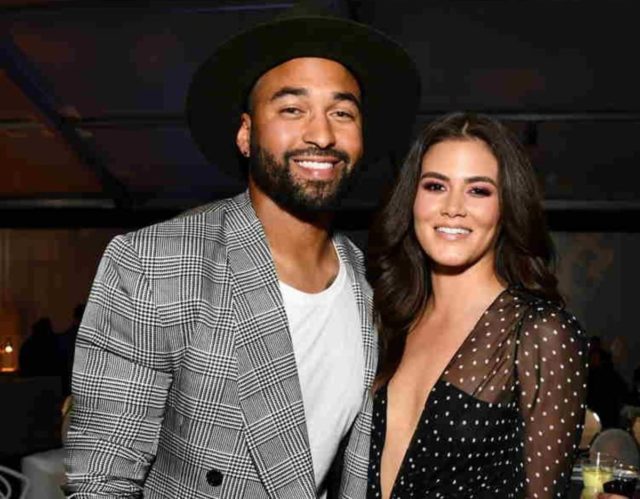 When it comes to the relationship side of things, Kemp has had his own fair share of the drama. He dated Felisha Terrell between 2007 and 2008. After their relationship ended, Terrell who alleged that Kemp abused her filed a restraining order against the baseball star.
However, she later dropped the charges because according to Matt's agent, the statements she made were false. Terrell's attorney would still insist his client did not lie.
See Also: Mitch Jones Biography, Family Life and Other Interesting Facts About Him 
Another woman that Kemp would be linked to was Zena Foster whom he dated from 2008 to 2009. After the model, he got into another relationship with American pop star, Rihanna in 2010. The two did not date for a long time before calling it quits. Next was Khloe Kardashian whom it was claimed he shortly dated in 2013. Most recently in 2018, he has been linked to Instagram model, Amber Alvarez.
With that said, Kemp does not have a wife as he is still yet to get married neither does he has any son or daughter.
Height and Weight
Kemp is a good-looking man with a lot of class and style. He also has a very good height and body weight that helped him to succeed in basketball before he decided to settle as a baseball player. He has a good height of 6 foot 4 inches (1.93 m) and a body weight of 201 lbs.