Lindsay Lohan is currently engaged to businessman Bader Shammas but before they started dating, the actress had been involved with other people. They include Aaron Carter (2002 to 2003), Damien Fahey (2003 to 2004), Wilmer Valderrama (2004), Courtenay Semel (2006 / 2007), Samantha Ronson (2008 to 2009), Robbie Williams (2006 to 2007), Adam Senn (2009 to 2010), Oscar Lusth (2011 to 2012), Nico Tortorella (2011 to 2015), and Egor Tarabasov (2015 to 2016).
There is no denying that Lindsay Lohan is constantly in the headlines for one reason or the other. Before her legal troubles took center stage, Lindsay Lohan was on her way to building a memorable career in the industry. The actress, who was born on July 2, 1986, is known for her roles in Mean Girls, Freaky Friday and The Parent Trap. Beyond her career and legal troubles, Lindsay Lohan's dating life is also another thing about her that has got a lot of attention.
Due to the fact that Lohan has been in the public eyes since she was a child, having started out as an actress in 1989, every eye has been on her every move and because of that, it has become easy for people to claim she is dating almost anyone she is seen with. Nonetheless, she has been in a roller-coaster of relationships.
Over the course of her career, Lindsay Lohan has not only been in many relationships, but she has also been engaged in the past, and she has dated both men and women. The list below contains her long term relationships and excludes flings, rumors and short term relationships
Meet The Men and Women Lindsay Lohan Has Romanced
Aaron Carter (2002 to 2003)
One of Lindsay Lohan's most notable early relationships was with Aaron Carter whom she dated from 2002 to 2003. Aaron is an American musician, singer, and songwriter who is best known for his time as part of the boyband, Backstreet Boys.
Damien Fahey (2003 to 2004)
From 2003 to 2004, Lindsay then dated Damien Fahey, a DJ, television host, former MTV VJ. Fahey notably replaced Carson Daly as the host of Total Request Live after Daly left the show in 2002.
Wilmer Valderrama (2004)
Wilmer Valderrama is an American actor and television personality best known for his role as Fez in That 70's Show. Though their relationship was short-lived, it is considered one of her most significant relationships. The two dated for four months before getting engaged. They were together for two more months before calling it quits.
Courtenay Semel (2006 / 2007)
The 'Mean Girls' star has also been in a number of same-sex relationships in the past. The first woman she dated was Courtenay Semel. When the two were seeing each other between 2006 and 2007, Lindsay Lohan worked hard to keep it a secret because she feared it could ruin her career.
Courtenay Semel revealed that although she enjoyed her relationship with the actress, it all later ended when celebrity DJ Samantha Ronson stole the actress from her.
Samantha Ronson (2008 to 2009)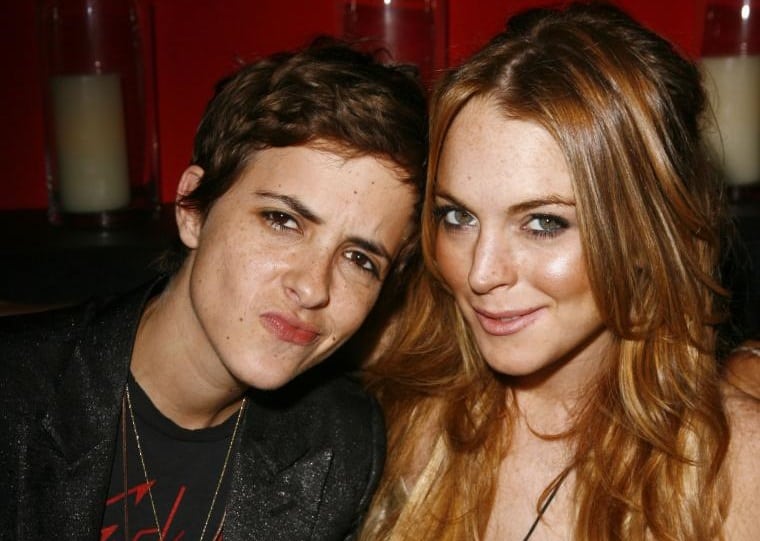 Lindsay Lohan's relationship with the DJ, Samantha Ronson was another significant relationship of the actress. The couple's relationship was widely covered by the media as it was Lindsay's first open same-sex relationship.
Subsequently, she was also linked to other women even though those remained only as rumors.
Robbie Williams (2006 to 2007)
Lindsay Lohan's next relationship was in 2006 when she dated Robbie Williams until 2007. Robbie Williams is a famous English singer-songwriter who is one of the most successful artists of all time in the United Kingdom. He later got married to Ayda Field with whom he has four children.
Adam Senn (2009 to 2010)
Adam Senn and Lindsay Lohan were together from 2009 to 2010. Adam is an American model and actor best known for playing Zero on Hit the Floor. As a model, he has worked for fashion brands like Gucci and Tom Ford.
Oscar Lusth (2011 to 2012)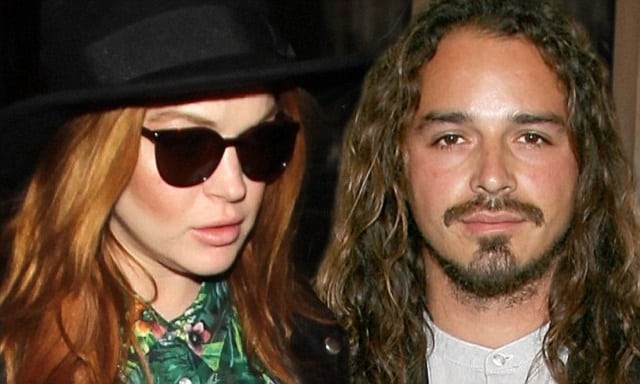 Next on the list of ex-boyfriends is Oscar Lusth who dated LiLo from 2011 to 2012 before they called things off. Lusth is an American reality star best known for his roles in the Survivor reality franchise.
Nico Tortorella (2011 to 2015)
Lindsay Lohan's relationship with Nico Tortorella is generally considered as one of her healthiest relationships as they are still friends to date. The two were on and off for four years from 2011 to 2015.
Nico is an American actor best known for his roles on The Following, Younger, Scream 4 and The Walking Dead: World Beyond. Nico also appeared on the reality show Lindsay Lohan's Beach Club in a guest capacity.
Egor Tarabasov (2015 to 2016)
Her next long-term was with Egor Tarabasov in 2015. This seemed to be the one that was heading for the happy ever after story as the two got engaged in 2016, but somehow, things couldn't help but go wrong as the engagement was later called off and the two went their separate ways. However, Lindsay got to keep the $300,000 engagement ring Egor gave her.
Bader Shammas (2018 to Present)
Around 2018, the Georgia Rule actress started dating businessman Bader Shammas. About three years later, they got engaged. Lindsay announced their engagement on November 28, 2021.