Lawrence O'Donnell is an American-born socialist TV pundit/host, writer, producer and actor. He headlines his own show The Last Word with Lawrence O'Donnell, a weeknight news and political commentary program, on the MSNBC network. His brush with politics dates back to 1989 when he became a legislative aide to then-US Senator Pat Moynihan.
Lawrence O'Donnell's Bio
He was born Lawrence Francis O'Donnell Jr. on November 7, 1951, in Boston, Massachusetts. His mother Frances Marie (née Buckley) worked as an office manager and his father Lawrence Francis O'Donnell Sr. earned his living as a lawyer. He has Irish ancestry and was raised in the Roman Catholic faith. O'Donnell had his high school education at St. Sebastian's School in Needham, Massachusetts and for college, he attended Harvard College, graduating in 1976 with a degree in Economics. As an undergrad, he wrote articles for The Harvard Lampoon and he earned a reputation among the student population for his wit and sarcasm.
O'Donnell delved into writing soon after his graduation from college and it remained his sole occupation for over a decade. Among his earlier works is the book Deadly Force, based on a real-life case of wrongful death and police brutality in which O'Donnell's father was the plaintiff's attorney. The book was released in 1983 and by 1986 it was made into a film A Case of Deadly Force for which O'Donnell served as associate producer.
The year 1989 marked the beginning of Lawrence O'Donnell's 6-year stint as an aide to then-Democratic Senator Daniel Patrick Moynihan. He served as Senator Moynihan's senior advisor from 1989 to 1991 and later as the staff director of the United States Senate Committee on Environment and Public Works (1992-93), under Senator Moynihan's chairmanship. He eventually served as the staff director of the United States Senate Committee on Finance (1993-1995), also chaired by Sen. Moynihan.
O'Donnell delved into showbiz/television when his job as a legislative aide came to an end in 1995. Armed with a first-hand knowledge of the goings-on of the US Congress, he landed a well-deserved spot on the production crew of the political drama series The West Wing (1999-2006). He served in diverse capacities during the show's highly successful 7-season run as a writer, story editor and most importantly as a producer.
He shared the 2001 Emmy Award for Outstanding Drama Series for his brilliant work on The West Wing and the series was also nominated in the same category in 2006. In 2003, he created another TV drama series Mister Sterling, however, it was rather shortlived as it got cancelled after just 10 episodes. O'Donnell is also a bonafide actor having recorded guest roles on a couple of TV series.
Lawrence O'Donnell got his biggest TV gig yet when he began hosting his own show on the MSNBC network. The weeknight opinion and news program The Last Word with Lawrence O'Donnell has had a consistent and successful run since it premiered in September 2010. The multi-talented TV star had served as a political pundit on a couple of news and talk shows before landing his own show. In 2009, he became a regular contributor on the NBC news Talk show Morning Joe, on which he gained a reputation for his aggressive debate style. He was also the top-choice fill-in host on Keith Olbermann's Countdown with Keith Olbermann between 2009 and 2010.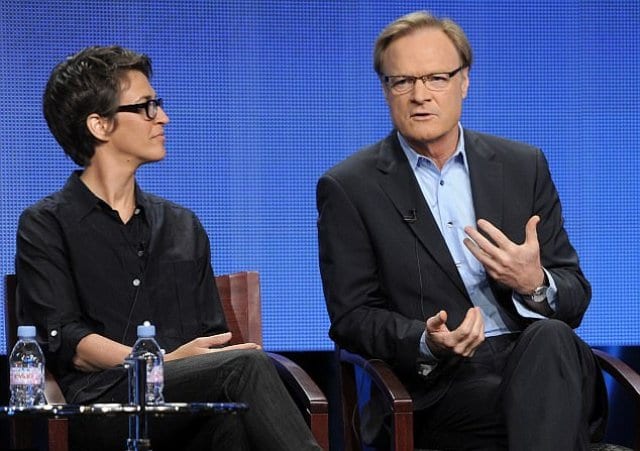 Salary
Since joining the MSNBC network in the 1990s, Lawrence O'Donnell has made his way through the ranks to become one of the network's top shots. Just as expected, his great work on the network comes with a commensurate financial reward to the tune of $4 million per annum.
O'Donnell's continued stay with the MSNBC became doubtful sometime in 2017 as there were speculations that he would leave the network at the expiration of his contract. However, these speculations were laid to rest as The Last Word host had his contract renewed on May 31, 2017.
See Also: Tucker Carlson Wife, Net Worth, Wiki, Bio, Family, Dancing With The Stars
Is He Married? Wife, Daughter
Lawrence O'Donnell is currently not in a marital union, however, he had been married sometime in the past. He was married to former film and TV actress Kathryn Harrold. The duo tied the knot on Valentine's day 1994 and they have one child together, a daughter named Elizabeth Buckley Harrold O'Donnell, also born in 1994. It remains unclear when O'Donnnell's marriage to Harrold came to an end, however, it is widely reported that their divorce was finalized in 2013.