Laura Vandervoort is not married. While the 39 year-old Canadian actress known for her roles in Smallville and Instant Star has been in notable relationships with people like Corey Sevier, Michael Rosenbaum, and Oliver Trevena, none of them led to her getting married.
Who is Laura Vandervoort Dating Now?
When you have been in a slew of broken relationships, you kind of want to take it slow and that seems to be what Laura Vandervoort is up. After three publicized relationships and two engagements, the Smallville star is reportedly single. Laura Vandervoort is not dating anyone right now, at least none that we know of.
Her Instagram page is filled with pictures from work or with old friends and nothing about a new love interest. She is obviously enjoying the single life and doesn't look like she's in a hurry to go back to the dating arena anytime soon. The actress has never been married and doesn't have kids yet. Laura and Michael Rosenbaum, whom she dated sometime in 2012, are still good friends and she makes occasional appearances on his podcast.
All The Men Laura Vandervoort Has Dated
There are probably others but the most popular relationships the Canadian actress has been in were with Corey Sevier, Michael Rosenbaum and Oliver Trevena. She also had a brief stint with Chris Pines.
Corey Sevier (2004 – 2011)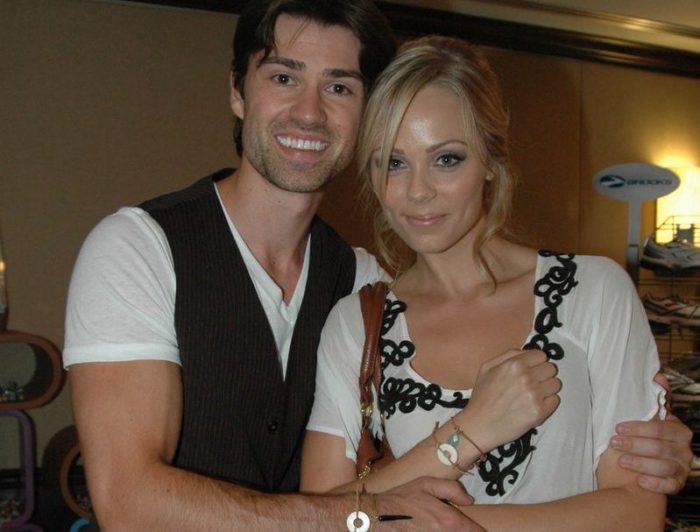 Her earliest recorded relationship happened with Corey Sevier, a fellow Canadian actor. Best known for his roles in North Shore as Gabriel McKay and as Timmy Cabot in Lassie, Corey was part of the cast of Instant Star where he met Laura in 2004. They both played roles in the drama series – Laura in the main role of Sadie Harrison while Corey depicted Hunter as a guest star.
The actors began dating after their onset meeting and things were looking good for them. The relationship blossomed to the point of an engagement which made their fans happy but while everyone waited for the wedding, the couple split. No reason was given for the decision to end the relationship.
Michael Rosenbaum (2012 – 2013)
Laura met Michael Rosenbaum in 2012. This was after dating Chris Pines briefly in 2011, following the end of her engagement with Corey. Her relationship with Rosenbaum is probably the shortest we know of as it ended in February 2013.
Rosenbaum is also an actor who doubles as a director, producer, singer, podcaster and comedian. The American actor is best known for his portrayal of Lex Luthor on the Superman television series Smallville. While his relationship with Laura didn't last, the two have maintained a close bond and she has appeared on his podcast a few times. They also post each other's pictures and videos on Instagram.
Oliver Trevena (2013 – 2015)
This is perhaps the most publicized relationship Laura Vandervoort has ever been in. The 39-year-old actress began dating Oliver Trevena, a British actor and TV host, in mid-2013 and the Brown-eyed actor didn't waste much time in putting a ring on her finger. The relationship was not really known to the public until she was seen with a beautiful ring on her finger.
Vandervoort was 29 years old when Oliver proposed to her and she said yes. Trevena popped the question on Dec 31, 2013, during a vacation in England. As the story goes, they were visiting a castle in England when Oliver told Laura to close her eyes at exactly 11:11 am and when she opened them, he was down on one knee with a ring.
A surprised and excited Laura accepted the vintage diamond ring and automatically became Oliver Trevena's bride-to-be. Shortly after getting engaged, the actress announced her new status by showing off the engagement ring at the Vanity Fair Young Hollywood party which took place on February 25, 2014, in Los Angeles.
Born and raised in East Sussex, England, Oliver Trevena is a professional actor trained at the South east Theatre Society, as well as RADA. He is mostly known for being the host of the celebrity chat show, Young Hollywood. It is not known exactly how they met but it's probably in the line of duty.
Why Did Laura Vandervoort and Oliver Trevena Split?
At first, it seemed things were moving too fast for the pair but it appeared they were happy with their romance and we just had to be happy for them. Unfortunately, the seemingly picture-perfect couple were going through troubles behind closed doors but managed to keep things cool on the outside.
However, they couldn't put up the charade for too long. Barely a year after getting engaged, news about their breakup shocked fans who were eagerly waiting for the wedding. The relationship which started and progressed on a rather fast lane ended as such. They just went their separate ways without making an official statement to confirm the split and probably share the reasons behind their decision.
While there was no official statement about the reason for breaking off the engagement, a cryptic post Laura left for her Instagram followers on 2015 New Year suggests there was cheating on Oliver's side. She also hinted that she has moved on with her love life but to date, no relationship has been linked to her.
Just like Laura, Oliver is not yet married and might be single at the moment. After his relationship with Laura ended, the British TV star dated Brooke Burke from 2017 to 2018 and that was the last time he surfaced on the dating scene. Before Laura, he was in two notable relationships with Crystal Reed (2011) and Rachel Stevens (2006 – 2007).
Both Laura Vandervoort and Oliver Trevena don't seem to be friends and with the cryptic message she left on Instagram after their split, the end of their romance might be far from amicable. Vandervoort currently resides in her hometown of Toronto, Ontario, and seems to be focusing on her career than finding love again.