Not much is known about Kevin Spacey's current whereabouts or what he is doing now as he has been keeping a very low profile since the sexual assault controversies that affected his career.
The actor also confirmed being gay while addressing his alleged sexual misconduct, stating that he has loved and had romantic encounters with men throughout his life, and has chosen now to live as a gay man. Some unconfirmed sources mention American producer and entrepreneur Dana Brunetti as his new gay partner.
Who is Kevin Spacey?
Kevin Spacey is one cool actor who will always be remembered for leaving an indelible mark onscreen, stage, and cinema. His roles in American Beauty, The Usual Suspect, House Of Cards and L.A Confidential, is clear proof that he is an all-weather when it comes to the acting business.
There is no form of the show business he hasn't made his mark. But beyond his prolific career, the Tony Award-winning actor has been on various media timelines for some unpleasant reasons.
As a result, most of his fans have been asking questions to know what happened to Kevin Spacey. In the wake of the moment, we have gathered more in-depth interesting details you need to know about the prolific actor, as well as his relationships.
What Happened to Kevin Spacey and What Did He Do?
Although he is was born as Kevin Spacey Fowler, the actor has become widely known by his professional name Kevin Spacey.  He began his professional career in 1981, and he has taken on several important roles that have contributed to his career success.
He is no doubt one of Hollywood's most decorated actors, thanks to his roles in acclaimed movies like American Beauty, House of Cards, and The Usual Suspects. However, several lawsuits leveled against him has placed the actor's life and career under intense scrutiny.
He Was Accused of Sexual Assault
On October 30, 2017, the actor was mentioned in sexual misconduct allegations when American actor and singer Anthony Rapp alleged that Kevin harassed him sexually in 1986.
According to the actor, he was 14 years old when Kevin, who was intoxicated, tried to "seduce" him at his apartment. Rapp had in 2001 made the same claim during an interview with an LGBT-interest magazine, The Advocate, but Spacey's name was withdrawn just to avoid public outing.
Spacey, in his reply to the allegation, claimed that he could not remember having an encounter with Rapp. However, he apologized to the actor for the "inappropriate drunken behavior" if he had behaved as asserted.
Unfortunately, while Spacey was trying to handle the intense scrutiny of his character by the public, then came more persons with similar allegations against him. Among those that spoke against him is the American journalist Heather Unruh, who claimed the actor sexually assaulted her son.
He Had A Long List of Accusers
While the case was ongoing, eight persons from the House of Cards, and the son of veteran actor Richard Dreyfuss, Harry was among the testifiers of the alleged inappropriate behavior by Spacey.
By November 16, the testifiers against his alleged misconduct had increased to 20. In 2016, the actor was alleged to have sexually assaulted an 18-year-old man in Nantucket, Massachusetts and as a result, he was charged with a felony and indecent assault.
Meanwhile, this is not the first time Spacey had faced court charges for a similar case. Filmmaker Tony Montana had claimed to have been forcefully fondled in a Los Angeles pub in 2003.
In 1992, a man accused him of sexually assaulting him in West Hollywood. The case was, however, dropped in September 2018. These were just a few of the many allegations the actor is facing but he outrightly denied them all.
How These Controversies Has Affected His Career
While Spacey's publicist Staci Wolfe had stated that the actor was undergoing treatment and evaluation, there are no doubts that the testimonies against him question his character and also has a damaging effect on his already established career.
First, it was the production of the widely watched House of Card. Netflix had in 2017 announced that Spacey would no longer be part of the acclaimed political drama. Being true to its words, the streaming agency had Spacey's character Frank Underwood killed off.
In addition to winning several award nominations, the web television series helped the actor win Best Actor – Television Series Drama category in 2015.
Spacey was set to receive the 2017 International Emmy Founders Award, but following these sexual assault allegations, the International Emmy Awards withdrew from honoring him. As if that was not enough, he lost his role as J. Paul Getty in Ridley Scott's epic All The Money.
Six weeks ahead of its release day, the film was reshot and Spacey's role was taken over by Christopher Plummer. To cap it all, an accountancy firm in Manchester revealed its plans to remove a large mural of Kevin Spacey from the side of its office building.
Where Is Kevin Spacey and What's He Doing Now?
Although Kevin Spacey has suffered a great deal from the numerous charges against him, nevertheless, the actor seems to have picked up the pieces of his life and moved on. The actor has been keeping a very low profile and has been seen at a couple of events.
Spacey decided to continue touring Europe and he's been spotted a few times in Spain performing with a street band, Tuna de Derecho de Sevilla. He was also seen in Rome, performing a spoken-word poem that centers on a boxer who's trying to make a comeback.
Meanwhile, in January 2020, one of the actor's criminal charges was dropped. The assault lawsuit filed against him for allegedly asking an anonymous massage therapist to touch his genitals was reportedly withdrawn as the said therapist died of cancer.
In 2019, Spacey pleaded not guilty to the felony charges against him for allegedly assaulting journalist Heather Unruh's son. The  18-year-old boy also charged the actor with emotional damages. But on July 5, 2019, he dismissed the claims with prejudice.
The Untold Truth of His Sexuality: Is Kevin Spacey Gay?
Kevin Spacey's sexuality and relationship status have been topics of tabloid gossip and rumors for several years now. But it seems the actor prefers keeping his personal life away from the prying eyes of the public.
The absence of a visible partner in the life of Spacey has long led to a general conclusion that the talented actor is gay.
American men's magazine Esquire has even gone ahead to assert that he is gay some years back. However, when addressing the rumors, Spacey maintains not being gay until October 2017, when he finally decided to openly identify with his sexuality.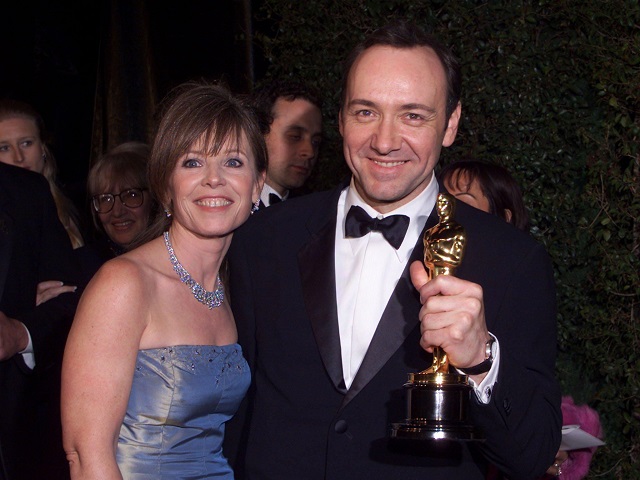 Kevin Spacey confirmed being gay while addressing his alleged sexual misconduct with Rapps. In his tweet, the actor tendered his sincere apology to the singer-actor and went further to say that he has had relationships with both men and women.
Although his decision to come out via his statement has been largely criticized following the allegations about him being gay with pedophilia, the actor believes his decision marks a good start to his self-evaluation journey.
— Kevin Spacey (@KevinSpacey) October 30, 2017
Before coming to terms with his sexuality, Kevin dated a good number of beautiful and popular ladies. He was with actress April Winchell from 1976-1977, before hooking up with popular scriptwriter Dianne Dreyer from 1992-2000.
There were speculations also that the actor dated Jennifer Jason Leigh and Ashleigh Banfield. Some unconfirmed sources mention American producer and entrepreneur Dana Brunetti as his new partner.