Kay Adams is probably as popular as the most famous stars in the National Football League like Tom Brady, Antonio Brown, Von Miller, and many others. But, unlike the NFL bigshots, she is a sportscaster and television personality who is good at what she does. For this reason, Kay deserves an honourable mention when it comes to those who talk football better than some others play it.
Beyond what we have known her for on television, Kay does have a life that is as interesting as her media career. That aspect of her life is what we are going to focus on here as we take a look at her background, relationship life as well as mention other tidbits we gathered about this television sports personality.
Kay Adams – Bio, Age
The belle was born on the 6th of April many years ago in Chicago, Illinois where she possibly spent her childhood with her elder brother under the aegis of their parents. Her particular year of birth has not been made public. Kay Adams is Caucasian of Polish descent and is reportedly fluent in Polish language being that she possibly learned from her parents.
There are no publicly available records of which school Kay went to, but at least we do know that in the year 2014, she got an invite for her 10-year high school reunion but ended up not attending it as inferred from her response to a comment on the tweet. Just as her high school details are obscure, same goes for her college education as she has not revealed which college is her alma mater and what course she studied.
Nevertheless, Kay Adams began her career as an in-game host for the St. Louis Cardinals on their home games before she began venturing into professional football as a fantasy football host. Prior to this, she was making fantasy football videos she uploaded on YouTube in 2012. Following this, Kay Adams made appearances as a guest on shows and podcasts like Sports Net New York, Garbage Time Podcast with Katie Nolan and Complex News where she discussed her fantasy football picks.
She began hosting SiriusXM's Livin' the Fantasy and SiriusXM Fantasy Drive before moving on to host DirecTV Fantasy Zone, an NFL Sunday Ticket package. Coming to October 17, 2012, the sports/media personality made her famous appearance on The Late Show with Craig Ferguson as a guest.
Since the year 2016, Kay Adams has been hosting special events for the Chicago Bears as well as working as one of the hosts of NFL Network's Good Morning Football with fellow sportscasters like Kyle Brandt, Peter Schrager, and Nate Burleson. The show which begins airing by 7 a.m Monday through Friday every week of the year has it members discuss the day's burning football topics as well as host football coaches and players as guests at times.
Married – Who is Her Husband or Boyfriend?
With a successful career as hers, in addition to being beautiful in every measure and sense of the word, an unavoidable question people are asking about Kay Adams is whether or not she is married, who is her husband or if she is not married, who then is her boyfriend?
From what we know, Kay hasn't been too revealing on what goes on in her personal/love life. She did hint about having a boyfriend in March 2011 with a tweet she made. But in 2012, in an interview, she had with Craig Ferguson, Kay Adams disclosed she doesn't have a boyfriend. She added that it would be difficult for a man to date someone with in-depth football knowledge like her. Similarly, Kay disclosed that in the male-dominated football world where she plies her trade, men are often intimidated and act insecure in her presence.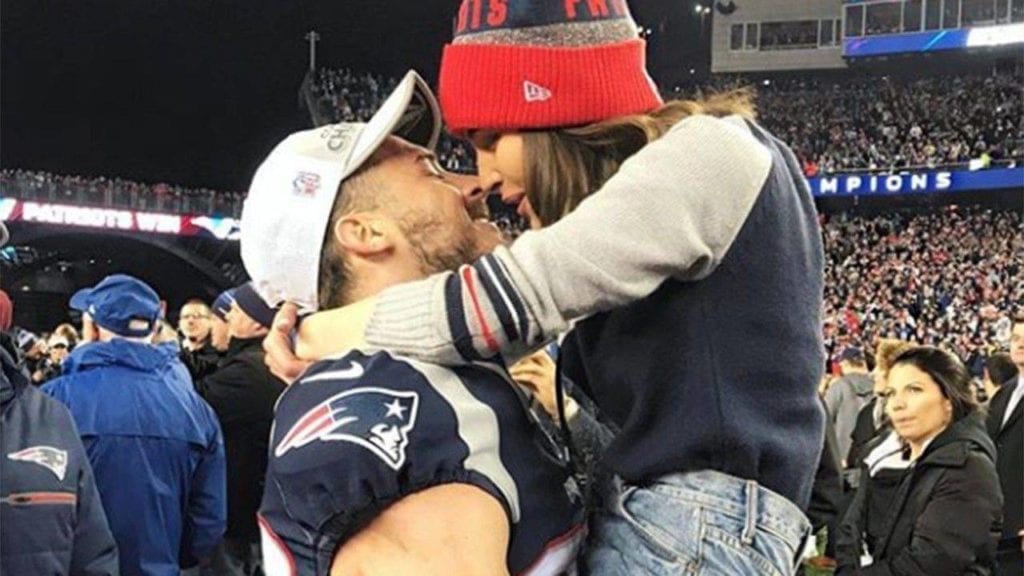 Continuing on the quest of finding who gives her goosebumps, fans and the media shouted eureka when Kay was frequently seen with NFL star Danny Amendola. A conclusion on their possible dating affair was reached when they were both spotted in the 2015 ESPY Awards as a couple. Sadly, since then, nothing has been heard about the two.
See Also: Holly Rowe Married, Husband, Son, Gay, Does She Have Cancer?
As it is now, Kay Adams is not married and she is also not known to have a boyfriend.
Height, Weight
Kay Adams will pass for a model any time any day should she decide to pose as one. This is made possible because of her well-contoured body which weighs about 53 kg or 116lbs. With that light body mass, the Chicago, Illinois born sportscaster stands and walks on a height of 5 feet 5 inches which is the equivalent of 1.65m.