Over the years, several American rappers have lost their lives during their active careers. Amongst them is Juice Wrld, an American rapper, best known for his hit singles, including "Lucid Dreams" and "All Girls Are the Same." The talented and well-respected rapper was undoubtedly enjoying a burgeoning career before he passed on in December 2019. At the time of his death, he was signed up with  Interscope Records and Lil Bibby's Grade A Productions.
Before his death, the Chicago-born rapper collaborated with several big names in the music industry, including Future, Lil Yachty, Nicki Minaj, and many others. Although he is widely known by his stage name Juice Wrld, it was as Jarad Anthony Higgins that the rapper was born on the 2nd day of December 1998, in the city of Chicago, Illinois, United States. His stage name, Juice Wrld, was inspired by his admiration of late rapper Tupac Shakur and the movie Juice, while his style of music was largely influenced by famous artists like Eminem, Wu-Tang Clan, and of course, Tupac.
Juice Wrld was raised alongside his older brother by their mom, who contributed immensely towards the development of his music career. Before the inception of his career, the rapper completed his high school studies at Homewood-Flossmoor High School. There, he picked interest in rapping as a freshman but started taking it more seriously in his sophomore year. Besides being an exceptional rapper, Juice Wrld was also a gifted singer and songwriter.
Juice Wrld's Fact Card 
What We Know About Juice Wrld's Music Career 
Juice Wrld grew up listening to rock and pop music because his conservative and religious mom wouldn't let him listen to hip-hop. He also took piano, guitar, and drum lessons and also played the trumpet for his school band. Using the pseudonym JuicetheKidd, the rapper dropped his first music track titled "Forever" on SoundCloud in the year 2015.
He released his first full-length EP titled: 9 9 9 in 2017, which earned him a massive following across several platforms through his single "Lucid Dreams." The rapper also released his debut track "Too Much Cash" in the same year, and by mid-2017, Juice Wrld had already won the attention and praises of music elites such as Lil Bibby, Waka Flocka Flame, G Herbo, and Southside.
Impressed with his talent, Lil Bibby's co-owned record label quickly signed Juice Wrld after which he dropped a three-song EP in December 2017. The EP did not only win a spot on several blogs, but it also made the rapper's track "All Girls Are the Same" to be very popular among music lovers. Juice Wrld released a music video in February 2018, which subsequently earned him a deal with Interscope Records for a whopping $3,000,000.
The rapper officially released his hit song "Lucid Dreams" as a single in May 2018. Not long after its release, the song became one of the biggest streamed songs of the year and also reached number 2 on the US Billboard Hot 100. "Goodbye & Good Riddance" is the name of Jarad's debut studio album and it was released on 23rd May 2018. The album was followed by a two-song EP titled "Too Soon," which was dedicated to deceased budding rappers XXXTentacion and Lil Peep.
Juice Wrld announced his first tour "WRLD Domination" with rappers Lil Mosey and YBN Cordae on 20th July 2018. He appeared on rapper Travis Scott's Astroworld and subsequently performed his song "Lucid Dreams" on August 8, 2018, during his late-night television debut on Jimmy Kimmel Live!
Throughout his career, the rapper collaborated with notable artists, including Future, Nicki Minaj, and Ski Mask the Slump God. He released a joint mixtape titled Evil Twins with Ski Mask the Slump God in 2019 and embarked on a tour together with record artist Nicki Minaj on April 9, 2019.
The rapper, who was popular for his deep knowledge in genres like hip hop, alternative R&B, trap, cloud rap, emo rap, and R&B, released his second studio album "Death Race for Love" on March 8, 2019. Some of his other singles include "Bandit," "All Night," "Hate Me," "Graduation," and "Run."
How Rich Was Juice Wrld Before His Death?
Besides being popular, Juice Wrld made a substantial income from his musical career while he was alive. His short time in the spotlight saw him sign several contracts with successful establishments, including the Interscope Records. Through his contract with the record label, Haggins became a millionaire at the age of 19, and also made sizeable income from the sale of his albums.
Other sources of his revenue include merchandise, concerts, tours, music, and video streaming on lucrative platforms like YouTube, Spotify, iTunes, and many others. That being said, Jarad's net worth was reported to be between $4 million and $8.5 million at the time of his death.
The Rapper's Troubles With Drugs and Law
Jarad Haggins fought so hard to gain the right footing needed to stay on the right side of the law in his lifetime. Regardless of his fame and connection in the music industry, his career was tainted by several legal and drug issues. His drug woes began long before he became a superstar. It is said that the rapper began smoking and taking hard drugs like Percocet at the age of 14 and Xanax-fueled cocktail lean, also known as purple drank, in his 6th grade. Although the Lucid Dream crooner had spoken openly about his drug abuse experiences, he couldn't resist his addiction to hard substances.
Juice WRLD also faced several copyright lawsuits from notable musicians like Sting and Jerome Willisch. The Chicago rapper was accused of copying one of Willisch's songs in January 2019. In a suit filed through his guardians, Jerome claimed that Juice Wrld's hit single 'Lean Wit Me' was composed based on his song, 'Ice.' He also demanded the removal of 'Lean Wit Me' from all digital platforms and some undisclosed damages. Sometime in 2018, Juice Wrld faced a potential lawsuit for injecting a small part of Sting's track 'Shape Of My Heart' in his song 'Lucid Dreams.'
Most recently, precisely in October 2019, the emo rapper was slapped with yet another copyright lawsuit by members of Yellowcard (a now-disbanded rock group) over similarities between his breakout song "Lucid Dreams" and their track "Hollywood Died" which was released in 2006.
What Happened To Juice Wrld?
Juice Wrld's addiction to drugs can be said to be the major cause of his death on the 8th day of December 2019. On that day, the rapper, his girlfriend, and entourage were on their way to Midway International Airport in Chicago in a private Gulfstream jet carrying drugs and guns. Unknown to them, the pilot had informed law enforcement agents about Haggin's movement and the items on the aircraft. Immediately their jet landed, the rapper and his team were immediately subjected to a thorough search by the officers, who were already waiting at the airport alongside their drug-sniffing dog.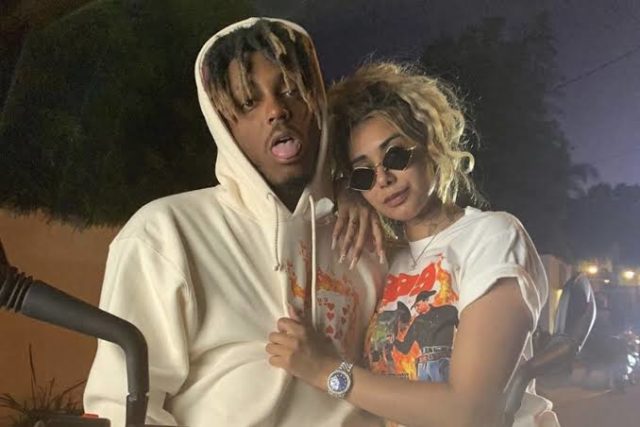 Juice Wrld, in a bid to hide the drugs, swallowed several unknown pills during the search, including Percocet, which led to him suffering seizures. He was immediately administered emergency medication and was taken to Advocate Christ Medical Center in Oak Lawn for further treatment, where he subsequently passed on. It was later revealed that the law enforcement officers found 70 lb (32 kg) of marijuana, 6 bottles of prescription codeine cough syrup, and 3 handguns on the aircraft.
Jarad's burial service took place at the Holy Temple Cathedral Church of God in Christ in Harvey, Illinois, on December 13, 2019. It was attended by his friends, family, colleagues, and girlfriend Ally, who he started dating in early 2019.