Jonathan Brandis was an American actor who lived from April 13, 1976 to November 12, 2003. He is best known for his role as Lucas Wolenczak in the sci-fi series SeaQuest DSV. Sadly, Jonathan ended his own life after falling into depression due to his declining career.
Jonathan Brandis was an amazing American actor and model, who began his career at an early stage in life. Going from child to teen star, Brandis' career went through leaps and bounds. His breakthrough role made him a popular figure among his female fans, and he also made regular appearances in teen magazines.
Sadly, the rise in his career didn't stay as long as he would have liked, and that led him down a depressive state that would last for a while until his death. Meanwhile, Brandis is part of the 27 Club, a tragic coincidence of celebrities who died at the age of 27, usually due to alcohol or drug abuse, or by violent means.
Jonathan Brandis' Fact Sheet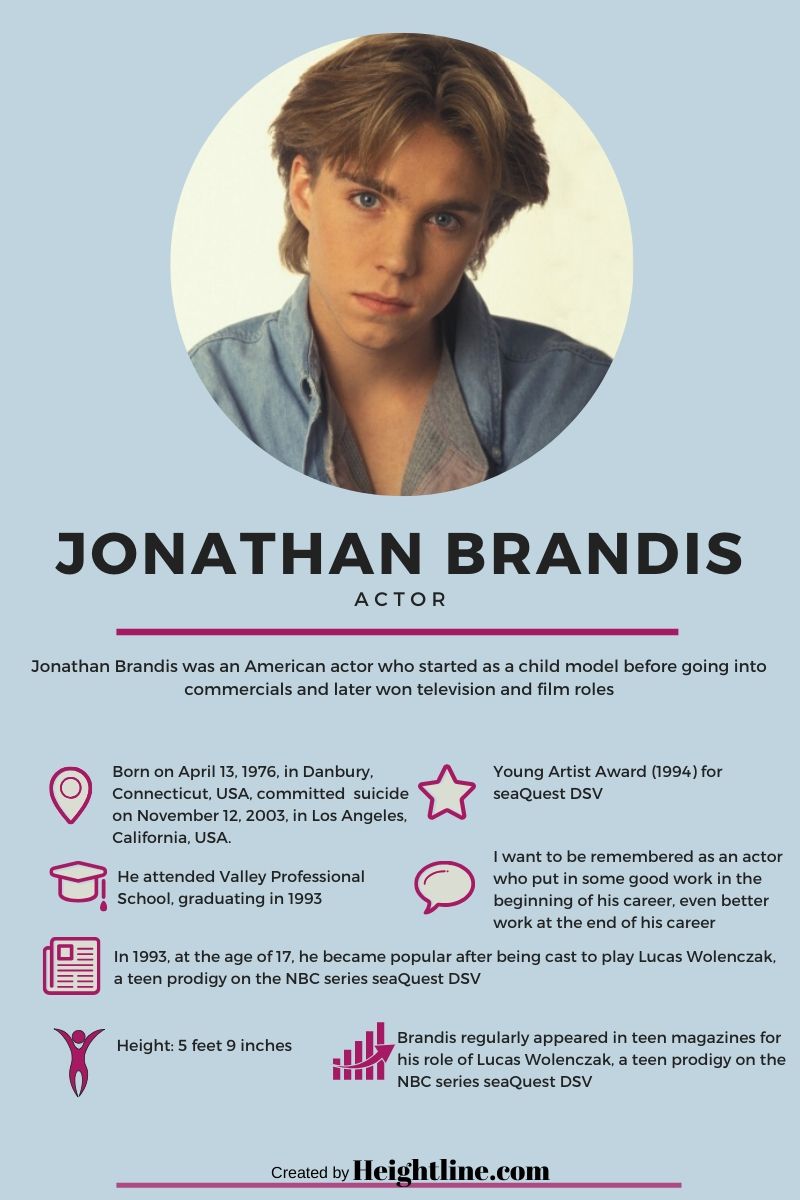 Details of The Late Actor's Career
Jonathan Brandis got into the world of modeling at a very young age, becoming a child model at the start of his career. Next, he got into the world of acting, starting with ad appearances before getting TV and movie roles.
When Brandis was six, he was cast as Kevin Buchanan in the ABC soap opera One Life to Live. He had this role from 1982 to 1983. With the exposure from his role in the soap, Brandis moved to LA with his family when he was nine years old. There, he continued with his acting career. He received guest roles in shows like L.A. Law; Murder, She Wrote; Blossom; Kate & Allie, and Full House.
Movie Appearances
Brandis' first movie appearance came as a minor role in the 1987 psychological thriller Fatal Attraction. He scored a few more minor roles before landing his first major role in 1990. The actor starred as Bastian Bux in the fantasy film The NeverEnding Story II: The Next Chapter.
His starring roles didn't stop there as he was cast in the miniseries Stephen King's It, later in the same year. Based on Stephen King's horror novel IT, Jonathan Brandis starred as 'Stuttering Bill' Denbrough alongside Tim Curry and others. Following his exceptional performance, he was lots of praise by fans and critics alike.
Jonathan Brandis got propelled to teen idol status, thanks to his lead role as Lucas Wolenczak in the Steven Spielberg produced sci-fi series SeaQuest DSV. The role made him so popular to a point that the teen star had to be escorted to the series' set by three security guards to protect him from the female fans present.
Gaining popularity for its futuristic elements in its first season, the ratings for SeaQuest DSV began to decline through season two, until the middle of season three. Sadly, this led to the cancellation of the show in 1996.
After DSV's cancellation, Brandis was able to get himself both supporting and major roles in other movies and series. However, none of them were able to reach the level of success his Lucas Wolenczak role was able to give him.
He appeared in the direct to TV films Her Last Chance (1996), Born Free: A New Adventure (1996), Fall into Darkness (1996), and Two Came Back (1997). On the big screen, he appeared on Outside Providence, Ride with the Devil, and had a small role in the 2002 thriller Hart's War.
Before his death, Jonathan authored a few indie screenplays, and also directed some indie movies, including the short film The Slainesville Boys. In 2018, Amazon Prime featured his movie Ladybugs on its front page, giving the late actor a sort of posthumous comeback. However, before his untimely death, Jonathan's net worth was estimated at $400,000.
Who Did Jonathan Brandis Date?
Jonathan Brandis had a few relationships in his life, but none was as public as his relationship with actress Tatyana Ali. Born on January 24, 1979, Tatyana is best known for her role as Ashley Banks on the NBC hit comedy series The Fresh Prince of Bel-Air, which ran from 1990 to 1996.
The pair started their relationship in 1995 and were together for three years, ending in 1998. Notably, it was Brandis' longest known relationship.
While their relationship lasted, the duo was featured in a July 1995 article by People Magazine. Aside from Tatyana, Brandis also dated actress and model Vinessa Shaw, from 1991 to 1992. The two met each other while on the set of Ladybugs. More so, Jonathan briefly dated actress Monica Keena in 2000.
Why Did He Commit Suicide?
On November 11, 2003, Jonathan Brandis hung himself in his Los Angeles apartment building. His friends found him hanging and called 911. His body was taken to the Cedars-Sinai Medical Center, where he died the following day, November 12 at 2:44 pm from the injuries he got during the hanging. There was no suicide note left and this left behind many questions.
Some of his close friends said the actor had been depressed about his declining career, especially his appearance in Hart's War. Hoping that the role would revive his career, it was a big blow when he found out a lot of his scenes had been left on the floor of the cutting room.
Although he told his friends he'd kill himself, none of them took him seriously. Many other speculations believe that the actor was unable to properly handle the effect of his waning career, and under the crushing depression, decided to take his own life.