Jesse Watters is the son of Stephen Hapgood Watters and Anne Purvis, and he has a sister named Aliza. He got married to his first wife, Noelle Inguagiato, in 2009 and in 2011 they welcomed twin daughters, Sophie and Elle. Sadly, after about a decade, they parted ways following Jesse's affair with a producer on his show named Emma DiGionvine, who he eventually married in December 2019.
For several years, Jesse Watters has remained one of America's top funny men. The conservative commentator has also garnered a legion of fans with his special brand of humor. However, all that glitters is not gold. Beneath all the laughs and anecdotes, Watters has endured his fair share of controversies including a work-place affair that nearly derailed his career. So, how did it all unravel? All these and more are explored below. 
Profile Summary
Age/Date of Birth:

44 years old (9 July 1978
Height:

6 feet (1.83 m)
Ethnicity/Race:

White
Nationality:
American
Wife or Girlfriend:
Emma DiGiovine (m. 2019)
Parents:
Father: Stephen Watters
Mother: Anne Watters
Net Worth:
$6 million
Jesse Watters'

Interesting Family Dynamics
Jesse Watters hails from a family of four. His father, Stephen, is a school headmaster/director of admissions while his mother, Anne, is a psychologist as well as an educator. Watters also has one sibling, a sister named Aliza who graduated summa cum laude from college and attended Oxford University as a Marshall scholar.
The Watters family shares an interesting dynamic in that Jesse is conservative while his mom, as well as dad and sister, are all liberals. This initially resulted in strained family dinners especially when the Fox personality was in his teens. However, by the time he became a journalist, mother and son learned to approach their differences amicably.
The Watters family avoid political debates during their get-togethers, and Jesse's mom now communicates with her son by texting him during his show. Her texts usually range from reprimands "Do not name call and parrot Trump's insults. This is beneath you" to encouragements "Please be assured that despite your wretched political orientation, I love you forever".
Jesse often shares his mother's texts with viewers and this has resulted in a popular recurring segment. The Philadelphia native has since disclosed that his mom's influence has made him more respectful on certain subjects. His mom on her own part has stated that she respects her son's professionalism. 
Extra-Marital Affair and Subsequent Divorce 
Jesse Watters was previously married to fellow broadcast journalist, Noelle Inguagiato. The two first met while they were both working at Fox. At that time, Watters was still on The O'Reilly Factor while Noelle worked at the advertising and promotions department. She also co-hosted a web show known as iMag Style.
Watters and Noelle tied the knot in 2009. They subsequently welcomed twin daughters, Sophie and Elle in November 2011. Watters and Noelle enjoyed a decade-long union during which the latter retired from work and became a homemaker.
Their marriage, however, hit a snag after the Fox News personality began an affair with a junior staff, Emma DiGionvine. On discovering the affair, Noelle filed for divorce in October 2017 while Watters confessed his indiscretions to his bosses.
The divorce was initially a contested one and was meant to go to trial. The couple, however, decided to keep things confidential and thus opted for a private settlement. The divorce was finalized in March 2019.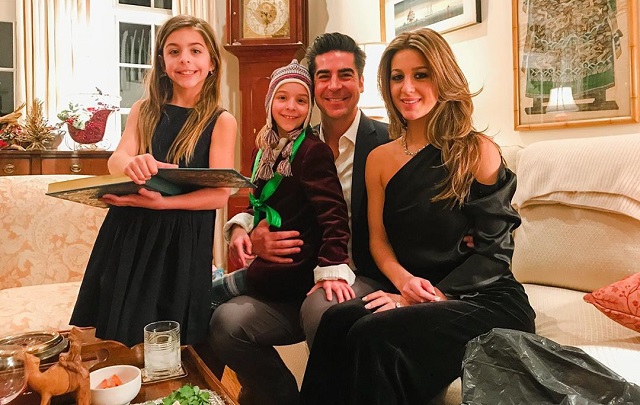 What Has Jesse Watters Been Up to Since the Scandal?
Since the onset of the MeToo Movement, sexual relations in the workplace have come under greater scrutiny. Several renowned broadcast journalists, such as Matt Lauer, AJ Calloway, and Bill O'Reilly, have all lost their jobs due to inappropriate workplace liaisons.
Jesse Watters has, however, escaped such a fate and this is as a result of the way he handled his own issue. When his extramarital affair first became public, he came clean with his employers and they instituted a routine investigation. The investigation determined that the romance between him and his junior staff was consensual and as such, he escaped the hammer.
Watters has thus continued to host his own show as well as co-host The Five. The Philly native has also continued his romance with Emma DiGionvine. Following the outbreak of the scandal, the lady was transferred to another Fox program known as The Ingraham Angle Show. She, however, left the network entirely in the spring of 2018.
Since then, she and Watters have waxed stronger in their romance. They also announced their engagement in August 2019. In a tweet on his verified Twitter handle, Watters shared a picture of them and thanked their fans and friends for all their love and encouragement.
Early Years and Journalism Career
Jesse Watters was born on the 9th of July 1978 in Philadelphia, Pennsylvania. He grew up in various parts of Philadelphia, including Germantown and East Fall neighborhoods, and completed his diploma at Friends Academy, Long Island.
He subsequently enrolled in Trinity College, Hartford, Connecticut, where he graduated with a BA in history in 2001. Upon graduation, the young historian joined Fox News as a production assistant. He spent roughly two years in this role before moving to the political talk show, The O'Reilly Factor, as production staff.
Watters spent several successful years on The O'Reilly Factor during which he became renowned for his ambush vox-populi. He later got his humourist political show, Watters World, in 2017. He also joined the rowdy daily talk show, The Five, as a co-panelist.
Watters' career has, however, not come without controversies. He has been criticized for racist comments about Asian-Americans as well as lewd insinuations about the United States' first daughter, Ivanka Trump. The Fox personality also received backlash for suggesting that some female journalists trade sex for juicy scoops. 
What Ethnicity is Jesse Watters
Jesse Watters is of white ethnicity. He has some Irish ancestry on his father's side but his mother's roots remain unknown.
Who was Jesse Watters' First Wife?
Jesse Watters' first wife is Noelle Inguagiato, a fellow broadcast journalist who he met while they were both working at Fox. They got married in 2009 and in March 2019, their marriage was officially dissolved.
Who Is Jesse Watters' Married to Now?
The conservative political commentator is currently married to Emma Digiovine, a social media personality, former Fox News Channel producer and journalist. They got engaged in August 2019 and tied the knot in December of the same year.
Who Are Jesse Watters' Parents?
Jesse's parents are Stephen Hapgood Watters and Anne Purvis. His father is a teacher while his mother is a child psychologist and an educator.
When Did Jesse Watters Divorce His First Wife?
Jesse Watters' marriage to his first wife, Noelle Inguagiato, was officially dissolved in March 2019. His wife Noelle filed for divorce in October 2017 after Jesse admitted that he had an affair with his current wife, Emma DiGiovine, who was a producer on his show.
Profile Summary
First Name:
Jesse
Last Name:
Watters
Also Known As:

Jesse
Sex/Gender:

Male
Profession:

Political commentator
Famous For:
The O'Reilly Factor
Colleges/Universities Attended:

Trinity College (2001)
Educational Qualifications:

BA History
Religion:

Unknown
Birthday & Zodiac

Age/Date of Birth:

44 years old (9 July 1978
Zodiac Sign:
Cancer
Birth Place:

Philadelphia, Pennsylvania, United States
Nationality:
American
Ethnicity/Race:

White
Country of Residence:

United States of America (USA)
Physical Attributes

Height:

6 feet (1.83 m)
Weight:

75 kg (165lbs)
Eye Colour:

Dark Brown
Hair Color:

Dark Brown
Other Body Measurements:

N/A
Relationships

Marital Status:

Married
Spouse/Partner:

Emma DiGiovine (m. 2019);
Previously Married Noelle Watters (m. 2009–2019)
Family and Relatives

Father:

Stephen Watters
Mother:
Anne Watters
Children:

Ellie Watters, Sophie Watters
Siblings:
Aliza - Sister
Other Relatives:

N/A
Net Worth
Estimated Net Worth:

$6 million
Salary:
N/A
Source of Wealth:

Journalism