'Jamal Khashoggi' is a name that has come to represent the struggle and oppression reporters face, especially in Arab countries like Saudi Arabia. Jamal was a reporter and political pundit who made international headlines on the 2nd of October 2018, when it was reported that he went missing after he visited the Saudi Arabian consulate in Istanbul, Turkey to pick up a document.
It was later discovered that Jamal had been assassinated at the Saudi consulate by agents of the Saudi Arabian government. His death was met with international ire, bringing Saudi Arabia under unprecedented scrutiny. Facing political and economic pressure from the international community, Saudi Prosecutor's Office revealed on the 15th of November 2018 that eleven Saudi nationals had been indicted and charged with the murder of Khashoggi. Of the eleven who were indicted, five were going to face the death penalty.
What To Know About Jamal Khashoggi's Career and Activism
Jamal Ahmad Khashoggi was a prominent journalist of Saudi origin. Khashoggi lived in self-exile from his home country because he felt the atmosphere for freedom of speech had been stifled by Mohammed bin Salman, the crown prince to the royal throne of Saudi Arabia.
Before his relocation to the United States, Jamal had a thriving career in Saudi Arabia. His career began in 1983 when he got a job at the Saudi Gazette as a correspondent. Later, between the years 1987 and 1990, he began reporting for several Arab Newspapers. After interviewing him several times, Khashoggi became close to the late Osama bin Laden. During the terrorist attack on the US on Sept. 11, 2001, his insights on Osama was considered invaluable.
In 2003, he lost his job as editor-in-chief of the Saudi newspaper, Al Watan, due to his critical views about Islamic extremists. Though he was reinstated in 2007, he was forced to resign in May 2010. Unsurprisingly, his career was far-reaching as he worked as a political commentator for top international media outlets such as Al Jazeera, BBC, Dubai TV, and MBC before he started writing for The Washington Post in September 2018.
Beyond his extensive career as a journalist, Jamal Khashoggi was a highly regarded activist notable for speaking out against political injustice and oppression. He constantly spoke up for women's rights in Saudi Arabia and against the oppression of free speech. In May 2018, he criticized the arrest of Loujain al-Hathloul, a women's rights activist.
For his efforts, in December 2018, he was posthumously named the Person of the Year by Time Magazine.
Jamal Khashoggi's Fact Card
Who Are His Family Members?
A bit of interesting information about the journalist which is worthy of note is that Jamal Khashoggi was part of a prominent family in Saudi Arabia. His family's legacy goes all the way back to his grandfather, Muhammad Khashoggi. His grandfather is best known as the personal physician of King Abdulaziz Al Saud, the founder of the Kingdom of Saudi Arabia.
His uncle, Adnan Khashoggi, was a high profile arms dealer who had acquired a net worth of $4 billion in the early 1980s. He was also a cousin to Dodi Fayed, who was in a relationship with Princess Diana when they both passed away in a Paris car accident. His aunt, Samira Khashoggi – Dodi's mother and Adnan's sister – was an acclaimed progressive author and the editor-in-chief of Alsharkiah magazine, as well as the owner.
Jamal also has prominent relatives in the United States, Egypt, and other countries.
Was Jamal Khashoggi Married?
Many are just as curious about Jamal Khashoggi's personal life as they are about his professional history. For that reason, here's a look at his life away from the media.
At the time of his death, Jamal was engaged to Hatice Cengiz – a Turkish citizen and doctoral student. Before his relationship with Hatice, he was married to Dr. Alaa Nassif. Jamal and Alaa had four children together: two sons named Salah and Abdullah while his two daughters are named Noha and Razan Khashoggi. The couple went their separate ways due to the distance between them as he was away from Saudi Arabia on self-exile.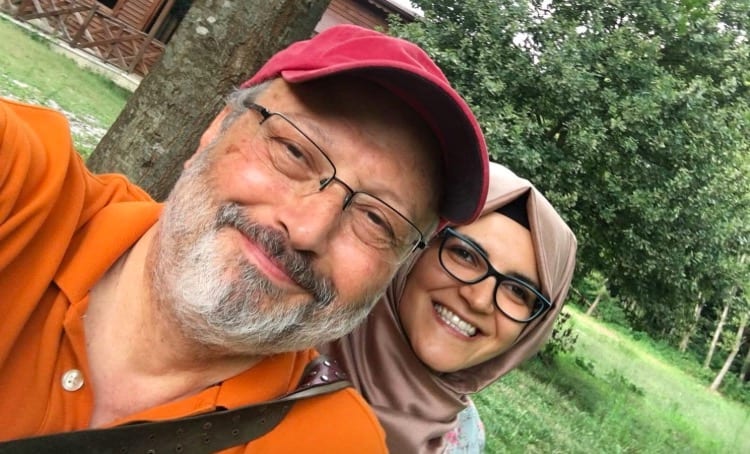 On the 2nd of October, 2018, the political pundit had gone to the Saudi consulate in Istanbul, Turkey to retrieve a document certifying that he and Alaa Nassif were officially divorced, in order to move forward with his wedding to Hatice Cengiz, which was scheduled to hold in the coming days.
Not much is known about Hatice Cengiz beyond her relationship with Jamal Khashoggi; however, after his death, she has picked up his baton and is carrying on his activism.
How Did Jamal Khashoggi Die?
There are many conflicting theories about the death of Jamal but what is known is that he entered the Saudi Arabian Consulate in Istanbul on the 2nd of October, 2018, but no CCTV recording showed him leaving; as a result, he was declared a missing person.
On the 15th of October, both Turkish and Saudi Arabian officials inspected the consulate for foul play. The Turkish officials were able to acquire evidence that Jamal Khashoggi had been killed in the consulate and that the crime scene had been tampered with in a deliberate effort to conceal it.
The Saudi Arabian government initially claimed that Jamal left the consulate unharmed through the back entrance; however, after pressures from the international community, on the 20th of October 2018, the Saudi Foreign Ministry revised their story, claiming that the reporter died during a fistfight in the consulate.
Conflicting Reports About His Death
Other reports have it that Jamal Khashoggi was captured, tortured and then killed inside the consulate before his body was cut into pieces and quietly moved out of the building. It was claimed that the self-exiled reporter was still alive when Salah Muhammed al-Tubaigy, who had brought along a bone saw, began to dismember his body. Salah is a forensic specialist and allegedly part of a fifteen man squad sent to kill Jamal. As the story goes, when he started to cut into the journalist's body, he wore his earphones and began listening to music.
However, on the 15th of November, 2018, it was stated by the Saudi Prosecutor's Office that Jamal was tied up shortly after he entered the consulate building and then injected with an overdose of a sedative that killed him. His body was then dismembered and removed from the building.
However, on the 18th of October 2018, the Daily Sabah, a Turkish newspaper, reported that neighbors noticed a barbecue party at the consulate, an uncommon occurrence. It is widely believed that the barbecue party was to serve as a cover to hide the smell of the burning of the journalist's dismembered corpse.
While no one can say for certain how Jamal Khashoggi died, there is no denying that he left a legacy that will not be forgotten in a hurry.