Faze Rain is a YouTube gamer and internet personality who has a net worth of $3 million.  He is well-known for the amazing gaming skills he displays on his YouTube channels
Faze Rain first caught the attention of the media in 2014 when he reached a milestone of over a million subscribers on the video-sharing platform. He went on to become one of the most trending gamers in 2017 when his channel TrickShotting notched over five million subscribers.
The YouTuber star, also known as Nordan Shat, is an esteemed member of the FaZe Clan, an e-sports and entertainment organization that participates in diverse video game tournaments. Through his involvement in the organization, Rain has witnessed an incredible amount of success as he serves as the owner of some of the merchandise sold on the organization's online store.
Having survived early life challenges that almost led him into taking his own life, Rain has dedicated himself to the creation of vlogs that show more of his humorous nature; thereby putting a smile on the faces of his fans.
How Did Faze Rain Achieve His Huge Net Worth?
Faze Rain has built an impressive career through his creative works on YouTube. He reportedly earns a monthly income that ranges from $491,000 to $790,000 from his TrickShotting channel. Whereas the Nordan Shat channel is said to be gathering an annual income that is between $1,000 and $16,000.
He also gets revenues from the sales of FaZe merchandise like backpacks, sunglasses, and T-Shirts on the FaZe Clan online emporium. In addition to that, some of his videos have been sponsored by brands such as FanDuel, CSGO, and GFuel.
Through his successful endeavors, the famed internet personality is said to be worth over $2.5 million. His car collection includes luxury cars like Telsa Model X and Audi R8 V10 Plus.
What was Faze Rain's Childhood Like?
Faze Rain, formerly known as TrickShotting, was born Nordan Shat in Toronto, Canada on 29th May 1996. He is one of the two children born to his parents. While he was growing, the vlogger was a chubby kid that was full of wits and vivacity. His witty character often landed him into trouble; nevertheless, he managed to focus on his studies and was a grade A student.
After being a happy family for the first seven years of his life, things took a negative turn in subsequent years. The relationship between his parents became tempestuous as they quarrel more often. As a result, Faze Rain became depressed, and his grades began to drop. He then found solace in playing video games, which he later got accustomed to.
However, the relationship between his parents eventually hit rock bottom when his father left the family and never showed up again in their lives. The then-7-year-old Faze was emotionally affected, and he felt alone and abandoned during such time. Even though his mother moved on to remarry, he still felt the absence of his father. Through his mother's second marriage, Shat now has two half-siblings.
As if the emotional distraught he was facing wasn't enough, the gamer also suffered heartbreak at the same time. He ended his relationship of about three years with his girlfriend. With so many challenges in his life, Faze Rain decided to put an end to the troubles he was facing by trying to take his own life. He overdosed on Advil, which got him hospitalized for one week. After the failed suicide attempt, the YouTuber then moved on to build a career from what he loves doing most – playing video games.
How Did He Become So Popular on YouTube?
Nordan Shat began going for a therapy session after his failed attempt to take his life. In the process, he came in contact with a physiotherapist called Mary, who advised him to focus more on things that make him happy. Heeding to the advice, he began watching YouTube videos and equally spent ample time playing video games.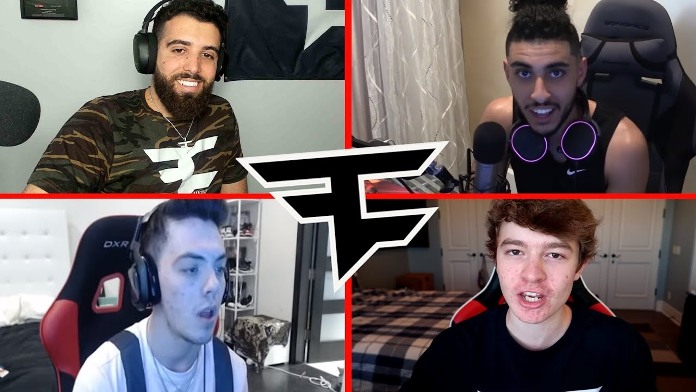 Although he joined YouTube in December 2010, Faze Rain didn't start making gameplay videos at that time. He waited for a few years before launching his gaming career by posting Halo 3 and Call of Duty gameplay videos on his channels, TrickShotting and OMFGRain. Before joining Faze Clan in January 2016, he had been a member of many other gaming groups such as Super, Defy, and Rise. Through the uploads of game-related videos, Nordan Shat became prominent on YouTube as his fan base continued to increase.
His TrickShotting channel now has more than five million subscribers with over one billion views. He additionally has an eponymous channel, where his vlogs about his everyday life. The channel has accumulated more than a million followers. He is also popular on YouTube as Vape Lord Nord, an alter ego character that he portrays in some of his vlogs. Despite having a rocky beginning, Faze has succeeded in registering his name as one of the most popular professional gamers on YouTube.
What You Should Know About His Suicidal Tweets
Faze Rain struggled with suicidal thoughts in December 2018. As a result, he checked into a mental health facility, where he received treatment. Then in October 2019, he got his fans concerned with a series of suicidal tweets he was posting. From his tweets, the YouTuber wanted to end his life due to the betrayal he got from his friends, who seemed to have used him for their self-interest.
Ended up in the hospital again and on my way to a psych ward. Those of you dealing with suicidal thoughts and are contemplating it, please don't do it. You don't understand the impact it has on people. We all have our time anyways, let's just live our lives out

— FaZe Rain (@FaZe_Rain) December 20, 2018
He also stated that he hadn't benefitted financially from the FaZe brands, which has left him in debts running in hundreds of thousands of dollars. Through the tweets, it appeared that his friends didn't show him much support when he was receiving treatment at the mental health facility, which left him heartbroken. However, Faze Rain has claimed that his Twitter account was hacked during that time.