Farrah lived an eventful life that had her love a lot of men all through her time in the spotlight, including Lee Majors to whom she was married from 1973 to 1982. The rest of the men Farrah Fawcett dated are Gary Roberts, Mike Blaine, Michael A. Andrews, Michael Wilson, Greg Lott, Tom Smothers, Dan Pastorini, Ryan O' Neal, Burt Reynolds, Arpad Busson, Ron Duguay, Steve Bing, James Orr, and Mike Jagger.
Farrah Fawcett died at the age of 62 in June 2009; it has been over a decade since she passed but she is still remembered for her iconic red swimsuit poster and the many roles she played across the small and big screens. She became a global star following her portrayal of Jill Munroe in the crime drama television series, Charlie's Angels. Also a fashion model and artist, the late Texas native had a rewarding career that earned her six nominations for the Golden Globe Award and four Primetime Emmy Award nominations.
The beautiful actress was diagnosed with anal cancer sometime in 2006 to the shock of many. She fought for her life to conquer the disease but her condition progressively worsened. The worst happened on the 25th of June 2009 when she passed on at Saint John's Health Center in Santa Monica, California. A private funeral was held for her in Los Angeles on the 30th of that same month and she was ultimately interred at the Westwood Village Memorial Park also in Los Angeles.
All The Men Farrah Fawcett Loved In Her Life Time
Gary Roberts (1962 – 1968)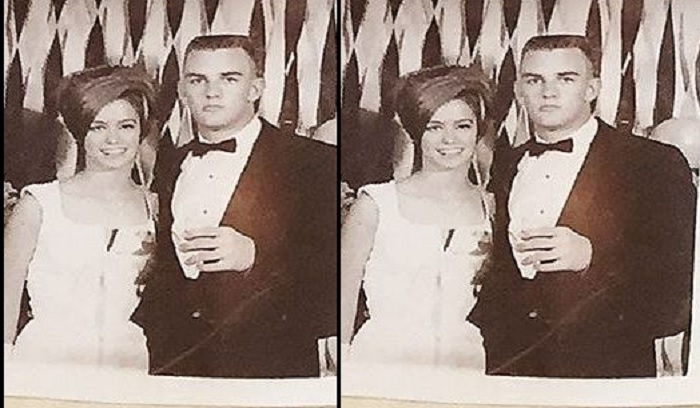 To the best of our knowledge, Gary Roberts is the first love of the late actress. They started dating in high school, years before Farrah decided to pursue a career in Hollywood. Gary who was working as a Kerrville banker met Farrah Fawcett through his friend, Bill Harrison, a local attorney and former state Rep. They all grew up in Corpus Christi and the actress was friends with Bill's younger sister named Kathy.
Farrah's father James William Fawcett wasn't excited about the relationship between his daughter and Gary. So anytime Farrah and Gary wanted to hang out, Gary would have Bill pick Farrah up from her home. This was so because Bill was the son of a minister and Mr. Fawcett was more comfortable seeing him around his daughter.
Regardless, Roberts and Fawcett dated all through high school and continued dating in college. While he attended Texas Tech University, she attended the University of Texas at Austin. It seems their relationship fizzled out when Farrah Fawcett moved to Los Angeles in 1968 to pursue a career in the entertainment industry. Roberts spoke fondly of her when she died in 2009.
He recalled that she was very beautiful and narrated an incident in Laredo that had people dumbstruck by her beauty. Farrah who was a senior at W.B. Ray High School went out for lunch with Roberts who was a freshman at Texas Tech. They walked into a noisy restaurant and all of a sudden everyone was quiet and staring at Farrah. She had people inviting them to join their parties.
Mike Blaine (1964 – 1965)
Farrah Fawcett was astoundingly beautiful. According to Roberts Gary, she was voted Most Beautiful at Ray High School in her sophomore, junior, and senior years. This was also the case when she studied at the University of Texas, she was reportedly voted as one of the 10 most beautiful coeds of the school. What this means is that she had lots of admirers around her right from her teenage years.
Based on available records, it seems she was romantically involved with other people while she dated Gary Roberts. Some reports have it that after Gary left for college, she began dating Mike Blaine who played football. The relationship reportedly ended when she left to further her education at the University of Texas. Blaine has been quoted to have said that the relationship died naturally as they were too young to keep it going.
Michael A. Andrews (1965)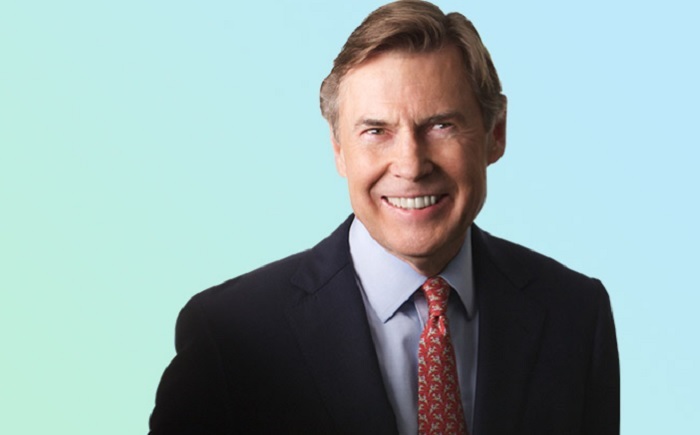 Before the actress gained mainstream recognition as an actress, she was popular wherever she finds herself, thanks to her looks. While in college, men flocked around her as she was not only beautiful but also always nice. During the time she spent at the university, she was involved with several men and Michael A, Andrews, according to some reports, happens to be one of them.
Andrews is an attorney and politician; a Democrat elected to the 98th United States Congress. He served as a member of the United States House of Representatives from Texas from January 1983 to January 1995. Michael attended the University of Texas and graduated in 1967 with a Bachelor of Arts degree. At some point, he reportedly went on a blind date with Farrah Fawcett and would describe it years later as the greatest blind date he's ever had.
G. Michael Wilson (1965 – 1966)
G. Michael Wilson is an obscure but common name you would encounter while looking at Farrah Fawcett's relationship history. He is often counted as one of the men she dated while in college and some reports even claim he was the first person she dated at the University of Texas. Apart from this, you wouldn't find anything else about the Michael Wilson and Farrah Fawcett relationship nor would you find anything about his whereabouts.
Greg Lott (1966 – 1970; 1998 – 2009)
Greg Lott is probably the love of Farrah Fawcett's life. Their relationship began at the University of Texas where Greg was a football star. Like her high-school lover Gary Roberts, Greg recalled in vivid detail the first time he saw Farrah in college. He was blown away by her beauty but refrained from being all over her which Farrah liked. Two months later, they were dating and remained lovers until 1970 when Fawcett's growing career and Greg's drug issues which saw him serve two prison sentences drove them apart.
Now a drugs counselor, Greg had a promising career in football that was truncated by a knee injury. This knocked him into a path he didn't envision for himself and he started doing drugs. When he was busted for drug trafficking the first time, Greg didn't want Farrah to know anything about it. Because of that, he blocked all forms of contact with her. He regained his freedom a year later but it was too late; the actress had moved on with her life and was married to Lee Majors.
After Lee came Ryan O'Neal and the troubled relationship that the actress had with O'Neal, as fate would have it, gave Greg another chance with Farrah Fawcett. They had randomly kept in touch all the while but O'Neal's abusive ways, drove Farrah into the arms of Greg. Greg said she told him he was a real man and would cook for him while they stay indoors watching movies and making love.
They kept the relationship quiet and Greg alleges that O'Neal shut him out of her life after she was diagnosed with cancer. He learned of her death from a gossip site and much later, that she left him $100,000 in her will. O'Neal claims Greg's allegations were ridiculous but the fact that Farrah left him nothing in her will suggests otherwise.
Lee Majors (1967 – 1979)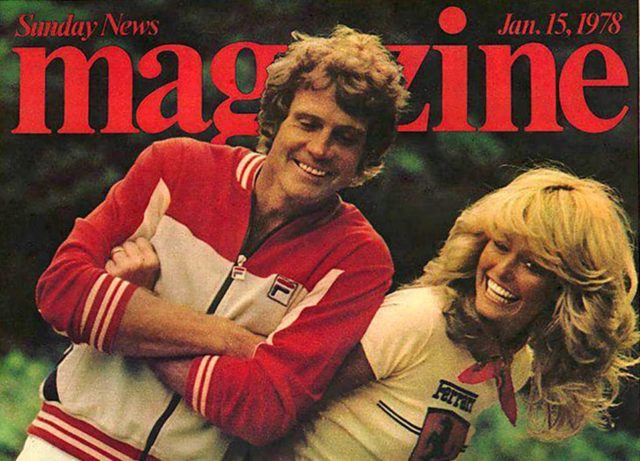 Lee Majors is the first and only husband of Farrah Fawcett. The American actor is known for his roles in series like The Big Valley, The Fall Guy, and The Six Million Dollar Man. The latter is a science fiction and action series that ran from 1973 to 1978. His second wife, Farrah Fawcett featured in at least four episodes of the series.
Their relationship began a few years after Majors parted ways with his first wife, Kathy Robinson. Fawcett was introduced to Majors by his publicist, he took her out for a coffee and it marked the beginning of a relationship that lasted for about 12 years. They dated for at least five years before they got married.
Many years after Fawcett passed, Majors would relate that their relationship was quite difficult even though they seemed to be a perfect couple. The Six Million Dollar Man actor divulged that the demands of their career made things quite difficult for them. In the years they dated, according to him, there was one he saw her for only two weeks.
Despite the challenges, they got married in 1973 but separated before the decade ran out in 1979. By 1982, their divorce had been finalized. The union didn't produce any child so it was pretty easy for Fawcett to move on with her life. Majors did the same with Karen Velez whom he married in 1988 and divorced in 1994. Since 2002, the actor has been married to his fourth wife, Faith Noelle Cross.
Tom Smothers (1969)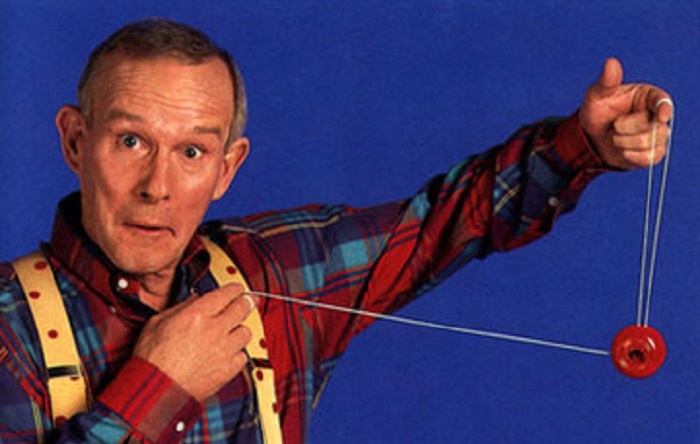 Tom Smothers is an American comedian, actor, musician, and composer who has been active in the entertainment industry since 1959. He is best known as a member of the musical comedy duo, the Smothers Brothers. The entertainer has thus far been married thrice; first to Stephanie Shorr from 1963 to 1967, then to Rochelle Robley from 1974 to 1976, and Marcy Carriker since 1990.
He has also been romantically linked to other women and Farrah Fawcett happens to be one of them. It has been claimed in some quarters that the two dated briefly in late 1960, precisely in 1969. This was after Tom divorced his first wife Stephanie Shorr and around the same time that Fawcett was dating Lee Majors. Perhaps, it was this year that Majors was referring to when he said he saw Farrah for only two weeks in a particular year during the years they dated before getting married.
Dan Pastorini (1979)
A former American football quarterback, Dan Pastorini spent 13 seasons in the National Football League playing for teams like Houston Oilers, Oakland Raiders, Los Angeles Rams, and the Philadelphia Eagles. The Super Bowl champion and 1975 Pro Bowler had an eventful career that extended outside of football to Hollywood.
This saw him star in a few movies and he even posed nude for Playgirl magazine. Pastorini, to the best of our knowledge, has only been married once, to English model and actress, June Wilkinson. They got married in 1973, had a daughter named Brahna Pastorini, and got divorced in 1982. Apart from June, he was romantically linked to other women and Farrah Fawcett was one of them.
Most people treated the relationship as a rumor but Pastorini's autobiography released in November 2011 confirmed that the two had an encounter. In the book titled Taking Flak: My Life in the Fast Lane, Dan Pastorini related that he and Farrah became very close but people weren't aware of it.
According to him, the late actress visited him on his last night in Houston, jumped on top of him, and gave him a big kiss. She expressed that she couldn't wait to be with him that night and with red lipstick, left a message on the mirror in his bathroom that read: "I want to have your baby". But that was the last time Dan ever got to see Farrah. She didn't return his calls and that was the end of what they had.
Dan said his secretary told him that the actress just wanted to mess around with him, that she preferred Rayn O'Neal because he was better for her career, "Farrah had no conscience", he wrote.
Ryan O' Neal (1979 – 1997; 2001 – 2009)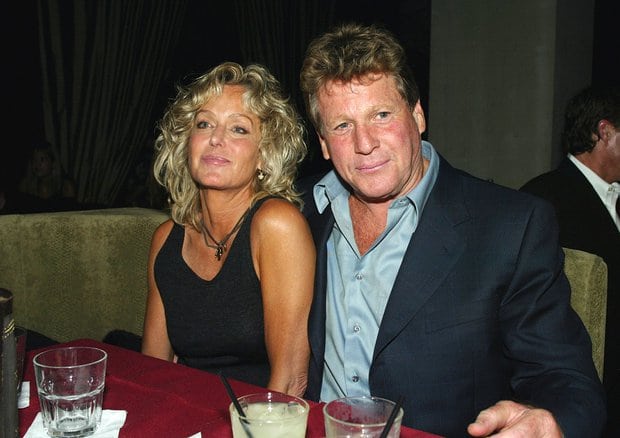 A former boxer and an actor, Ryan O'Neal is one of the people with whom Farrah Fawcett had a significant relationship. Their relationship began on a controversial note as the actor met the actress through his longtime friend, Lee Majors, who was married to Farrah. Like the other men who dated the late actress, Ryan recalls little details about the day he met her, he described her as "vibrant and wholesome" in his 2012 book, Both of Us: My Life with Farrah.
According to Ryan, he quickly became a family friend and soon learned that the couple was only getting by in their marriage. If everything Ryan related is true, Majors asked him to take Farrah out for dinner while he was away in Canada.
Ryan refused to oblige as it was odd for his friend to ask that of him. But about a week later, he invited Fawcett to a concert. When she told her husband that his friend asked her out, he reportedly said "I told him to" but insisted that Farrah wouldn't honor the invite. Ryan said Majors started calling his house and hanging up without saying anything thereafter.
Eventually, he warned him to stay away from his wife but this only drove O'Neal to confess his feelings to Farrah; it marked the beginning of their relationship and ushered in the final days of Majors and Fawcett as a couple. Ryan and Farrah went on to have a very public romance that a lot of people admired.
With the actor, she had her only child in 1985, a son named Redmond James Fawcett O'Neal. But then, the relationship deteriorated to such levels that O'Neal was accused of physically abusing the actress. In 1997, Farrah Fawcett caught Ryan in bed with another actress, Leslie Stefanson, and they parted ways.
When the actor was diagnosed with leukemia in 2001, they reunited with Fawcett assuming the role of his caretaker. Ryan soon went into remission and people anticipated that the two might eventually get married but it never happened. Fawcett was diagnosed with anal cancer five years later and it was Ryan's turn to take care of him.
It was reported that the actor and the actress agreed to get married as soon as she was strong enough for it but Farrah's condition never improved. If you ask Greg Lott, Fawcett was never going to get married to Ryan. He said her plan was to vacation with him and that all the reunion stories about Farrah and Ryan were a ploy to rewrite history.
Burt Reynolds (1981)
Burt Reynolds was an American actor and filmmaker remembered for his roles in box office hits like White Lightning, Smokey and the Bandit, Hooper Starting Over, The Cannonball Run Sharky's Machine, The Best Little Whorehouse in Texas, and much more. He is regarded as an icon of American pop culture, and a sex symbol in his prime. Reynolds was so cute that women flocked around him and he was romantically linked to many of them.
The actor who passed in September 2018 was married twice in his lifetime, first to English actress Judy Carne from 1963 to 1965 and then to American actress Loni Anderson from 1988 to 1994. He also had serious relationships that endured many years with Dinah Shore, from 1971 to 1975, and Sally Fields, from 1976 to 1980.
What the actor had with Farrah Fawcett happened in between the timeline of his first and second marriage. Details of their relationship are sketchy but it was a brief romance that presumably began after they met on the set of the 1981 action comedy film, The Cannonball Run.
Fawcett played Pamela Glover in the movie which earned her a Razzie Award nomination for Worst Supporting Actress. When they dated, the actor shared an apartment with Hal Needham, the American stuntman and director who died in October 2013. Reynolds wanted to impress Fawcett and borrowed Needham's Ferrari to go on a date with the actress. The relationship began and ended in 1981, per several reports.
Arpad Busson (1982)
Records have it that the late actress also dated Arpad Busson for a while, from July to August 1982. Details surrounding the beginning of their relationship are hard to come by. Farrah Fawcett was always rumored to be dating someone that it became embarrassing asking her about her love life. On the other hand, Busson was relentlessly evasive of the media and wouldn't give any interviews. Regardless, what they had was well-publicized and it was believed that they met at the French Riviera.
Arpad is a French financier and he dated other popular women like American actress Uma Thurman and the Australian supermodel Elle Macpherson. He dated Elle from 1996 to 2005 and they had two sons together. Thereafter, he was with Thurman for five years; first from 2007 to 2009 and then from 2011 to 2014. They also had a child together, a daughter named Rosalind Arusha Arkadina Altalune Florence Thurman-Busson.
Ron Duguay (1983)
Ron Duguay is a Canadian former professional ice hockey player; he spent 12 seasons in the National Hockey League (NHL) playing for teams like the New York Rangers, Detroit Red Wings, Pittsburgh Penguins, and the Los Angeles Kings. Admired for his long curly hair during his active days, Ron got married to Robin Bobo in December 1983 but the union crashed after they had two daughters.
Sometime in the 1990s, he got married to the famous fashion model, Kim Alexis; they lived together in Ponte Vedra Beach, Florida, until 2016 when they divorced. Apart from Robin Bobo and Kim Alexis, he dated other famous women before and after his marriages. In 1983, when Farrah and Ryan O'Neal were having issues in their relationship, Ron who was 25 years old, dated the actress who was 36 for several months. Ron recalled that "she was so sweet" the night they smoked pot together at her place.
Steve Bing (1997)
Steve Bing was an American businessman and filmmaker who reportedly inherited $600 million but was worth only $300,000 when he took his life. Bing died on the 22nd of June 2020 after he jumped from the 27th floor of his apartment in Los Angeles. He notably had two women in his life: Elizabeth Hurley and Lisa Bonder. Disregarding these two, he was involved with multiple popular women, including Farrah Fawcett whom he reportedly dated in 1997. Apart from this, it is hard to tell anything else about what the two had.
James Orr (1997 – 1998)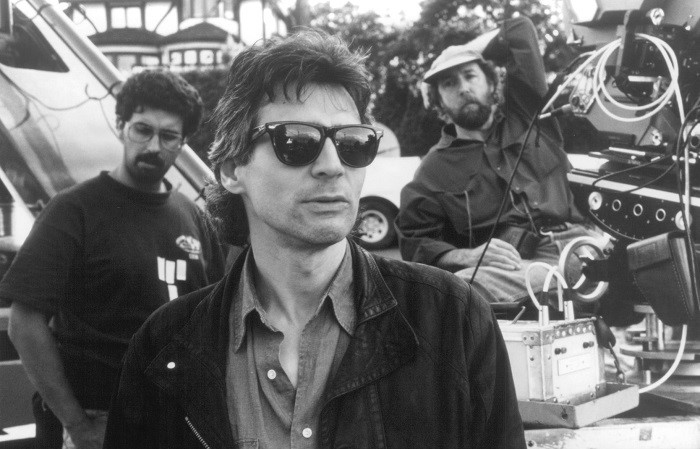 James Orr is a Canadian filmmaker known for works like Three Men and a Baby, Tough Guys, Sister Act 2: Back in the Habit, Man of the House, and Mr. Destiny. It is said that the two met for the first time on the set of Man of the House, a 1995 comedy film that stars Farrah Fawcett alongside Chevy Chase and Jonathan Taylor Thomas.
They began dating sometime in 1997 but managed to keep it away from the spotlight until January of 1998 when the Canadian filmmaker was arrested for assaulting the actress. Orr was later convicted on one count of misdemeanor battery.
Mike Jagger (1997) 
Mick Jagger is known across the globe as the lead vocalist and founding member of Rolling Stones. He has had a busy love life and is known to have dated some of the most beautiful and famous women in Hollywood. His ex-lovers are quite too many to count and Farrah Fawcett is often counted among them. What the rockstar had with Fawcett was brief but made headlines years later as it circulated that he ditched his date, Angelina Jolie, to have a one-night stand with Farrah Fawcett.