Sylvester Stallone is a tattoo freak, he has different parts of his body inked with different tattoos. He is also believed to have had plastic surgery several times to alter his looks, and although he admits to doing so just once, his before and after pictures prove otherwise.
History will always remember Sylvester Stallone as one of the most notable all-time action stars. With a star on the Hollywood Walk of Fame, he has also been nominated for some of the most prestigious awards; from Academy Awards to Golden Globe, People's Choice Awards, British Academy Film Awards, and much more.
Also a screenwriter, director, and producer, the American actor is probably most known for playing Rambo and Rocky Balboa. His rise to stardom is an inspiring tale as he struggled before he became one of the highest-paid actors in Hollywood who has starred in multiple action films like Tango and Cash, Demolition Man, Cobra, and much more.
Some of these action films have left the actor in need of surgery. For instance, he once disclosed that he had to go through emergency surgery after shooting a scene for The Expendables. The scene that had him fight Stone Cold Steve Austin left him with a hairline fracture on the neck. So he had a serious operation that had the surgeons install a metal plate on his neck.
People have not questioned the claims that some of Stallone's movie roles have subjected him to surgeries, but it is widely held that the movie star has had several plastic surgeries over the years. While that is still debated, the tattoos he has and his physique show that he's someone that cares a great deal about having a pleasing body.
A Look At Sylvester Stallone's Tattoos And What They Mean
Tattoos have long become the norm for many, especially celebrities. Regular blokes and popular figures get their bodies tattooed for different reasons. Some do it because they are in love with the art form of body modification and others; because it's an avenue for personal expression. Because of peer pressure and media influence, one might conclude that young people are most likely to get a tattoo, and rightly so. But then, more and more senior citizens like Sylvester Stallone have become tattoo enthusiasts.
The actor hasn't always been known as someone who holds tattoos in great esteem. As such, people have come to wonder why he keeps adding to his tattoo collection as he ages. The curiosity is understandable as the norm is for people to get all the tattoos they want at a young age and then take things slowly as they get older. As you would soon learn, there is a serious reason behind the actor tattoos and it goes beyond being a fan of body modification.
Most of Sylvester Stallone's Tattoos Are Meant to Cover The Scars He Got From Injuries Sustained While Shooting His Action Films
As an action movie actor, Sylvester Stallone is known for daunting and heart-thumping stunts. He likes keeping his actions real and has suffered lots of injuries in the process, some of which have threatened his life. For instance, the actor asked Dolph Lundgren, his co-star on Rocky IV, to hit him as hard as possible. Lundgren obliged and landed a punch that slammed Stallone's rib cage into his chest. He spent eight days in intensive care and was told he could have joined his ancestors had he not received immediate medical attention.
That was only one of the many injuries the actor has suffered while working on his movies. He injured his vein shooting Rocky II, it was so bad that it required sixty stitches to fix the wound. In a nutshell, Sylvester has suffered all sorts of chest injuries and they left him with too many scars he didn't appreciate. So to get rid of the eyesore scars on his body, Stallone opted for tattoos. The actor has inked his arms, chest, and back.
Sylvester Stallone's Tattoos on His Upper Arm and Right Shoulder Are Tributes To His Wife and Kids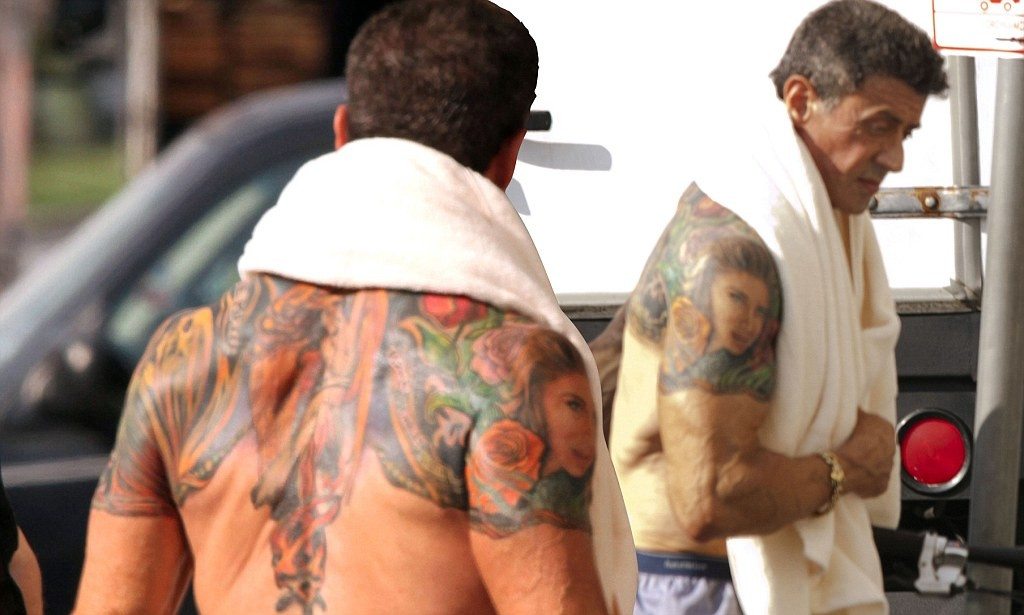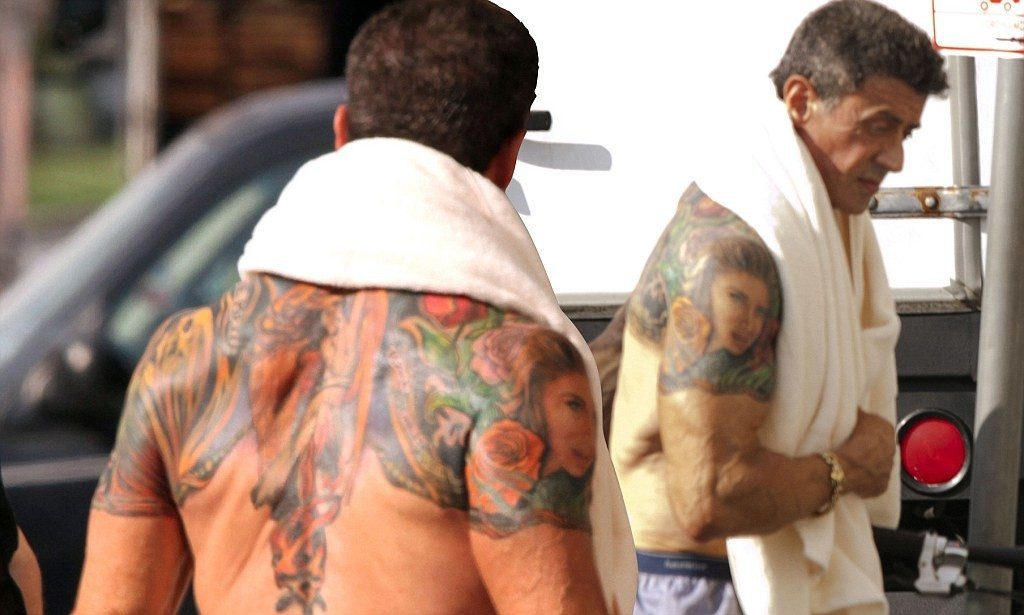 The most significant of his tattoos is the portrait of his wife, Jennifer Flavin, and the three roses around it which represent his three daughters, all of whom have "Rose" as their middle names. He first showed the tattoo in 2010, during the original work of The Expendables series. Being a world-famous actor, it is only natural to expect that Sylvester Stallone tattoos were designed by some of the renowned tattoo artists. The portrait of Flavin, his third and current wife, was designed by Mike Devries.
DeVries owns the MD Tattoos, which is based in Northridge, California. He is well-known for his amazing job in portraiture as a tattoo artist. Devries beautifully designed the tat on the upper arm of the actor's right shoulder. The elegant roses are applied in different colors, red, gold, and purple: they represent Scarlet, Sistine, and Sophia, the three daughters of Sylvester Stallone and his wife, Jennifer Flavin.
It is believed that this tat was one of the actor's ways of celebrating his many years of marriage with Flavin and the family they have built together.
Sylvester Stallone's Tattoos on His Back, Chest, and Left Shoulder
Apart from the tattoos about his family, others are believed to be covering up scars. He sports a big tattoo on his back that features an angel, a dagger, a skull, and the names of his three daughters. This tat connects to those on his shoulders and apart from the name of his kids featured thereof, only the actor can explain what the tattoo means and he's yet to do so.
On his left shoulder, he has a tattoo of a horse resting on a pair of blue eyes. It is believed that the horse represents his nickname from Rocky, The Italian Stallion; and that the eyes are those of his wife. On the left side of his chest, Sylvester has a tattoo of a green lizard, and on the right, a tattoo of a skull.
Mario Barth and Fzeff Kogu are the other tattoo artists that have worked on the actor's body. Barth is a top tattoo artist based in Sin City, Las Vegas. He worked on some of the tattoos which helped to cover and fill up the actor's scars.
Sylvester Stallone's Plastic Surgery Has Often Been Compared To His Mother's
Jackie Stallone was the mother of the famous Hollywood star. Born on the 29th of November 1921, Jackie passed at the age of 98 on the 21st of September 2020. Apart from being the mother of celebrated entertainers, she was known as an astrologer, dancer, and wrestling promoter. Jackie was known for the many plastic surgeries she had years before she died, she lamented that they left her looking like a chipmunk.
It has been concluded in some quarters that Sylvester Stallone like his mother, is obsessed with his looks and has gone under the knife several times. With some before-and-after pictures, some gossip sites have contended that the actor has had a face life, botox injection, and what have you. The Rambo actor has admitted that he had a facelift to address a birth defect but people have sworn he has more to own up to.
What Happened to Sylvester Stallone's Face?
As the story goes, Sylvester's mother had complications during his birth which made her obstetricians use forceps that accidentally damage a never on the left side of his face. Because of this, that part of the actor's face was paralyzed and was said to be the reason behind his signature slurred speech.
The actor confessed that he had a facelift to correct the birth defect but over the years, people have accused him of having an overall facial lift. His accusers have pointed out that he has few wrinkles for a man in his 70s.
Sylvester Stallone's Forehead Lift
Those who would give an arm to prove that the action movie star has had several plastic surgeries claim that one notable area of Stallone's face that has changed is his forehead. For them, before-and-after photos of the actor, as shown above, reveals an obvious change to his forehead.
It is said that he had eyebrows that were slightly raised which was one of the facial features that gave him a unique look. As speculated, the actor wanted to improve the look but the brows were excessively raised, giving him away. The procedure is believed to have helped him eliminate some frown lines he had on his forehead.
Sylvester Stallone's Jawline Transformation
While it has been suggested in certain quarters that the actor had botox injection which cleared the wrinkles on his face and raised his upper lip to a slight curl, the belief that he had a lower facelift to transform his jawline is more common. A 2017 article by Closer Weekly quoted several doctors who affirmed that the actor has had some work done on his face.
Sylvester Stallone's Body Transformation Began With His Action Movie Roles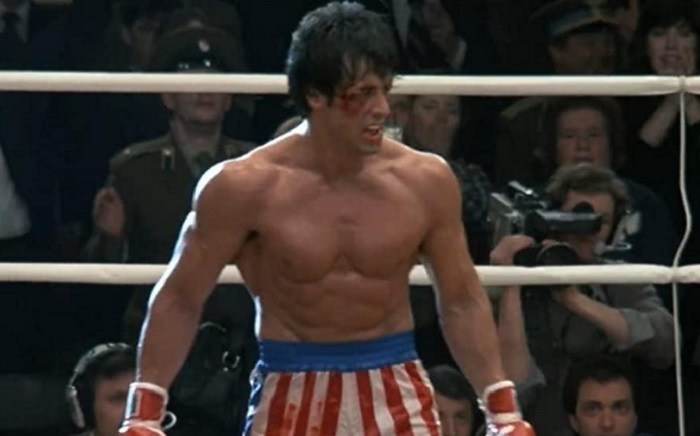 Sylvester Stallone has probably, always been passionate about bodybuilding and staying in good shape but as far as the public knows, his body transformation began with his earliest action movie roles, especially Rocky and Rambo. These roles had the actor flaunt a chiseled physique that had everyone asking for his diet and fitness routines. From what we have uncovered, the actor subjected himself to extreme diet and workout sessions to attain his sturdy looks which he has sustained even as a septuagenarian.
With the help of Franco Columbo, an Italian bodybuilder who was one of the most respected in the field, the actor embarked on a journey that radically transformed his physique. Before he passed on, the powerlifter who was Mr. Olympia in 1976 and 1981 disclosed that he enjoyed training Sly because of his determination. The late bodybuilder revealed that they usually do 50 reps each for side bends, sit-ups, side leg raises, and sit-ups. The actor's mental drive was so positive that he didn't complain but kept up with Franco who constantly increased the weights and reps. Soon, he began doing curls with dumbbells that weighed seven pounds and within six weeks, his 44-inch chest had expanded to 50 inches as his arms blew to 18 inches from 16½ inches.
Echoing Franco's sentiment about his mental drive, the actor related that he was willing to do whatsoever that would help him burn facts. He wanted to be super lean but tough, so he would wake up and embrace a long morning of cardio that included swimming and jogging. Thereafter, Sylvester Stallone would subject himself to multiple rounds of sparring in preparation for Rocky. One would think that's enough training for the day but the actor would later visit the gym and work out for about two hours.
Sylvester Stallone's Crazy Diet Plan and How It Has Changed Over Time
The actor admitted that he always work harder than he used to whenever he has a Rocky or Rambo movie in the pipeline. In his own words, he "was in a war with [himself]" as he deemed it important to have an improved physique compared to how he looked in the previous movie. So in addition to putting himself through intense workout sessions and bodybuild training, the actor also observed a diet plan that's effective but unhealthy and best described as crazy.
The actor would consume as much as 25 cups of coffee a day with a tiny portion of oatmeal cookies that were made with brown rice and a few scoops of tuna fish. At some point, all he ate was burnt toast. It was a diet plan that was very effective in getting rid of body fat. It is said that it helped him drop his body fat to 2.9 percent during his preparations for Rocky III. While he earned a Guinness World Record for this, it could have cost him his life.
According to Sly, he was looking great outside but was "running [his] body into the ground". He wouldn't recommend such a diet plan for anyone as he has insisted that whatever plan one chooses to observe must be healthy. The actor now advocates for moderation and treats his body like a car. In the sense that he gets fuelled with enough high-energy food when he has a lot of working out to do and consumes half of the ration when he can't afford to work out as much as he normally does.
As part of his diet plan, Sylvester Stallone avoids red meat, he only consumes it once a week so that his body would stay familiar with it. The actor said his food regimen was once so pure that having a hot dog would mean suffering painful cramps. From what we gathered, he eats easily digestible foods. His meal consists majorly of protein like fish and chicken.