Eminem had a totally dysfunctional childhood. His father, Marshall Mathers Jr., abandoned the family when he was an infant, leaving him to be raised by his mother, Deborah Rae, who he has accused of addiction to prescription drugs as well as emotional and physical abuse. Also faced with bullying and poverty, the rapper had to drop out of school in 9th grade to work odd jobs.
In the midst of the instability surrounding him as a child, Eminem turned to music for solace. Today, a list of the greatest rappers of all time, either critically or commercially, will be inaccurate without the inclusion of his name. The Detroit native ranks as one of the most successful musical artists of all time thanks to achievements that include him having ten consecutive albums that debuted at number one on the Billboard 200 chart.
His work on the microphone has further garnered him numerous awards, including 15 Grammy Awards and 17 Billboard Music Awards. He has also won an Oscar for Best Original for "Lose Yourself", the soundtrack to the drama 8 Mile (2002) where he played a fictionalized version of himself.
Judging by Eminem's achievements, one may never know that behind what has been a very successful career for him is a tumultuous backstory that would make you wonder how he was able to rise above all the chaos around him. Well, here's a detailed look at the rapper's childhood, what his relationship currently is with members of the family, and how he achieved the greatness we all know him for today.
Quick Facts About

Eminem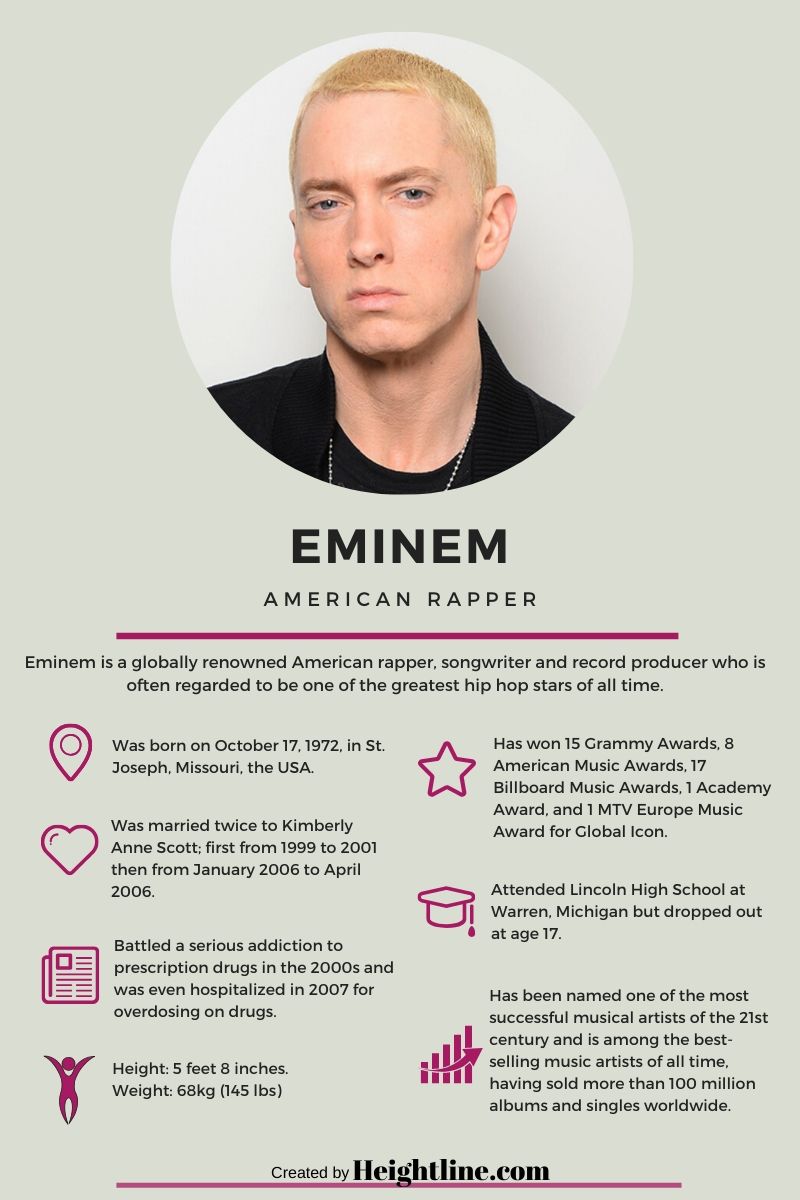 Profile Summary
| | |
| --- | --- |
| Date of Birth: | 17 October 1972  |
| Age: | 50 years old |
|  Country of Birth | United States of America |
| Height: | 5 Feet 8 Inches |
| Birth Name | Marshall Bruce Mathers III |
| Nick Name | Eminem |
| Father | Marshall Bruce Mathers, Jr. |
| Mother | Deborah R. Nelson-Mathers |
| Nationality | American |
| Birth Place/City | St. Joseph, Missouri |
| Ethnicity | White |
| Profession | Rapper |
| Net Worth | $230 million |
| Eye Color | Blue |
| Hair Color | Brown |
| Face Color | White |
| Famous for | Rapper record producer-songwriter actor |
| Married | Yes |
| Married to | Kimberly Scott (m. 1999; div. 2001) (m. 2006, div. 2006) |
| Number of Children | 3 |
| Divorced? | Yes |
| Movies | 8 Mile, Funny People, Fast Five, The Interview, The Wash |
| TV Show | The Defiant Ones, The Jonathan Ross Show, The Slim Shady Show, Black Mafia Family |
| Albums | The Slim Shady LP, The Marshall Mathers LP 2, Kamikaze, The Eminem Show, Revival, Recovery, Encore, Infine, Relapse, The Marshall Mathers LP |
What We Know About Eminem's Tumultuous Childhood
Many would agree that Eminem's tumultuous childhood helped to shape the future he has had, however, no one would wish the same for themselves. Born Marshall Bruce Mathers III on October 17, 1972, in St. Joseph, Missouri, the rapper was left to be cared for by just one parent after his father walked away from the family when he was just a few months old.
In search of comfort and a source of living, Eminem and his mother lived in various cities across the states of Missouri and Michigan with family members. As a result of this, he grew up a bit of a loner and was repeatedly bullied by his peers. Hip-hop music later proved to be something that sparked his interest and so he began listening to it as he attempted to write his own material.
After dropping out of high school, Marshall did lots of menial jobs in order to help his mother pay the bills. She was said to have sometimes taken away most of his paycheck and kick him out of the house whenever she felt like it. When not working, he would listen to and write music with his friend Mike Ruby who both were called either 'Manix' or 'M&M', the latter which later became a source of inspiration for the rapper's name in the future.
Who And What Moved Him To Get Into Music?
Eminem's desire to become a musician was inspired by his mother's half-brother, Ronnie Polkingharn, who became a musical mentor to him. Ronnie introduced a young Marshall to rap music by handing him an Ice-T CD. Being raised in a predominantly black, working-class neighborhood in Detroit further made it a seamless fit as he battle rapped with other kids while growing up.
Eminem and his friends later attended open-mic contests where his lyrics were appreciated by underground hip-hop fans. The rapper, who was simply known as MC Double M, would then go on to form a group called the New Jacks in 1988 with DJ Butter Fingers. In 1995, he and his collaborator released an EP as he went on to form another group in 1996 called The Dirty Dozen (D12) with five other rappers from the Detroit area.
Shortly after, Eminem released his debut album titled Infinite (1996) which was a commercial failure. This disillusioned his hope of continuing to chase his dream, however, he kept at it and developed a violent and sadistic alter ego named Slim Shady through which he would be able to freely express his anger.
In 1997, he recorded and released the Slim Shady EP where he freely talked about various issues like drug use, mental health, and poverty among other things. He then went on to participate in the Rap Olympics where he placed second. Interscope Records CEO Jimmy Iovine got to listen to the Slim Shady EP and was impressed with what he heard. He subsequently brought it to the attention of record producer Dr. Dre who quickly signed him to Aftermath Entertainment as the rest became history.
Interesting Facts About Members Of Eminem's Family
Deborah Rae "Debbie" (nee Nelson) – Eminem's Mother
Debbie, who had her son at the age of 15 years, is one of the most popular members of Eminem's family that is known to the world. This is a result of the rapper constantly bashing her in his music as a bad parent. He has said that while growing up, his mother was irresponsible and jobless which left him with no option but to raise his younger half brother, Nathan, all by himself. He has further insinuated that she gave him prescription drugs as a child.
Thanks to these songs, Debbie became one of the most hated moms in America and she chose to fight back by filing a $10 million lawsuit for slandering in 1999. The case was decided in 2001 and she was awarded $1,600 in damages.
In 2008, Debbie released an autobiography titled My Son Marshall, My Son Eminem where she gives her own side of the story in regard to raising Eminem. She claimed to be part of her son's life from his childhood, painting a picture of a young Marshall running around their house in a Batman cape, jumping off the sofa, and crashing into her lap. Debbie went on to reveal that her son has struggled with bipolar disorder throughout his life while she reiterated that she gave him a pretty good childhood without the help of a father.
Following years of hostility, Eminem later apologized to his mother in his 2014 song, "Headlights".
Nathan "Nate" Kane Samara(Eminem's Half Brother)
As talked about, Eminem has a half-brother named Nathan who he helped raise and had legal custody of while they were growing up as a result of their mother not being available. He is a product of Debbie's relationship with a man named Fred Samara Jr.
Eminem has maintained a very close relationship with his brother over the years as they have lived together and sometimes gone out on tour together. Nate has even followed in his older brother's footsteps to become a rapper, however, he has not been able to achieve any success in doing so.
Kimberly "Kim" Scott (Eminem's Ex Wife)
Kim is another one of Eminem's family members that we have heard a lot about from his music. The pair were married twice and even have a child together, however, they have been unable to sustain their love.
In 1987, Kim and her twin sister Dawn ran away from home and moved in with Eminem and his mother. By 1989, the two began an on-again, off-again relationship that resulted in them welcoming a daughter named Hailie on December 25, 1995. Things looked to be going very well for the pair and they exchanged vows in 1999. After just two years, however, they divorced in 2001. This happened a year after the rapper assaulted a man in a parking lot in Warren, Michigan after he saw him kissing his wife.
In several interviews, Eminem maintained that he would not remarry. He, however, went back on his words after he and Kim decided to give marriage another go in January 2006. This one lasted for just a few months as the rapper filed for divorce in early April.
Hailie Scott Mathers (Eminem's Daughter)
The only member of Eminem's family that will forever remain very dear to him is his daughter Hailie Jade Scott Mathers. Right from his first album in 1996 to his latest efforts, the rapper never fails to talk about her in his music. The most famous song of his where he talks about her is the hit single "Mockingbird".
Hallie has since grown up and is a graduate of Michigan State University where she was awarded a degree in Psychology. Despite being the daughter to a famous rapper, she lives a private life that is far from the chaotic one her father made a name in.
Whitney and Alaina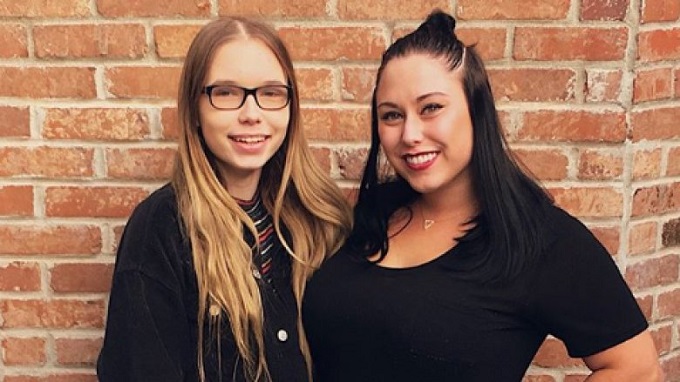 Whitney and Alaina are also among the lesser-known persons in Eminem's family. While the two are not his biological children, the artist still exercises his rights over them as their legal guardian. Whitney is Kim's daughter from a previous relationship with a man named Eric Hatter while Alaina is Kim's late twin sister's daughter. Alaina's mother Dawn died on January 19, 2016, following a suspected heroin overdose.
Sarah and Michael Mathers (Eminem's half-siblings)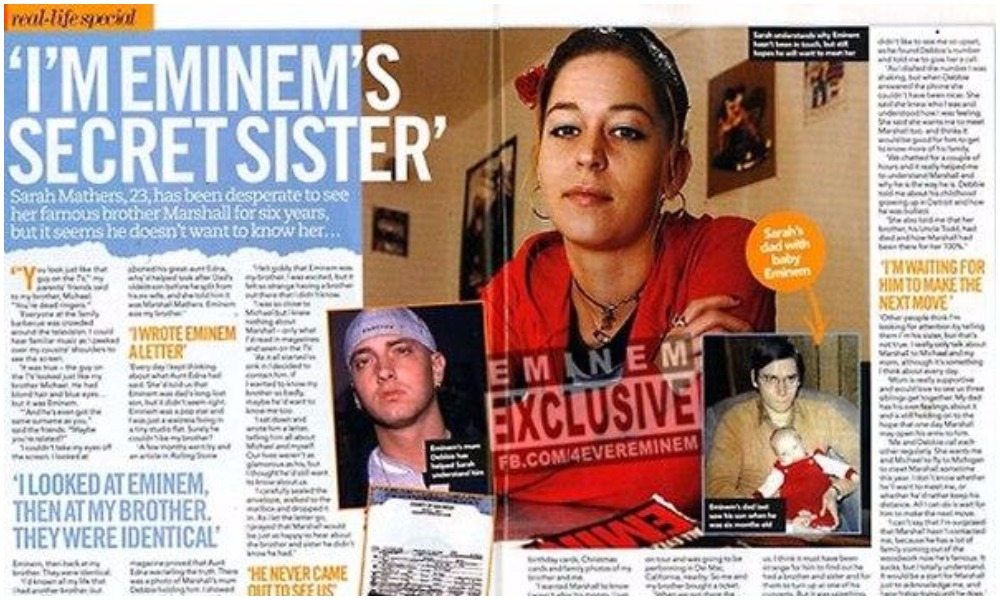 Sarah and Michael Mathers are Eminem's half-siblings. They are products of the rapper's father's second marriage after he left Debbie and moved to California while her son was a few months old.
Sarah works as a waitress in Califonia and she says she only discovered Eminem was her brother in 2005. Since then, she has tried to get in touch with him to no avail. Michael and Sarah once attended an Eminem's concert in California and made several attempts to meet with the artist. They were said to have reached his tour bus but were still not allowed to meet him. The siblings were convinced that the rapper saw them through the window but made no attempt to come out to see or talk to them.