Demi Lovato's ethnicity is mixed: Spanish, Mexican, Scandinavian, Irish, Native American, Portuguese, Jewish, and British. She is from Albuquerque, New Mexico, in the United States of America.
Demi Lovato, born Demetria Devonne Lovato, is an American actress, singer, and songwriter. She is best known for her role as Mitchie Torres in the 2008 musical television film Camp Rock. With the fame that she has garnered, Demi Lovato's ethnicity and nationality have become some of the most sought-after details about her that many want to know.
Where is Demi Lovato From?
Demi Lovato is from the United States of America. She was born on August 20, 1992, in Albuquerque, New Mexico, in the United States of America. The actress was raised in Dallas, Texas by parents Dianna De La Garza and Patrick Lovato, from whom she inherited her rich ethnicity.
Shortly after her second birthday, her parents got divorced, making her grow up under the care of her mother alone. She has an extensive family, which was a result of her parents' relationships with other partners. The actress has a direct older sister, Dallas, who has made a few on-screen appearances.
Her younger half-sister, Madison De La Garza, whom her mother welcomed with her present husband, is an actress. She is known for her appearance as Juanita Solis in Desperate Housewives. Demi Lovato has an older half-sister, Amber, whom her father welcomed with his former partner.
Lovato started the journey into her entertainment career at an early stage. By the age of seven, she had begun playing the piano, and at ten, she had started playing the guitar. She also took acting and dancing lessons while growing up.
Demi Lovato started acting as a child and made appearances in Barney & Friends. Subsequently, she started taking on other notable acting roles and has appeared in Prison Break, Charming, Smurfs, and many others. She began her singing career in 2008 and has two soundtracks, two video albums, eight studio albums, 11 promotional singles, five extended plays, and 44 singles.
The artist also has some writing credits to her name. Some of her writing jobs include Staying Strong: 365 Days a Year, Fiewel and Friends, and Staying Strong: A Journal, Fiewel, and Friends.
What Is Demi Lovato's Ethnicity?
Demi Lovato's ethnicity is mixed. She has a rich ethnic mix that includes Spanish, Mexican, Scandinavian, Irish, Native American, Portuguese, Jewish, and British. She is very proud of her roots and visited Israel once with her mother in the fall of 2019. There, she got baptized in the Jordan River.
In 2017, the actress ran a DNA test about her roots and took to Twitter to share the results. She stated that she is 32 percent Spanish, 16 percent Scandinavian, 14 percent Irish, 11 percent British, 10 percent Native American, and 7 percent from other places in Western Europe. Shortly after the Tweet, she uploaded that she was 1 percent African.
Her revelation caused an uproar on the platform and received lots of criticism. To clarify, Demi Lovato shared a screenshot of her results, which showed that she has a trace of African roots.
Meanwhile, there have been speculations about her ethnicity over the years. With her raven hair, name, and other physical features, she has been associated with Greek and Italian races. This is still being debated as the actress is yet to reveal whether she has roots traced to both places.
Meet Demi Lovato's Parents
Lovato's parents are Dianna De La Garza and Patrick Lovato. Dianna is a talented manager, actress, and former Dallas cheerleader. She was born Dianna Lee Smith on August 8, 1982, in Irving, Texas. Though the names of Dianna's parents are unclear, it was disclosed that they held a solid Christian faith.
Other details about her family remain under wraps. She attended a high school, but the school's name and location are unknown. It is also unclear if she obtained any degree, as she has not mentioned it.
Dianna started performing in church as a singer. After she had completed high school, she worked as a Dallas Cowboy cheerleader for a season before pursuing a career in music. However, her dreams of becoming a prolific singer came to a halt after she got married to her late ex-husband, Patrick.
Demi Lovato's Father Inspired Her To Pursue A Career In Music
Demi Lovato's father, Patrick Lovato, a musician and engineer, was born in 1961. Demi revealed that her father had schizophrenia and bipolar disorder during his lifetime. He also abused drugs which eventually led to his separation from his wife. Unfortunately, Patrick died on June 22, 2013, at 52, after battling cancer. He inspired Demi Lovato to pursue an acting career.
Although he had an estranged relationship with his daughter, Demi was devastated when he died. After her father's death, she wrote a song in 2015 titled Father in his memory and also created the Lovato Treatment Scholarship Program in his honor.
Dianna And Patrick Were Married For 10 Years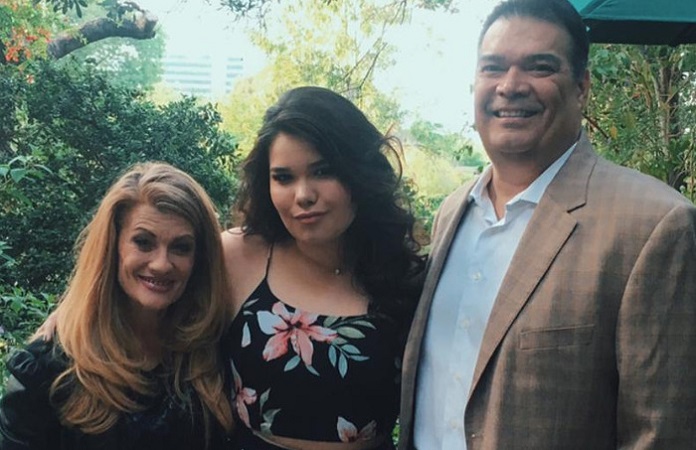 Though Dianna and Patrick met in 1984 and got married after some time. At the time of their marriage, Dianna was pursuing a career in music, and Patrick was her manager. However, their love life began to go down the drain as Patrick became highly involved in drug abuse.
Dianna revealed that, at that time, she suspected that he had undiagnosed bipolar disorder as he became violent. According to her, she thought she could change him but faced a series of abuse from him. She later got the boldness to call it quits with him in 1994 for the sake of her daughters, as living with him was unsafe for them. However, she revealed in her book that he had a good heart and loved his family, but his mental issues posed a big problem.
After their split, Dianna got married to Eddie De La Garza in 1995. The duo welcomed a daughter together. It is unknown if Patrick later remarried, but it was revealed that he lived alone in New Mexico before his death.