David Bromstad dated Jeffrey Glasko for 11 years but ended up not getting married to him for reasons he has chosen to keep to himself. However, in a lawsuit he filed against David after their split, Jeffery opened up on the reason for their breakup, alleging that it was due to David's addiction to drugs and prostitutes.
David Bromstad and Jeffrey Glasko Began Dating In 2004 After They Met at a Party
The American designer is known for his charm, smiles, handsome looks, and attractive body physique. It was never in doubt that many ladies and gentlemen would be drooling over his great physique, as much as they have strived to keep up with his love life. The man has an attractive body that could easily pass as the body of an athlete. He stands at a height of 6ft 1in. and weighs around 77kg.
For a long time, his admirers were left in the dark with unanswered questions about David's sexuality and who his romantic partner was. But time has always been faithful, so it was eventually learned that the Color Splash host is gay and had been secretly dating Jeffrey Glasko for years. With that revelation, people began to wonder how the former couple met and the circumstances surrounding the beginning of their relationship.
All of those are no longer a secret: it was disclosed that the ex-lovers met on Valentine's Day of 2004. Nope, they didn't meet through mutual friends nor were they set up for a blind date. Their meeting was one orchestrated by fate. On the said day, David attended a Single's Party which was held at a club in Firestone, Florida. Jeffrey was also at the party so they met, fancied each other, and it marked the beginning of their relationship. Before they began dating, the pair had seen each other on several occasions but never got to talk.
The Former Couple Dated for Eight Years Before It Was Disclosed to The Public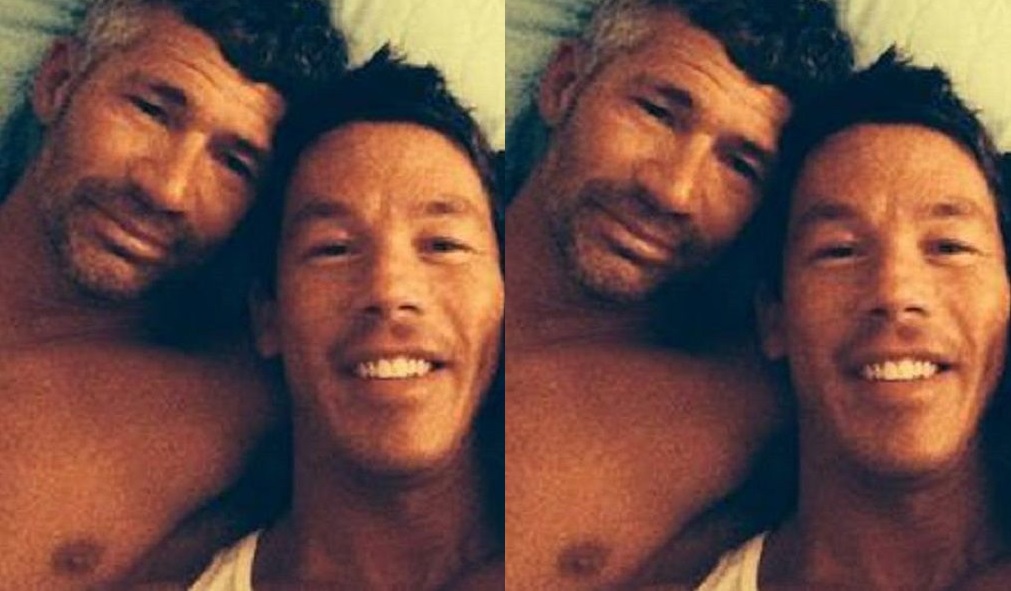 Because of the drawbacks that have been associated with being famous, most celebrities tend to keep their private life private, especially those who are not sexually straight. This seems to be the case with David Dromstad. Even when it was widely suspected that he is gay, he refrained from talking about his sexuality or discussing anything about his love life.
The TV personality kept this up for a long time, evading questions about his personal life during interviews. But then, for reasons that are best known to him, David decided to share a few secrets about his life in 2012. During an interview with South Florida Gay News, the designer confirmed that he was gay. He went a bit further and revealed he had been in a relationship all along.
That's not all; Dromstad also divulged that he had been dating his boyfriend who happened to be Jeffrey Glasko for eight years at the time of the interview. Any psychical individual might as well conclude that going public with the relationship jinxed it. Just over two years after the TV star introduced the world to his romantic partner, the relationship packed up.
Here's Why David Bromstad Separated From Former Partner Jeffrey  
The designer dated Jeffrey Glasko from 2004 to 2015 which was the year they broke up. If their split surprised anyone, then it must have been shocking to learn that the couple who dated for a decade had to sort out some differences at the court.
It is not clear who pulled the plug on the relationship. While some reports have suggested that it was David, the claim is nothing but a guess based on the fact that Jeffrey dragged the TV personality to court. On the other hand, reports that are tilted towards Jeffrey being the one that walked out of the relationship are based on his claims about David's infidelity.
In all, what happened to what the two had is best known to them. The famous designer has largely refrained from commenting on the breakup, albeit his lawyer reportedly stated that the drama trailing the split was unnecessary and championed by a desperate person – Jeffrey.
Jeffrey Dragged David to Court Seeking Financial Compensation 
It's no news that the former couple had a nasty breakup. According to Jeffrey, the cause of their split was David's drug and alcohol problem. Just after the pair parted ways, Jeffrey filed a lawsuit against David. He claimed David left him emotionally and financially devastated as he wasted money on drugs and prostitutes.
Court documents showed that Jeffrey contended he left his career as a police officer to assist David with his career. He argued that he and the designer pledged to equally share all the assets and liabilities brought into the relationship or acquired while dating. David, according to Jeffrey, breached their oral cohabitation and support agreement as he began using their resource to pay for illicit drugs and prostitutes.
Arguing that he has been damaged by David's breach of their agreement, Jeffrey asked the court to order an accounting of all real and personal property, income, and investments of David Bromstad. He wanted a division of all the assets on a 50/50 basis, and for David to pay his attorney fees and court cost. The TV personality won the case as the Judge ruled against Jeffery's allegations and dismissed the breach of contract claim against Bromstad.
Who Is David Bromstad Dating Now; Is He Married?
The American designer has since put the lawsuit and his breakup with Jeffrey behind him, posting pictures of himself having a good time in Miami. It is almost like there was no effect of his breakup with Jeffrey or the lawsuit on him.
Since his breakup with Jeffery Glasko in 2015, there have been rumors of David dating again but no solid proof of this has actually surfaced. Apart from what he had with Glasko and their dramatic split, no other information relating to David's love life has surfaced on the media or in the public space.
The reality TV show anchor isn't married yet and also has no kids. He seems to be focusing more on his career. However, David isn't completely alone, his 'small family' includes miss lady Godiva Bonbon and Dozer Bubbas, his two pet dogs.