Daniel Tosh is an American comedian, writer, actor, TV host, voice actor and executive producer who has reached a ridiculous level of success through series of dedicated appearances on TV shows, including the highly-rated "Tosh. O," which ended its 11th season on November 19, 2019.
Daniel Tosh has a net worth of $20 million as of the time of this writing
Beyond that, he is also an entertainer, known for his endless supply of funny and witty comic videos that would make you laugh so hard. In addition to his budding career, Tosh has also made huge wealth for himself and has become one of the most famous comic stars out there. What else could be a better reason for his large fanbase on various social media platforms?
As of the time of this writing, Daniel Tosh has accumulated a net worth of $20 million
Daniel Tosh Bio and Profile Summary
| Net Worth: | $20 million |
| --- | --- |
| Salary: | $2 million |
| Income Sources: | Comedy, acting, and his TV show called Tosh.0 |
| Age/Date of Birth: | 48 years old (May 29, 1975) |
| Height: | 6 feet 2 inches or 1.90 meters |
| Nationality: | American |
| Last Updated: | 2021 |
Daniel Tosh at a Glance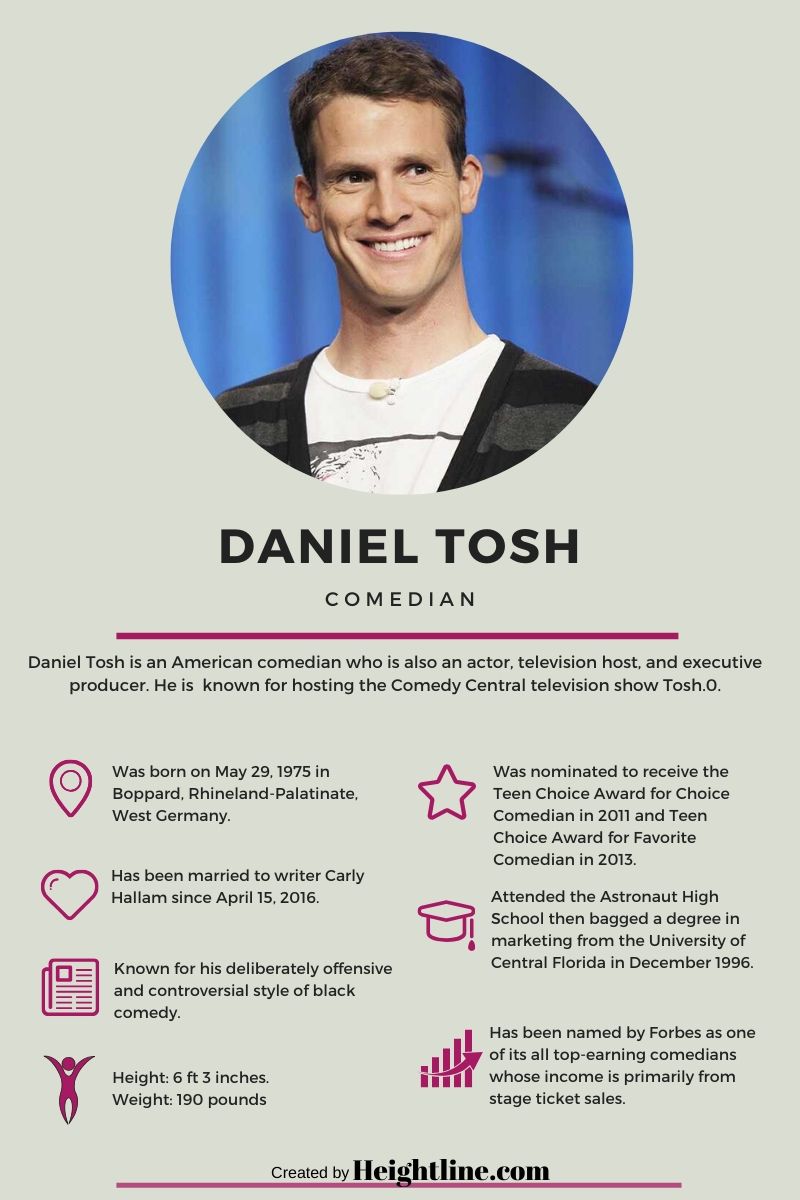 Is Daniel Tosh A Married Man?
Daniel may be very open about his career but not so much with his personal life.  He is, however, known for leading his fans to believe he has been married for a long time. In 2014, for instance, he led his millions of Twitter followers into believing that he is married to a ballerina who has changed his life for the better.
being married to a ballerina has made everyday a little more beautiful. #SOBLESSED

— daniel tosh (@danieltosh) MARCH 29, 2014
Millions of retweet followed his comment, with many of his fans wanting to know more about his wife and marriage. Tosh in his nature didn't answer any of the questions asked, instead, he chose to leave his fans with mere speculations. The comedian made a similar tweet in August 2017 when he talked about his ballerina wife needing some care because she's been injured. His comment attracted more questions with many asking for her photograph as proof. In the end, his Twitter comment turned out to be a prank.
To clear all doubts about his love life, Daniel Tosh is indeed a married man. He is married to a writer cum actress named Carly Hallam. Carly is perhaps best known for her contributions to Tosh.0 and Brooklyn Nine-Nine. The couple got hitched in a private ceremony held in Malibu, California, on April 15, 2016. Their union has eventually been kept hush-hush for roughly two years before the public got to know about it, thanks to inside sources who made this possible.
Before his relationship with Hallam, Tosh has reportedly dated actress Megan Abrigo. He opened up about his relationship with the actress on his comedy special, Happy Thoughts. They even allowed themselves to be seen together publicly at events and other locations such as the Gansevoort South hotel in Miami Beach, Florida. However, they later separated with no valid reason. As a result, there were speculations that they broke up as a result of Tosh's impolite jokes about her, though it was never confirmed.
Interesting Facts To Know About His Wife Carly Hallam and Family
Tosh didn't just meet Hallam in 2016, they dated secretly for about three years before their said marriage. Unfortunately, no important evidence of their relationship can be found on social media.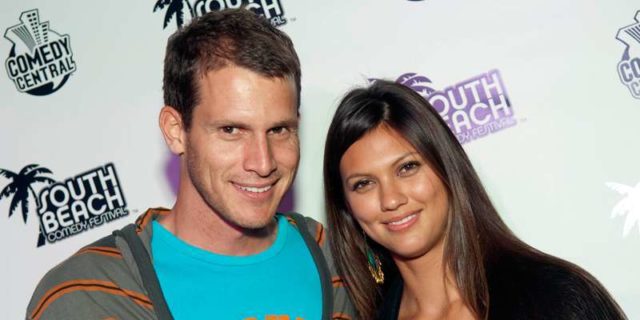 Daniel Tosh's wife is from Florida, and she is a member of the Writers Guild of America. She was born on February 14, 1985, which indicates that she is about ten years younger than her comedian husband.
According to several reports, she has also been writing since 2012. Her  IMDB page also shows that she's done a bit of acting; she had a small role in Adam Bowers' 2010  independent romantic comedy film New Low and has also appeared in several episodes of Tosh.O. Although her Instagram account is set on private, her Twitter account shows she has a robust following of about 11.6K. Unfortunately, it is not known if Daniel Tosh and his wife have any children or not.
His Journey To Comedy Royalty
Tosh has always had a thing for comedy since he was very young. His journey to becoming one of the most prominent figures in the American entertainment industry began many years ago. Although he was born in West Germany, it was in Titusville, Florida, that he grew up alongside his father, who is a pastor, and three siblings. He completed his high school education at Astronaut High School, located in Brevard County, Florida.
Soon after graduation, Daniel went on to enroll at the University of Central Florida, where he got a degree in marketing. Even though he got the marketing degree, his flair for comedy led him to become a part of so many comedy clubs in Florida. He was among the new faces that graced the 1998 "Just for Laughs" comedy festival in Montreal, Canada.
By 2001, Daniel Tosh earned his breakthrough with his appearance on The Late Night Show with David Letterman. Before that, he worked briefly as a telemarketer, going from door to door, selling knives. However, his appearance on David Letterman's late-night show became the right launching pad for his career, many years later. Thereafter, he went on to appear in a good number of other talk shows, including Jimmy Kimmel Live!, Premium Blend, and The Tonight Show with Jay Leno.
2007 became a very busy year for Daniel Tosh as he launched his first Comedy Central Special titled Daniel Tosh: Completely Serious. Two years later, he began his comedy show on Comedy Central. The show, also known as Tosh.0, is a half-hour comedy show, which has a mix of sarcastic and observational commentary with some online viral video clips. While on the show, Daniel interacts with a live audience, and he also invites broadcast viewers to join his Twitter followers in "live-tweeting," as well as submitting their videos.
Amid his fast-rising comedy career, Daniel Tosh has drawn lots of criticism with his controversial black misogynistic and racist jokes. Though he had severally denied being misogynistic or racist, he did admit finding those comments funny, and so does his audience.
What is Daniel Tosh's Net Worth and How Much Has He Made From His Career?
Black comedies may not go down well with some people, but it is a preferable comedy style for the likes of Daniel Tosh, who is now popularly known as one of the wealthiest comic stars of our time. So far, the comedian has been able to amass a net worth of $20 million. But how did he make this much within a short time?
Well, Daniel Tosh's net worth is no doubt a full proof of his hard work and dedication to his career. However, his major sources of income include his hit shows, comedy DVDs, and his roles in movies and TV shows. Interestingly, his Comedy Central's famous internet video clip show, Tosh.0 was ranked #43 on Forbes "The Social 100," in 2015. According to some sources, the comedian earned about $2 million from his Daniel Happy Thoughts comedy show, and over a million dollars from his Completely Serious comedy show.
His other shows, including The Love Guru (2009) and the Brickleberry (2012 to 2015), also fetched him as much as $1.3 million and $2.8 million as salaries, respectively. Aside from comedy, Tosh did take some acting roles. Some of his notable films and TV shows include Sins of the City, Punk'd, and The Life & Times of Tim. He also makes bank through his appearances on various adverts and commercials.
He may not be open about his investments and his other sources of income, but looking at his net worth, there is no doubt the comedian is enjoying the benefit of his hard work. Currently, Tosh boasts over 25.8 Million followers on his Twitter handle – @danieltosh, while on Instagram, Tosh. O has over 587k followers.
A Summary of Daniel Tosh's Personal Details
Profile Summary
First Name:
Daniel
Last Name:
Tosh
Net Worth:

$20 million
Salary:
$2 million
Source of Wealth:
Comedy and acting career, his TV show called Tosh.0
Last Updated:

2021
Also Known As:

N/A
Sex/Gender:

Male
Profession:

Comedian, television host, actor, writer, and executive producer
Famous For:
Being the host of the Comedy Central TV show Tosh.0 and also the star of stand-up comedy tours and specials. He is equally popular for his his offensive and controversial style of black comedy
Colleges/Universities Attended:

The University of Central Florida
Educational Qualifications:

Degree in marketing
Religion:

Christianity
Birthday & Zodiac

Age/Date of Birth:

48 years old (May 29, 1975)
Zodiac Sign:
Gemini
Birth Place:

Boppard, Rhineland-Palatinate, West Germany
Nationality:
American
Ethnicity/Race:

White
Country of Residence:

USA
Physical Attributes

Height:

6 feet 2 inches or 1.90 meters
Weight:

‎60 kg (132 pounds)
Eye Colour:

‎Dark brown
Hair Color:

‎Dark brown
Other Body Measurements:

N/A
Relationships

Marital Status:

Married
Spouse/Partner:

Carly Hallam (married in 2016)
Family and Relatives

Father:

A Presbyterian minister whose name is not known
Mother:
N/A
Children:

N/A
Siblings:
One brother and two sisters (names unknown)
Other Relatives:

N/A