Dale Bozzio is a 68 year-old American rock and pop vocalist famously known as the co-founder and lead singer of the 80s new wave band, Missing Person.
She is also famous for her work with Frank Zappa on Joe's Garage (1979) and Thing Fish (1984). Dale also flourished in her solo career, releasing albums and EPs. She has also been recognized and awarded for her prowess in the industry.
Summary of Dale Bozzio's Bio
Full Name: Dale Bozzio
Nickname: Dale
Gender: Female
Date of Birth: 2 March 1955
Dale Bozzio's Age: 68 years old
Nationality: American
Ethnicity: White
Zodiac Sign: Pisces
Sexual Orientation: Straight
Marital Status: Divorced
Dale Bozzio's Ex-husband: Terry Bozzio
Dale Bozzio's Children:

Troy Sebastian and Shane Maximilian

Dale Bozzio's Height in Inches: 4 feet 11 inches
Dale Bozzio's Height in Centimetres: 149.86 cm
Famous for: Being the co-founder and lead singer of the 80s new wave band Missing Person
Dale Bozzio's Instagram: dalebozzio
Twitter: dalebozzio
1. Dale Bozzio was Born in Massachusetts in 1955
Born Dale Frances Consalvi, Dale Bozzio came into the world in Medford, Massachusetts on March 2nd, 1955. Though she has gained much fame, much about her childhood and where she grew up is unknown. Information about her parents and what they do for a living is also unknown. She is no doubt a private person, as nothing is known about her siblings or what they do for a living.
2. She Started Taking Classes at Emerson College Before Her Music Career Kicked Off
Dale Bozzio seems to be private about her early life, so information about her early education is unknown. At the age of 16, she started taking classes in drama at the arts and communication privately owned college, Emerson College, Boston, USA. Then, her career in music hadn't begun until she met the composer Frank Zappa by chance.
3. Dale Bozzio Did Other Jobs Before Fame
After college, the musician worked as a Bunny at the Playboy Club in Boston. In 1975, Dale was named the Boston Playboy Clubs of the year. In 1976, Hugh Hefner (founder and editor-in-chief of Playboy magazine) invited her to an interview for the position of Valentine party hostess at Playboy Mansion. In honor of the interview, she traveled to Playboy Mansion West in Los Angeles.
The job offer was to foster a continuing contract with Playboy and living arrangements in Los Angeles, from where she could pursue her career in acting. However, Dale Bozzio turned down the offer and didn't secure an apartment. She would go on to model for other top magazines after her deal with Playboy failed. The musician posed nude in the February edition of a monthly pornographic magazine known as Hustler in 1985.
4. The Musician Kicked Off Her Career in Show Business After She was Employed By Frank Zappa
The musician met Frank Zappa for the first time at one of his concerts in Boston. Shortly after she turned down Hugh Hafner's offer, she met Frank again by chance, and this time she struck an employment deal with him with which she kicked off her career in show business. She got a job on his 1979 rock opera known as Joe's Garage to voice the part of Mary. For her part, she sang about issues like the Roman Catholic church, the culture of rock bands, and sexuality.
Dale Bozzio voiced Mary again in Packard Goose, where she gave a brief monologue on how information, wisdom, truth, knowledge, love, beauty, and music connect to each other, with music being the best. Her monologue in the opera has been used in various other types of media. Dale Bozzio also provided vocals for the 1979 film Baby Snakes and the 1980 single, "I Don't Wanna Get Drafted" which was included in the 1996 album The Lost Episodes about the U.S. draft policy.
In 1984, she started working with Frank Zappa for the second time and lent her voice as Rhonda in the opera titled Thing Fish. She played the wife of the character Harry, who was represented by her then real-life husband, Terry Bozzio. She expressed in words some of the album's topics, such as sexuality, feminism, etc. At Frank's 50th birthday, she and some of the crew recited her lines from the Packard Goose.
5. She Created the Group Missing Persons in 1980
In 1980, Dale Bozzio created the group Missing Persons alongside her colleagues on Zappa's team. Warren Cuccuullo, Zappa's touring guitarist, and Terry Bozzio, one of Zappa's drummers, collaborated with Dale in creating the group. The band released many hit songs in the 1980s. Dale's heavy makeover and quirky voice made the group MTV's favorite.
After they released their third album, Color in Your Life in 1986, the group split. Despite the disbandment, Dale Bozzio continued to record and perform under the group name. In the early 1990s, she toured with her own group, the Missing Persons, and performed the group's songs.
The Missing Group featured Dale in June 2005 on week five of the NBC show Hit Me Baby One More Time. In 2015, the musician and her group were acknowledged in season 2 of iZombie, a CW TV network show.
6. Dale Bozzio Has a Successful Solo Career
Dale Bozzio's solo career kicked off with the musician performing covers of various songs. She released her first solo album, Riot in English, in 1988 under the single name Dale. Her album's lead single peaked at number 33 on the Billboard dance chart. Her second album, New Wave Sessions, was released in 2007 by Cleopatra Records. The New Wave was made up of the new versions of the Missing Person's hit songs like Words, Destination Unknown, Funkytown, Turning Japanese, Girls Just Wanna Have Fun, I Know What Boys Like, and Der Kommisar.
There is no doubt that the musician excelled in her solo career as she released her third album, Make Love Not War, and her EP Talk Talk on Electrik Blue Records in 2010. She also released a song called Missing in Action under Cleopatra Records in 2014. Her second solo album and fourth album, Dreaming, were released under the name Missing Persons and contain some of the 1960s to 1980s rock/pop songs.
7. Her Growth in the Entertainment Industry was Influenced By Black and White Film Era Stars
Dale Bozzio didn't just attain fame with her own concepts in the entertainment industry. She got inspired by the existing styles of some stars that were active during the black and white film era and developed them into her unique and fancy styles. While working with missing persons, she put the inspiration she got from the actresses of the black and white era to use, thereby making her presentations colorful.
Some of the stars that inspired her include Marlene Dietrich (an American singer and actress), Jean Harlow (an American actress), Judy Garland (an American singer and actress), and Frank Zappa. She wasn't just influenced by some stars, she also influenced Gelvin Guitars' SSM guitar, which was customized for her with a Spring Session M theme.
8. She was Once Charged with Animal Cruelty
The musician was arrested on charges of animal cruelty in 2009. It was revealed that she rescued 14 domesticated abandoned cats and didn't give them the proper care they needed before going on a tour. Two of the cats fell sick and died as a result of her negligence, while the others were put to death. This earned her a 90-day jail term with 250 hours of community service and a fine of $2,700 for putting the remaining cats to death.
9. Dale is Active on Social Media
Dale Bozzio is popular and has carved a niche for herself in the entertainment industry. She is known to be active on her various social media handles. One can find her on Twitter @dalebozzio and on Instagram @dalebozzio.
10. Dale Bozzio was Once Married to Terry Bozzio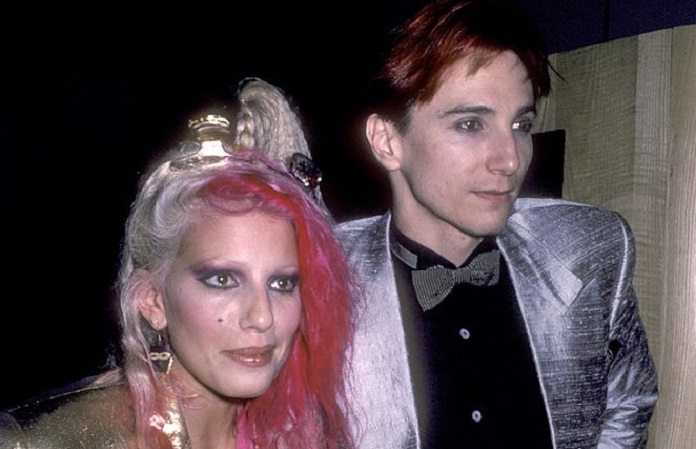 Dale Bozzio hasn't had it all that rosy when it comes to her personal life. She met her ex-husband, Terry Bozzio, in 1976 while he was on Frank Zappa's music team. The duo got married in 1976, three years after they met each other.
In 1986, seven years after their marriage, they got divorced. Though they are no longer married, the musician still retains her husband's name, 'Bozzio.' Their union produced two children, Troy Sebastian and Shane Maximilian before they got separated.