Professional football player, Christian McCaffrey is a running back who is associated with the Carolina Panthers. He is an interesting athlete and hails from a family full of athletes. It's quite evident that there is an abundance of sporting talents in the McCaffrey family because everywhere you look, you will surely see a sportsman or woman; be it in football, track and field, or basketball. Starting from his grandfather to his uncles, aunts, parents and his siblings, it would have been an anomaly if Christian chose a different career path.
This piece covers a great deal of details about his extraordinary athletic family background and career accomplishments as well.
How He Became A Worldclass Athlete
Christian is considered a third-generation athlete because his maternal grandfather, David Sime, a renowned ophthalmologist, was an Olympic medalist. He was an unbeatable sprinter back in the days when he was busy breaking world records. He won a gold medal in the Rome 1960 Olympic Games for the 100-meter race and a silver medal all in the same event. More so, he was a football player and All-American Center fielder at Duke University. Following his contributions in the athletic department, he was named by Duke as the school's Most Outstanding Athlete of the 20th century in the year 2010. He was also inducted into the USA Track & Field New Jersey and North Carolina Sports Hall of Fame. Prior to his death in 2016, he remained active in other sporting activities into his later years, and they included helicopter skiing, inline skating, body surfing and cycling.
Christian McCaffrey's maternal aunt, Sherrie Sime Giusto, was also an athlete during her college days. She attended the University of Virginia and there, she became the school's top-ranked singles tennis player.
His Uncle, Scott Sime, is a former footballer who competed at the all-state level while attending Coral Gables High School. He also played as a fullback during his collegiate playing career at Duke University from 1981 to 1986.
Moving to his paternal relatives, Billy McCaffrey, a two-time All-American former basketball player is also Christian McCaffrey's uncle. He had a brief stint at Duke University and Vanderbilt University as well. Immediately after his retirement, Billy got a placement at Bonaventure University as an assistant coach, a position which lasted for two years. He has since been involved in coaching.
Next is Mike McCaffrey who played professional basketball for the Braves. The shooting guard and two-time captain helped guide his team to two Main Athletic Conference (MAC) championships and two MAC Regular Season Titles in 1998 and 1991. In the 121 career games he played, Mike recorded 1,346 points, 254 assists, 106 steals and 254 rebounds. He currently serves as the assistant coach for Husson's basketball team.
Christian's aunt, Monica McCaffrey equally followed in the footsteps of her elder brothers as she made a name for herself in Allentown (PA) Central Catholic High School as an ace playmaker. In 1987, the basketball player became the top scorer in the history of her school with 1,638 points, thereby, breaking the previous record of 1,637 held by her brother, Ed.
Meet His Athletically Inclined Parents and Siblings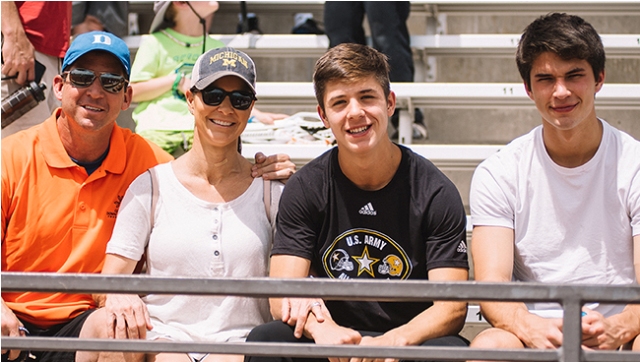 Christian McCaffrey's family is eminently recognised for being hugely into sports. His father, Ed McCaffrey, who was the head coach at Valor Christian High School, was also a college footballer at Stanford University and played professional football as a wide receiver from 1991 to 2003. During his NFL Draft, Ed was selected in Round 3 with the 83rd overall pick by the New York Giants.
The 6 feet 5 inches tall athlete played for three teams – the New York Giants, San Francisco 49ers, and Denver Broncos during his thirteen long years. Ed McCaffrey won the First Team All-American and first-team All-Pacific 10 in 1990, as well as the Pro Bowl in 1998. He is a 3x Super Bowl Champion and a second-team All-Pro Award winner.
Lisa Sime, now Lisa McCaffrey, is the mother of Christian McCaffrey. He is her second among four sons. As an athlete, she is a soccer standout who scored 56 goals during her high school years. She then played collegiate football at Stanford University from 1987 to 1990, when she ended her playing career as a result of an injury.
Christian's brothers are Max, Dylan, and Luke McCaffrey. Max is also a professional football player who is currently associated with NFL franchise, DC Defenders as a wide receiver. He has previously played for Oakland Raiders, Green Bay Packers, New Orleans Saints and San Francisco 49ers.
His younger brother, Dylan plays collegiate football at the University of Michigan. The quarterback is a recipient of the team's 2017 Scout Team Offensive Player of the Year Award. He is also a two-time Academic All-Big Ten honoured (2018-19). Luke currently plays as a quarterback at the University of Nebraska. Prior to enrolling in the university, he was coached by his dad at Valor Christian High School where he led his team to a Colorado State Championship in 2018.
His Career Achievements
Christian McCaffrey began his career exploits right from his high school days, having attended Valor Christian High School in Highlands Ranch, Colorado. During such time, he played basketball, football and was also a sprinter. He smashed numerous records as a soccer player which led to him being made the 2012 and 2013 Gatorade Football Player of the Year.
He then continued with his record-breaking performance during his collegiate playing career. In 2014, Christian was recruited by Stanford University and in his first year, he played 13 games and achieved 52 yards receiving touchdown, 300 rushing yards on 17 receptions and two touchdowns.
The 2015 season saw a more incredible performance from Christian as he ranked second in the nation and became the first Stanford player to rush for 2000 yards in a season. As a result, he received two awards; the Paul Hornung Trophy and Associated Press College Player of the Year Award. He was also a consensus All-American and Pac-12 Player of the Year.
NFL Draft
Soon after, the skilled athlete decided to move his style of play to a more professional field as he took part in the NFL pre-draft. Following his performance, he joined the Carolina Panthers as he was selected 8th overall at the 2017 National Football League Draft. In May 2017, he signed a four-year deal worth $17.2 million with the franchise. His contract with them includes extra bonuses worth about $10.7 million.
Christian McCaffrey started his first season by recording 47 rushing yards and 38 receiving yards in his first game. He ended the season with an amazing record of rushing yard; 435, receiving yards; 651, rushing touchdowns; 2, receiving touchdowns; 5 and receptions; 80.
Later in the following season, Christian McCaffrey made his presence felt in the NFL by becoming the first player to achieve 100+ yards, 10+ receptions, a touchdown both rushing and receiving in a game since 2011. At the end of the season, he recorded rushing yards; 1,098, receiving yards; 867, rushing touchdowns; 7, receiving touchdowns; 6 and receptions; 107, with the latter making him the running back with the most receptions in a single season in the NFL history.
Breaking New Grounds in Football
Next came the 2019 season and therein, he posted 120+ rushing yards and 10+ receptions in two career games, thereby, becoming the first player to achieve such feat in the league. Asides that, McCaffrey has achieved other notable feats both in his franchise and in the NFL. So far, he is the first player in the annals of the NFL to register more than 1,000 rushing yards and 500 receiving yards in the first ten games of a season.
He is also the first NFL player to record 50 rushing and 50 receiving yards in five consecutive games. Coming to his club record, Christian McCaffrey is the first player in his franchise to register most scrimmage yards of 3,051 in his first two seasons. As a prolific running back, he holds single-season records for most receiving yards (867), most receiving first downs (41), and most receiving touchdowns (6).
Although the elite athlete has only played for a few years in the National Football League, he has left an indelible mark in the league, which is no doubt, a tip of the iceberg compared to the promising future he has ahead of him.