This former beauty queen has just the right amount of celebrity weirdness in her family to make it perfect fodder for the media's insatiable hunger. Candice Crawford is a former Miss Missouri and Miss USA Contestant, who decided to pursue a career in journalism. She won the Miss Missouri contest in 2008.
She is married to former NFL quarterback Tony Romo who arguably has one of the most high profile relationship portfolios in the history of the NFL. As weird as it may seem, Romo and Candice's brother have one thing in common: they have both dated singer Carrie Underwood.
Who is Candice Crawford? Tony Romo's Wife, Age

This Texan beauty was born in Lubbock, Texas, on December 16, 1986, and spent her childhood years in nearby Dallas, Texas. For her education, she went to Trinity Christian Academy in Addison, Texas, from where she graduated in 2005. While at the Academy, she started participating in beauty pageants. From 2003 to 2005, she was involved in the Miss Texas Teen USA pageants.
She then moved on to study broadcast journalism at the University of Missouri, Columbia. She spent four years at the institution, graduating in 2009. In 2008, she competed for the Miss Missouri crown and emerged victoriously. This gave her automatic qualification into the Miss USA pageant where she finished in the top 10.
Crawford also has a rap sheet albeit with only a single entry. A year before she participated in the Miss USA competition, she had her rights read to her on suspicion of minor possession.
While studying at the University, Candice also took up employment at KOMU-TV, a local station. She was a reporter and sports anchor. Candice Crawford anchored The Closers, a sports show that aired on a weekly basis. At KOMU, she also interned at the Dallas Cowboys for two summers, where she reported for the team on their CBS segment The Blitz. She also did some work behind the camera for programs such as KOMU's Friday Night Lights.
After her time with KOMU-TV, she joined CW33 (KDAF), a television network serving the area of Dallas, Texas. Here, her responsibilities included covering high school sports competitions, festivals, and events.
Crawford also had her own segment Up All Night, which gave information about different spots for nightlifers to hang out in around the Dallas-Fort Worth area. She was also a co-host on the network's show The RC Project and another covering the Dallas Cowboys called Special Edition, a weekend sports show.
Candice Crawford is also co-owner of a company known as "Hawk + Sloane", an essential oil spray business targeted at parents. She founded the venture with her longtime friend from middle school, Holly Siglin. The name for the company is the same as the names of the two women's first sons. They came up with the company name after they both found out that they had the same expected date of delivery for the boys.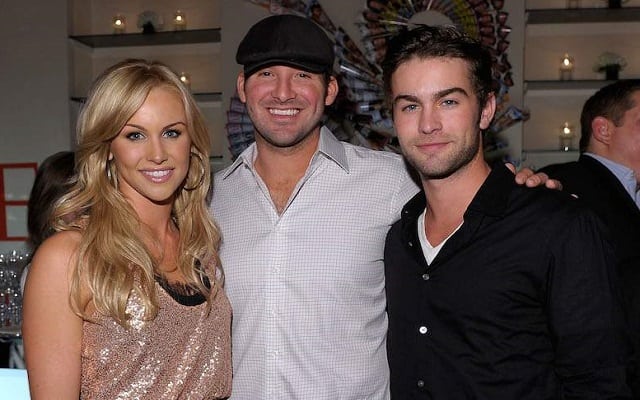 Family: Parents and Siblings
Candice was born into a small family as she has only one sibling, an older brother. Her father, Chris Crawford worked as a dermatologist, while her mother, Dana Crawford worked as a high school teacher and eventually focused more on being a homemaker.
Her brother, Chase Crawford initially took the same route Candice would later take. He enrolled in Pepperdine University to pursue a career in broadcast journalism and marketing. He would drop out a few semesters later to focus on his acting career. Chase is the star character known as Nate Archibald in CW's ultra-successful drama series Gossip Girl. He has also starred in many other movies and television series.
See Also: Yaris Sanchez Bio, Family Life, and Other Facts To Know About The Model

Husband (Tony Romo), Kids
Candice is married to Tony Romo, an undisputed star in the history of Dallas football and the wider NFL. Romo was a quarterback for the Dallas Cowboys during his playing days. He retired in 2016, having played his entire career for the Dallas Cowboys. Subsequently, he became a sports pundit for CBS Sports' NFL telecasts.
Tony Romo had just come out of a relationship with singer and actress Jessica Simpson when he started dating Candice Crawford in 2009. He proposed to her on December 16, 2010, her 24th birthday. She subsequently left CW33 to focus on her relationship and prepare for the wedding.
They found time to get married five months later, thanks to the 2011 NFL lockout. The couple has three sons: Hawkins (2012); Rivers (2014); and Jones (2017).