Boban Marjanović is a Serbian basketball player who began his career in the National Basketball Association in 2015 as an undrafted player. His career achievements aside, he is best known for his height of 7 feet 3 inches, which makes him the 2nd tallest active player in the NBA.
Boban Marjanovic is a basketball player of profound talent unlike many we have seen in the past. Going from his local basketball leagues in Serbia to joining the big leagues and then finally transitioning to the National Basketball Association (NBA), he has led teams to victories with his many scores and assists.
But what catches people's fancy the most about this Serbian basketballer is his height. He comes in second right after Senegalese basketballer Tacko Fall, who stands at an intimidating height of 7 feet 5 inches. With his impressive height and b-ball skills, Boban Marjanovic has proven himself to be a player to watch in the NBA.
Biography and Profile Summary
Age/Date of Birth:

34 years old (15 August 1988)
Height:

7 feet 4 inches (2.24 m )
Ethnicity/Race:

White
Nationality:
Serbian
Wife or Girlfriend:
Milica Krstić (m. 2014)
Parents:
Father: N/A
Mother: Smilja Marjanović
Net Worth:
$20 million
Boban Marjanovic's Fact Sheet
Boban Marjanovic Began Playing Basketball In Serbia Before Joining the NBA
The professional basketball player was born in Boljevac, Serbia on August 15, 1988. Boban started his basketball career playing in the youth teams of Boljevac-based club Rtanj. His professional debut happened in 2006 when he joined the Serbian professional team Hemofarm. He got a spot in the first team, playing in the second half of the 2005–06 Adriatic League season. Boban played on the first team until he was loaned to the Serbian League team Swisslion Takovo in January 2007. Boban went on to win 3 consecutive Serbian Super League MVPs from 2013 to 2015. He's represented Serbia at the junior and senior levels internationally, winning gold medals at the U-19 and U-20 levels.
In the first game of the 2014–15 EuroLeague season, Boban Marjanovic helped his team to a 76–68 victory against Galatasaray, contributing with 22 points scored 10 rebounds pulled down in 28 minutes on the court. In an April 2014 game against Panathinaikos, he set the EuroLeague record for the most rebounds in a single season with 256, passing Mirsad Türkcan's previous record of 248 rebounds in the 2002–03 season.
After several years playing in European leagues, Boban moved to the NBA, where he signed on with the San Antonio Spurs. There, he was teammates with LaMarcus Aldridge during the 2015-16 season. The 7 feet 3 inches NBA center then went on to sign with the Detroit Pistons in 2016 after spending his first NBA season with the Spurs. In mid-2019, Boban Marjanovic signed a 2-year contract with the Dallas Mavericks which includes $7 million as a guaranteed amount and an annual average salary of $3.5 million. Despite having played in just seven of the Mavericks' 15 games in 2019, Boban established a career-best average in that span (7.7 points and 5.3 rebounds per game).
A Highlight of Boban Marjanovic's Major Achievements
Silver Medal at EuroBasket with Serbian National Team – 2017 Turkey
All-EuroLeague First Team (2015)
3× Serbian Super League MVP (2013–2015)
Serbian League champion (2015)
ABA League champion (2015)
ABA League playoffs MVP (2015)
2× All-ABA League Team (2014, 2015)
2× Serbian Cup winner (2014, 2015)
LKL All-Star (2011)
Lithuanian League champion (2011)
Baltic League champion (2011)
Lithuanian Cup winner (2011)
Gold Medal FIBA Europe Under-20 Championship with Serbian National Team – 2008 Latvia
Gold Medal FIBA Under-19 World Cup with Serbian National Team – 2007 Serbia
Boban's NBA Contract Details And Other Contributors to His $8 Million Net Worth
The details of Marjanovic's basketball income prior to joining the NBA is not publicly available, however, it is a known fact that the NBA pays basketball players the highest income thus his earning in the NBA is technically higher than what he received playing in Europe. When he joined the NBA in 2015, he signed a one-year contract with the San Antonio Spurs worth $1.2 million.
In July 2016, he received a $21 million offer from the Detroit Pistons. According to Spotrac, he earned an average salary of $7 million in the first year of the offer. He subsequently earned an average of $4.5 million annually for the rest of the contract.
Boban Marjanovic signed with the Dallas Mavericks in a 2-year contract worth $7 million with $7 million guaranteed. Looking at his contracts thus far, the center has made approximately $34 million in career earnings, a number that will grow as long as he continues his NBA career.
Besides his basketball career, Boban Marjanovic also has ties with the business world. Boban is the Chief Blanket Connoisseur for the Big Blanket Co. He co-founded Big Blanket Co. with Anthony Tolliver (of Portland Trailblazer), who played with Marjanovic when the two were on the same team in the Detroit Pistons from 2017-2018. The company's "average" blankets are 10 feet by 10 feet, making them four times the size of a normal throw blanket. The blankets are on sale online.
In entertainment, Boban made a cameo in the movie John Wick Chapter 3: Parabellum, appearing as an assassin that tries to kill John Wick at the New York Public Library.
Overview of Marjanovic's Major Income Sources
NBA Career Earnings – $34 million
Big Blanket Co.
How is Boban Marjanovic So Tall, Does He Have Gigantism?
Extreme height such as Marjanovic's is usually associated with a genetic disorder of some sort and the case is no different for the Serbian basketball player. It is believed that a pituitary disease must have contributed to his gigantism which is simply caused by an overproduction of growth hormone.
Interestingly, Marjanovic did not inherit his gigantism as both his parents are of average height, while his father stands at a height of 5 feet 9 inches, his mother is 5 feet 6 inches tall. Before adulthood and at the age of just 14 years old, Marjanovic was already over 2 meters tall, standing at 6 ft 10 1⁄2 inches tall.
Is He the tallest player in the NBA?
Being of a taller than average height is definitely an advantage for anyone in the sport of basketball and there is no denying that Marjanovic's incredible height has helped him thrive in the sport. Standing at 7 feet 3 inches tall, Marjanovic is not the tallest player in the NBA, that title goes to Tacko Fall who is just 2 inches taller and stands at a height of 7 feet 5 inches. While Fall's height is well intimidating, he is not the tallest player to have graced the game, that title goes to Gheorghe Muresan and Manute Bol who both stood at 7 feet 7 inches tall. Though Marjanovic might not be the tallest in the sport, his hand span is said to be the biggest, measuring 10.75/12 inches. Here is a look at how Marjanovic's physical attributes compared to some of the NBA's great players.
| | | | |
| --- | --- | --- | --- |
| Players | Height | Wing Span | Weight |
| Boban Marjanovic | 7 feet 3 inches | 2.4 m | 132 kg |
| Tacko Fall | 7 feet 5 inches | 2.54 m |  141 kg |
| Kristaps Porziņģis | 7 feet 3 inches | 2.29 m | 109 kg |
| Bogdan Bogdanović | 6 feet 6 inches | 2.11 m | 100 kg |
| Shaquille O'Neal | 7 feet 1 inch | 2.31 m | 147 kg |
Who Is The Serbian Basketballer's Wife, Milica Krstic?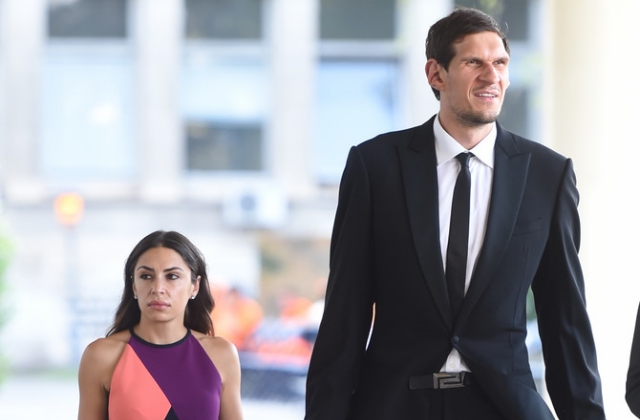 Boban Marjanovic is a married man. In fact, he got married to his wife twice. Before they tied the knot, Boban and his wife Milica Krstic lived together for three years in their 6 years of relationship, before they decided to make it official with a wedding. Their first wedding was held at the beautiful Mexican beaches on July 3, 2014, and eventually, they married for the second time in Belgrade, Serbia on July 13, 2014.
Boban and Milica are parents to 2 male children; Vuk Marjanovic and Pera Marjanovic. Boban's sons have both attended live basketball games to watch their father play. This was especially when he was with the Detroit Pistons. Marjanovic once posted a photo of himself with Milica, Vuk, and Pera at the Little Caesars Arena, where the Pistons play their home games.
Going by Milica's posts about her kids' school days, zoo adventures, and birthday celebrations, it seems Milica Marjanovic resides in the couple's native Serbia while her husband plays in the NBA. Even while overseas, the proud wife supports her basketball spouse by regularly posting photos of the seven-footer in his team uniform.
It is not known what career path Milica Marjanovic is pursuing, however, it has come to light that she has featured in two Serbian TV shows namely "Emergency Center" which is her country's version of America's ER, as well as "Sindjelici," a long-running comedy series.
How tall is Boban Marjanovic compared to his wife?
The height of most basketball player's wives pale in comparison to their towering husbands and the same is the case for Boban and his wife. The basketball player stands two feet taller than his wife. She stands at a height of 5 feet 3 inches tall which is a bit below the average height for women. Milica seems to be very proud of her height as she included it in her Instagram bio, perhaps to satisfy the curiosity of many who might be wondering how tall she is in comparison to her over 7 feet tall husband.
Profile Summary
First Name:
Boban
Last Name:
Marjanovic
Also Known As:

"You Rang"
Sex/Gender:

Male
Profession:

Basketball player
Famous For:
Dallas Mavericks
Colleges/Universities Attended:

Megatrend Univerzitet
Educational Qualifications:

N/A
Religion:

Unknown
Birthday & Zodiac

Age/Date of Birth:

34 years old (15 August 1988)
Zodiac Sign:
Leo
Birth Place:

Municipality of Boljevac, Serbia
Nationality:
Serbian
Ethnicity/Race:

White
Country of Residence:

Serbia
Physical Attributes

Height:

7 feet 4 inches (2.24 m )
Weight:

132 kg (290 lbs)
Eye Colour:

Dark Brown
Hair Color:

Dark Brown
Other Body Measurements:

N/A
Relationships

Marital Status:

Married
Spouse/Partner:

Married to Milica Krstić (m. 2014)
Family and Relatives

Father:

N/A
Mother:
Smilja Marjanović
Children:

2 Sons - Vuk, Pera
Siblings:
N/A
Other Relatives:

N/A
Net Worth
Estimated Net Worth:

$20 million
Salary:
N/A
Source of Wealth:

Basketball career, business/Investments