Billie Eilish had the entire music world talking when – a few months to her eighteenth birthday in August 2019 – the singer topped the Billboard 100 chart with her song 'Bad Guy' which was written and produced by her brother Finneas. But that was not her first brush with fame and success though. Instead, she had already taken the music industry by storm three years earlier when she released her song 'Ocean Eyes' on Soundcloud, just a month to her 15th birthday.
Certainly, you would like to know more about such a fast-riser. So, here is all we know about her.
Billie Eilish's Family Background and Career Development
Billie was born and named Billie Eilish Pirate Baird O'Connell in Los Angeles, California, on the 18th of December, 2001. She was raised by her parents in the L.A. neighborhood of Highland Park. To enable her to pursue her career hitch-free, she was homeschooled. She has Irish and Scottish ethnic backgrounds while she is of American nationality.
From a very young age, Eilish had a flair for singing which ultimately led her to join the Los Angeles Children's Chorus by the time she was just 8 years of age. And by the time she turned eleven, she was able to start writing and singing her own songs. As earlier hinted, in late 2016, Billie dropped her debut single, "Ocean Eyes" on SoundCloud, which she followed up with a music and dance video. By November that year, Ocean Eyes was re-released across the globe via Darkroom and Interscope Records to mainly positive reviews. Another single, "Six Feet Under" was subsequently released by the artist.
In January 2017, Billie Eilish dropped four EP remixes of Ocean Eyes. By February, she dropped another single, "Bellyache" which was co-written with and produced by her brother Finneas. The single was backed-up by a music video that was directed by Miles and AJ. Later that month (March 2017), she released the track "Bored", which served as the soundtrack for the Netflix series 13 Reasons Why.
Between June and July 2017, she dropped two singles; "Watch" and "Copycat". In July, she announced that she would be dropping her debut EP, "Don't Smile at Me" and that for every Friday of that month, she was going to be adding a single to the EP. Some of the more notable singles she added to the EP included "My Boy" and "Idontwannabeyouanymore". "Don't Smile at Me" was finally released in August 2017.
Later that year, Billie Eilish collaborated with rapper Vince Staples to do "&Burn" (remix of "Watch"), which was thereafter included on the EP's re-release. With the presence of a growing fan base, Eilish was able to embark on a tour, (Where's My Mind Tour), in February 2018, which lasted until April that year.
To mark the year's Record Store Day, she dropped a 7″ vinyl which featured an acoustic version of her song "Party Favor" as well as an acoustic cover of Drake's "Hotline Bling". She would also later collaborate with singer Khalid for the single "Lovely", which dropped in April and was added to the soundtrack for the second season of 13 Reasons Why. Her other singles for 2018 include "You Should See Me in a Crown", "When the Party's Over" and "Bitches Broken Hearts".
In March 2019, Billie Eilish dropped her first studio album titled "When We All Fall Asleep, Where Do We Go?". The album instantly launched her into superstardom, as it became an all-kill on several music charts. It also broke numerous records in the music scene, having been the first album by a female music artist to have fourteen of its songs charted simultaneously on the Billboard Hot 100. It was only one of her songs "Goodbye" that didn't chart on Hot 100.
Through the success of the album, the multi-award-winning artist reached several landmarks in her musical career. She became the first female singer born in the 2000s to have released an album that debuted atop of the Billboard 200; the youngest female artist to clench the number one spot on the UK albums chart, and the youngest artist to have a single ("Bad Guy") that peaked at number one on Billboard Hot 100.
Billie Eilish's Career Achievements
Billie Eilish is obviously a young star whose uncanny singing abilities have paved way for in the music industry. Within her short stint in the music arena, she has won numerous awards and has set astounding records in the process, for which she has achieved two Guinness World Records. Amazingly, over the course of her career, she has racked up thirty-nine award wins and ninety-one nominations.
Following the release of her career-defining album in 2019, Eilish became the youngest music artist to achieve six Grammy Award nominations in four main categories – Song of the Year for "Bad Guy", Album of the Year, Record of the Year and Best New Artist. To everyone's amazement, the young vocalist cleared up the awards under Grammy's four main categories, as she took home five Grammy Awards during the 62nd edition of the award held in January 2020.
As a result of her exploits in the Grammy, Eilish set another record for achieving such a groundbreaking feat at just the age of eighteen. Other of her award wins include American Music Awards, Apple Music Awards, Danish Music Awards, GAFFA Awards, Melon Music Awards, MTV Europe Music Awards, Nickelodeon Kid's Choice Awards, Teen Choice Awards, Rolling Stone's International Music Awards, among others. Despite her stunning career success in the year 2019, the Los Angeles native is still a rising star with a brighter future ahead of her.
What Is Billie Eilish's Net Worth?
Having her musical career skyrocketed into a new stratosphere with the release of her first studio album, Billie Eilish is said to be worth around $8 million. However, the youngster's net worth is said to have been augmented by $25 million in early 2019. She was reportedly paid the whopping sum by Apple+ in order to gain the rights to document her life in a movie. Her upcoming documentary film was shot in the month of March 2019 and would be premiered in 2020.
So far in her career, Billie Eilish has recorded multiple singles that have been certified Platinum, Gold and Silver, not excluding her debut studio album "When We All Fall Asleep, Where Do We Go?" that was certified 2x Platinum by the Recording Industry Association of America (RIAA), as well as certified platinum by the Australian Recording Industry Association (ARIA) and equally the British Photographic Industry (BPI).
Her Extended Play "Don't Smile at Me" was also commercially successful. It sold over a million units in the United States and Australia. It equally sold over five hundred units in Britain. Then her first single "Ocean Eyes" which globally announced her presence in the music industry was also a hit song. Despite being her first official song, it was RIAA certified Platinum, ARIA certified 2x Platinum and BPI certified Gold.
Other of her single which were commercially successful include "Six Feet Under", "Bellyache", "Bored", "Watch", "Copycat", "Idontwantbeyouanymore", "My Boy", "Lovely", "You Should See Me in a Crown", "When the Party's Over", "Bury a Friend", "Wish You Were Gay", "Bad Guy", "All the Good Girls Go to Hell" and "Everything I Wanted". The music artist has additionally made tremendous wealth from her multiple music tours including Don't Smile at Me Tour (2017), Where's My Mind Tour (2018), 1 by 1 Tour (2018-2019) and When We All Fall Asleep World Tour (2019). She has currently made plans for her 2020 Word Tour titled Where Do We Go?
In addition to her successful musical endeavors, Billie Eilish has boosted her finances through her modeling career, having penned down a modeling deal with the prestigious modeling and talent agency NEXT Management in October 2018. She has also been associated with notable magazines such as Vogue, Elle, V Magazine and Rolling Stone, and has often appeared on the cover of the magazines.
More so, the talented singer is a widely known brand ambassador who has made appearances in commercials for Adobe Creative Cloud, MCM Worldwide and Calvin Klein. In April 2019, she established a clothing label in partnership with Takashi Murakami, a Japanese artist. A few months later, she collaborated with Apple in a promotion campaign for the Music Lab App. She equally formed a collaboration with clothing brand, Freak City and clothing company, Siberia Hils.
Billie Eilish's Fact Sheet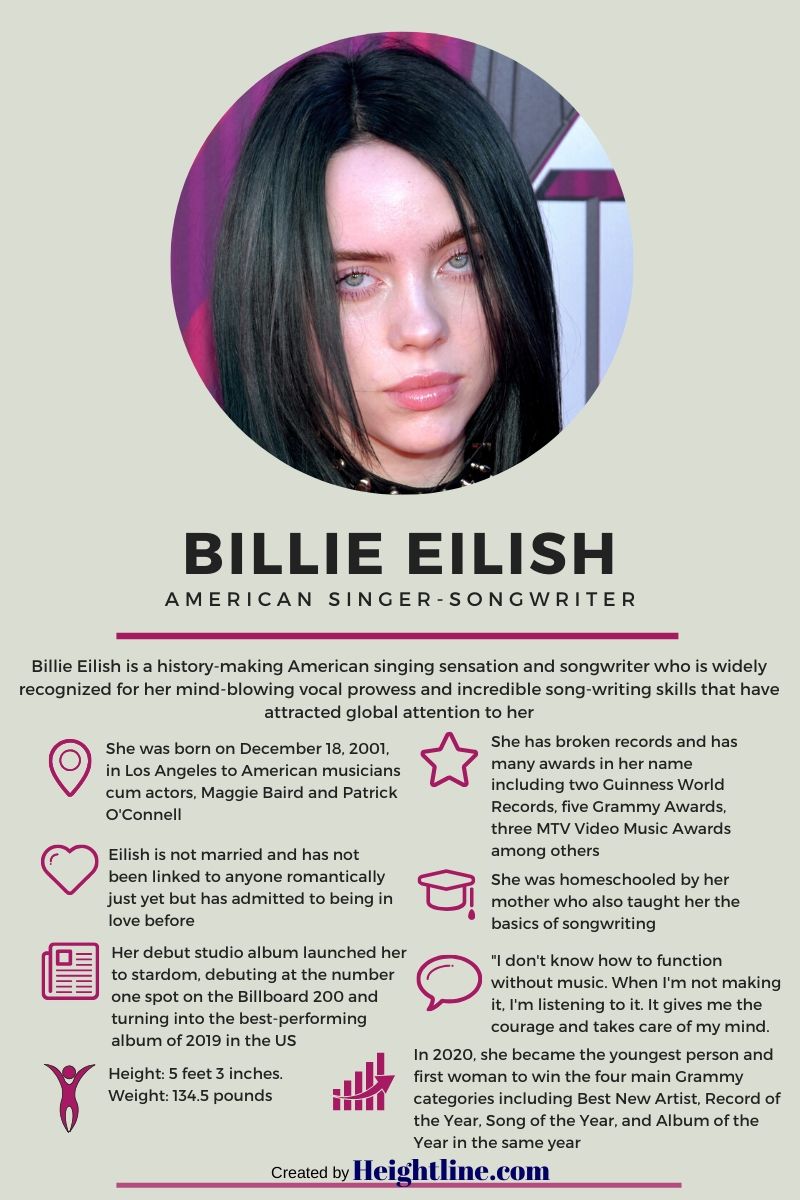 Meet Billie Eilish's Family Members
Billie Eilish is from a family of musicians and actors. Her father, Patrick O'Connell, who is a well-known actor is a huge music enthusiast while her mother, Maggie Baird, is a musician, screenwriter, and actress. Her elder brother, Finneas is her music partner in the sense that he writes most of her lyrics, oversees the production of her music and sometimes, add zest to her live performances on stage with his singing prowess. Below are interesting facts about the lives of Eilish's family members.
Patrick O'Connell
Billie Eilish's father, Patrick O'Connell is an actor who has over twenty acting credits under his belt. He was born in Norwalk, Connecticut on July 7th 1957. He then put his acting career to a get-go in the year 1991, with an appearance in TV series Loving. A few years later, he had his cinematic debut in the 1988 movie Dream Demon. In the following year, he was cast as Neil Everest in two episodes of the classic TV series Guilding Light.
Afterward, Mr. O'Connell scored roles in Elvis and the Colonel: The Untold Story, Silk Stalkings, Don't Get Me Started, NYPD Blues, The West Wing, and Dead Last. Then in 2008, he played his best-recognized role of a reporter in The Iron Man. He is additionally a voice actor who has lent his voice in video games such as Splinter Cell: Double Agent, Desperate Housewives: The Game, Cyborg 2: Glass Shadow, Land of Lore III and Hitman.
Maggie Baird
Maggie Baird is an award-winning actress whose acting career has spanned over three decades. Having studied Theatre and Dance at the University of Utah, She began her career on Broadway before transitioning into a TV and film actress. She has starred in a good number of movies and TV series over the course of her career and they include Another World, Walker Texas Ranger, Life Inside Out, bathe X-Files, The West Wing, Charmed, among others.
Just like her husband, Maggie has also provided her amazing voice in several video games including BattleZone II: Combat Commander, EverQuest II, Rogue Galaxy, Saints Row, and Lightning Returns: Final Fantasy XIII. Beyond her acting works, the elegant mother of two is also a music artist. She dropped her debut album titled "We Sail" in March 2009.
She has additionally worked as a songwriter and screenwriter. In 2013, she provided the soundtrack for the film Life Inside Out, which she also wrote and co-produced. Following her works, Billie Eilish's mom is a recipient of Chrystal Heart Award for Dramatic Feature from the Heartland International Film Festival and Cox Audience Award from the Phoenix Film Festival.
Finneas O'Connell
Finneas O'Connell is a talented musician, songwriter and record producer who has contributed heavily to his younger sister's musical career success. He has penned down and equally produced songs for Billie Eilish, as well as other music artists such as Halsey, Camila Cabello, Selena Gomez, Rebecca Black, and Ashe. As a result of his works in Eilish's debut album "When We All Fall Asleep, Where Do We Go?", Finneas claimed five Grammy Awards in January 2020.
As a singer, he serves as the lead vocalist of the band, The Slightly and is also the brain behind the band's lyrics. Additionally, he is a solo artist who has released singles such as "Break My Heart", "I'm In Love Without You", "Life Moves On", "Let's Fall in Love for the Night", "angel" and "I Don't Miss You at All". Interestingly, Billie Eilish's brother is following in the footsteps of their parents and has featured in films and TV series such as Bad Teacher, Life Inside Out, Modern Family and Aquarius.
Here's the Bizzare Connection Between Billie Eilish and Drake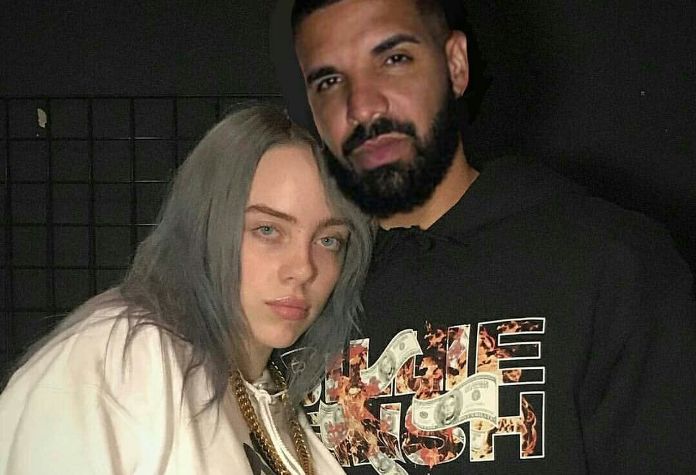 At press time, there is no indication that Billie Eilish is romantically involved with anyone. However, in a recent interview, she granted to Vanity Fair, she betrayed an emotional leaning towards the Canadian singer Drake whom she said she had only been exchanging text messages but never met him in person.
Considering her age, the news that Drake had been texting her was greeted with outrage across the web community. The Canadian rapper and music producer was labeled "creepy" while others felt "weird" was a better-suited description for the much older music star. As social media went frenzy with the news, people were quick to recall that Drake had in the past been accused of exchanging texts with another young girl, Millie Bobby Brown of Stranger Things.
In all, many people express their displeasure on Drake texting young girls and in this case Billie. Be that as it may, Billie Eilish has been doing well in her career with a growing fanbase ever ready to lend their support to the talented youngster.