Despite a fairly impressive collegiate basketball career, Austin Mcbroom went undrafted in the 2016 NBA Draft. Having missed out on a possible NBA career, this multitalented youngster has taken another route to superstardom via the internet.
Mcbroom currently enjoys a vast followership across several social media platforms. His highly popular Youtube channel The ACE Family which was created in January 2016 has amassed well over 10.5 million subscribers in addition to a cumulative 1.6 billion plus views.
Austin McBroom Bio (Age)
Austin McBroom was born on May 5, 1992, in Los Angeles, California. He had his high school education at Campbell Hall School, California graduating in 2011. As a three-sport athlete, Mcbroom lettered in basketball, baseball, and football. In his senior year in high school, he was named in the All-State selection in both basketball and football.
For his college education, Austin McBroom initially committed to Central Michigan University. However, after his freshman year, he transferred to Saint Louis University for his sophomore and junior years. McBroom eventually completed his senior year of college at Eastern Washington University.
NBA Career
Austin Mcbroom did not make it to the NBA after going undrafted in the 2 rounds of the 2016 NBA Draft, making him an unrestricted free agent. Prior to that, he had a fairly illustrious college basketball career playing in the point guard position. In his freshman (2011-12) season with the Central Michigan Chippewas basketball team, Austin McBroom featured in 31 games during which he averaged 10.9 points, 2.4 rebounds and a team-high 2.7 assists per game. McBroom finished second in the league in terms of scores among freshmen, he was also named in the Mid-American Conference (MAC) all-freshman team.
After his freshman season, Mcbroom switched to the Saint Louis Billikens basketball team where he had a 2-season stint after sitting out the 2012-13 season. In his sophomore season, he started only one game out of a total 34 games appearances and was able to record a 7.3 scoring average which was at the time the second-best single-season performance in the history of Saint Louis. He equally posted 1.9 rebounds and 1.6 assists. The talented player earned more playing time in his junior season as he started 14 out of 32 total appearances during which he averaged 6.7 points, 1.2 rebounds and 1.6 assists per game.
Austin Mcbroom joined the Eastern Washington Eagles in April 2015 for his last season of collegiate basketball. The talented player set a new East Washington University record for most points (72) in back-to-back Big Sky Conference games in the team's home triumph over the University of North Dakota and the University of Northern Colorado. He finished the season with a team-high 21 points per game plus an average of 2.5 rebounds and 3.7 assists. His impressive stats earned him First Team All-District 6 and Second Team All-Big Sky honors.
His Parents and Brother
Austin McBroom was born in North Hollywood, California to Allen and Michale McBroom. He was raised alongside one sibling, a younger brother named Landon. Just like his highly famous brother, Landon Mcbroom also played varsity basketball and currently runs his own fairly popular Youtube channel alongside his girlfriend Shyla.
See Also: Roni Rose Biography, Relationship With Steph Curry, Facts You Need To Know
Who Is His Girlfriend?
Austin McBroom is known to be in a long-term relationship with Canadian-born fitness model and fellow social media star Catherine Paiz. Their relationship dates back to 2015 and in addition to their blissful romantic involvement, the two are also career partners as they collaborate on their highly popular Youtube channel The ACE Family.
The couple welcomed their first child on May 28, 2016, a daughter named Elle Lively McBroom. Apparently, their young daughter is also on her way to social media stardom as she has garnered over 3.6 million followers on her own Instagram handle. Austin Mcbroom and Catherine Paiz got engaged in August 2017 and in February 2018, The ACE Family announced that they were expecting another addition to their family, a daughter.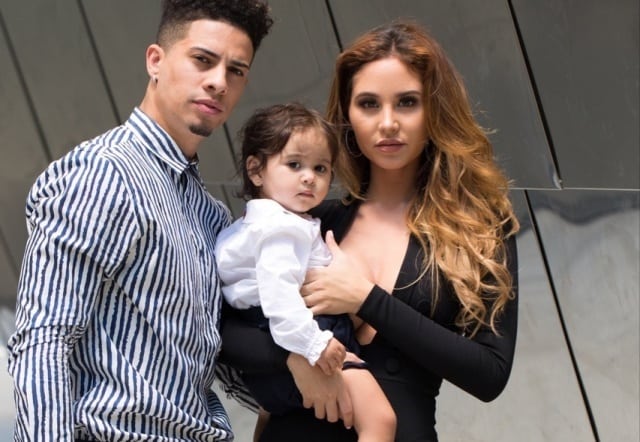 Net Worth – How Rich Is He?
In addition to his flourishing career as a social media star, Austin Mcbroom has also launched a website for the sale of diverse kinds of merchandise. These lucrative ventures and several juicy endorsement deals ensure that the Youtube sensation is constantly smiling to the bank. At the moment, there are varying reports about Mcbroom's exact net value, some sources put it at $500,000 while a number of others have it as high as $6 million.
See Also: Ethan Klein Bio, Net Worth, Family And Facts Of The Famous YouTuber
Height and Body Measurements
Austin McBroom stands at an impressive height of 6 feet (183 cm). Having left a professional sports career, the Youtube star still maintains an athletic physique with a body weight of 77 kg (170 lb).