Evan Ross is an American actor and musician who is famously married to reality television actress, Ashlee Simpson. If you think the name Ross sounds somewhat familiar, that's because it is. Evan Ross is the son of the iconic, multiple award-winning singer Diana Ross.
Ashlee Simpson and Evan Ross tied the knot in 2014 after less than a year of dating, and their marriage has produced 2 lovely children; Jagger Snow Ross, Ziggy Blu Ross
Ever since his onscreen debut in the comedy-drama movie ATL in 2006, Ross has gone on to star in popular movies like Pride (2007), 96 Minutes (2011), Supremacy (2014), and hit science fiction series, The Hunger Games: Mockingjay – Part 1 and Part 2 in 2014 and 2015 respectively.
His marriage to singer and actress Ashlee Simpson has been a beacon of additional fame for him as theirs is a relationship that the public seems to be very invested in. Nonetheless, these two have carried on loving each other right back, without seeming to care much about what the public perception of them might be. They are currently raising a couple of gorgeous children, keeping their fans and admirers doubly entertained on the television screen and on Instagram.
Evan Ross is the Son of Diana Ross and Arne Naess Jr.
Evan Olav Ross was born in the city of Greenwich, in Connecticut, on 26 August 1988. His parents are businessman and mountaineer Arne Naess Jr. and world-renowned singer and performer Diana Ross.
Evan's father, who happened to be Ross' second husband, has Norwegian and German roots. His mother, on the other hand, is an African-American. This means that Evan Ross has a heritage with a mixture of German/Norwegian roots from his father's side, and African roots from his mother's.
Evan didn't grow up alone; he has half-siblings. From his mother's side, he had three half-sisters named Tracee Ellis-Ross (who is also a famous actress), Rhonda Silberstein, and Chudney Silberstein. From his father's side, he had another three half-siblings, a brother and two sisters named Christoffer, Katinka, and Leona Naess – all from Naess' first marriage.
Evan Ross Is A True Multi-Potentialite With Careers In Music, Movies, and Reality Television
Evan has made quite a name for himself both as an actor and as a musician. He is mostly recognized for his appearance in the 2006 crime drama movie ATL and in the sci-fi thriller, The Hunger Games. The celebrity child star has also been featured in the movies like Pride, According to Greta, 96 Minutes, Supremacy, and Mooz-lum.
He also played a starring role on the Fox series Star in 2018, which he played for 2 years. However, Evan's most critically acclaimed movie role was in the 2006 comedy-drama movie ATL, where he played Ant alongside American rapper T.I.
He also featured in the movie 90210, alongside Liam Hemsworth and Annie Wilson, the latter whose love interest he played. Ross doesn't just land these roles, he gives them his very best shot and has won a couple of awards for his efforts. He also won praises for the role of Amare Carter in the HBO series, Life Support.
This movie role earned him a lot of recognition among his colleagues in Hollywood and earned him a nomination for 'Outstanding Actor in a Television Movie, Mini-series or Dramatic Special' at the 2008 NAACP Awards.
Creativity definitely runs in Ross' family but Evan takes it a step further by being musically talented as well. Although the ATL star is yet to release his first album, he has managed to give fans a little taste of what his music sounds like. Despite having his debut album in the works since 2011, he has dropped a few singles along the way. Reactions have been understandably mixed, and we can only conclude it might take fans a while to warm up to Evan's music.
A few years ago, precisely in 2018, Evan and his wife Ashlee decided to run their reality television show. The show was called Ashlee+Evan and was aired on the E! channel. The series mostly showed the duo collaborating on various songs and working together to produce an album. They allowed fans into the daily workings of their lives, showing how they faced challenges together as a couple, all while pursuing their different career goals and enjoying life as a family.
Unfortunately for fans, the show only aired for six episodes after which it was canceled. When asked about the reason why the show was so short-lived, Ashlee revealed that they didn't want their kids to grow up in front of the cameras, and so although making the show was fun, the well-being of their children remained their priority.
Evan and Ashlee Met at One of Her Birthday Parties
It is no secret that the two actors met at one of Ashlee Simpson's birthday parties. Apparently, it was Ashlee that made the first move, and the rest they say is history. After admitting to being thoroughly wowed by her new lover after only a few weeks, the once-divorced mother-of-one decided to take their relationship more seriously, and in less than two months after they'd met, they were an official couple
After barely a year of dating, Ross and Simpson decided to amp things up and exchange vows. They got engaged in January 2014 and got married on the 31st of August that same year. The wedding took place at Evan Ross' mother's sprawling mansion in Greenwich, Connecticut. During the sweet but solemn ceremony, Ashlee was given out by her son, Bronx, whom she had with her ex-husband.
So far, they've been together for 9 years and are still as in love with each other as ever. Ross in particular has been known to gush over his wife and children in the media, telling Entertainment Tonight that he was a true believer in love. All thanks to the charms of the gorgeous Ashlee.
Ross and Simpson Have Two Adorable Children Together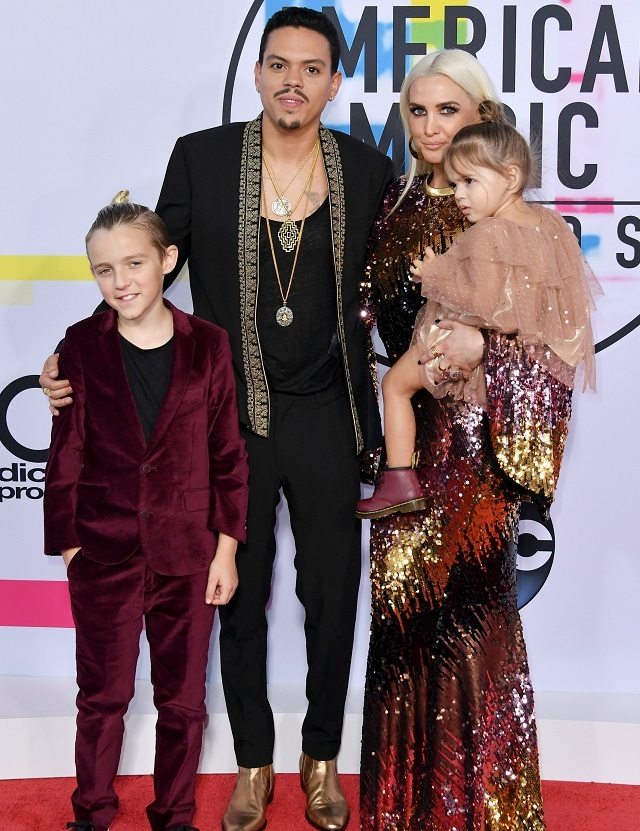 The couple welcomed their first child, Jagger Snow Ross, together on July 30, 2015. Jagger is 8-years-old now. Their second child together is an adorable boy named Ziggy Blu Ross. Ziggy was born in October 2020 and is already -1 years old.
Remember that Ashlee has another child, an eleven-year-old son named Bronx. He was born in 2011 during her first marriage. The couple definitely has no qualms about showing their kids' faces, and they have pictures of them plastered all over both of their social media pages.
Ashlee Simpson Used To Be Married to Fall Out Boy Band Member, Pete Wentz, But Things Went Awry
Although Ross' marriage to Ashlee Simpson was his first time walking down the aisle, it was Simpson's second, the first being to Fall Out Boy band-member Pete Wentz. Ashlee and Pete got married in May 2008 but ultimately filed for divorce in April 2011 due to what the former cited as "irreconcilable differences".
Ashlee hasn't really spoken about what caused her divorce from a man who thought their marriage was going to "last forever", but Pete himself supplied the answer. He admitted that he had been depressed during the hiatus period of his band, and it had taken a toll on his marriage. Apparently, Ashlee couldn't take it anymore and left with their one-year-old son, Bronx Mowgli.
However, the two of them seem to have put their differences aside and appear to be perfectly co-parenting their son. Wentz is also currently dating model, Megan Camper, and they have a son together.