There are a few players who many others want to be like as far as American football is concerned. Without a doubt, Antonio Brown who played for the Pittsburgh Steelers as a wide receiver is one of such. Having been in the National Football League (NFL) since 2010, he has grown to become a player to reckon with in the league, thanks to his many accomplishments. Away from football, Antonio has also been able to maintain a rather interesting lifestyle. Here is all to know about him.
The Beginning of Antonio Brown's Troubles With the NFL
Antonio Brown might have abundant talent and skill flowing through his veins, but his erratic behavior on and off the pitch is often hard to stomach, and it appears that his luck has finally run out with the NFL.
Early in the season, after signing with the Oakland Raiders, Brown went to war with the NFL over new helmets which were introduced and made mandatory for all players. He refused to wear any of the new models claiming that the designs were wonky and blocked his vision. He even went as far as threatening to sue the NFL if he suffered an injury while using the helmets.
Since there was no logical reason for Brown refusing to give up his old helmet for the newer models, the Raiders were forced to give him an ultimatum to get in line or get out of the team. However, this did not deter Brown who threatened to retire from the game rather than comply with the NFL's helmet policies.
He ended up not playing a single game for the Raiders before he was released from his contract. Although Brown was immediately picked up by the New England Patriots, his troubles were far from over. After playing a single game for the team, he was once again let go after a civil lawsuit accusing the wide receiver of rape was filed against him.
Allegations of Sexual Assault
Antonio Brown has been under investigation by the NFL for charges of rape, sexual misconduct, and harassment which were leveled against him by two women.
On September 10, 2019, Brown's former trainer Britney Taylor filed a lawsuit in Florida, claiming several incidences of rape and sexual misconduct against him. She alleged that he exposed himself, grabbed and kissed her without her consent sometime in June 2017.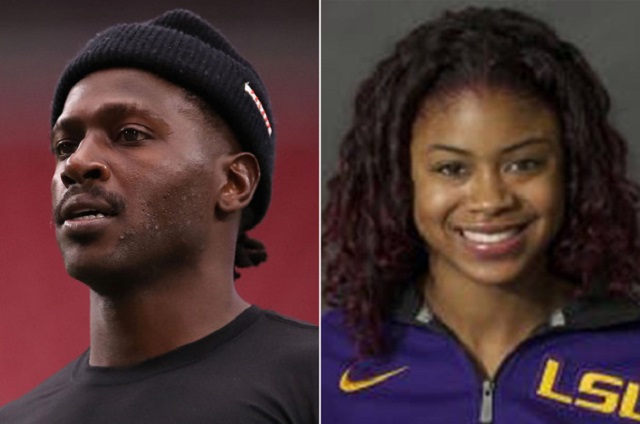 On a different occasion, Brown masturbated behind her and ended up ejecting his semen on her back. She claims that he later sent her explicit messages regarding the incident, which led to them severing their professional relationship.
In 2018, Taylor resumed working for Brown again, and on May 20, he allegedly pinned her down and raped her in spite of her protestations. The NFL player and his lawyer have refuted these allegations, claiming that all sexual encounters between Brown and Taylor were consensual, and they filed a countersuit to clear his name.
After the allegations came to light, a different woman also came out to accuse Brown of sexual misconduct. According to her, he exposed himself to her while she was painting a mural at his house. Brown faced even more backlash after it was revealed that he tried to intimidate the woman into retracting her accusations.
Does He Have A Girlfriend?
One person who has stood by Antonio Brown through all his past mishaps and his recent career troubles is Chelsea Kyriss, the athlete's longtime girlfriend.
Although it's not clear how they met or when exactly they started going out, the pair have been together for over six years, on and off. Chelsea maintains a low profile both in traditional and social media. She rarely grants interviews or talks openly about her private life.
Chelsea was born to Todd and Lynn Kyris on the 1st of September 1989, in Springboro, Ohio. She has one sibling, an older brother named Christopher. Her father works at Elite Sportswear as the vice president of global operations.
She holds a degree from Georgia Perimeter College, where she studied general education. Chelsea is a working-class woman who is not willing to sit around and let Brown provide even though he's worth millions of dollars. She currently works for Wilton Brands Inc. Prior to this, she worked as a sales representative at Victoria, an assistant teacher at Adventures Through Learning, and store manager at Bakers Footwear Group.
Chelsea Is Antonio's Baby Mama Number Three
The wide receiver has been involved with multiple women over the course of his career. He has sired children (a boy and a girl) with two other women. Chelsea is the third woman to have kids for Brown. The couple has three sweet children together, whom they're constantly showing off and gushing about on social media.
Their first son Autonomy was born in 2014. A year later, they welcomed Ali, their second son into the family. In 2017, Chelsea gave birth to Apollo, their youngest boy. Aside from the children she shares with Brown, Chelsea also has two slightly older kids (a boy and a girl named Kellen and Brooklyn Green) from a previous relationship.
Are They Still Together?
At the moment, Antonio Brown and Chelsea Kyriss are no longer together. They went through a very public breakup in December 2019, and have since taken to antagonizing each other on social media. Brown has threatened to claim custody of the kids and have her thrown out of his house. On the other hand, Chelsea has threatened to release the incriminating and damaging information about him in her possession.
No more white woman 2020

— AB (@AB84) December 13, 2019
Even though Antonio made the tweet above, there's a chance they might reunite as this is not the first time they have ended their relationship in such a manner.