Annie Murphy is a Canadian actress, who came to limelight for her role as Alexis Rose in the award-winning TV series Schitt's Creek (2015–present).
She is also known for her work in different movies and series like Blue Mountain State (2010), Flash Point, and Rookie Blue (2012).
Celebrities usually like to keep their personal life private, in the case of Annie, we believe she may have tried to keep her marriage out of the limelight but she possibly cannot keep it private.
Let's go ahead to find out who she is married to and how long they have been married.
Annie Murphy Age, Wiki
Annie was born on 19 December 1986 in Ottawa Ontario. She is a graduate of both the Canadian Film Centre Actors' Conservatory and the Theatre Performance Program at Concordia University. She resides in Toronto, Ontario.
Annie is not yet an established actress; she is still maintaining her position as a newbie and growing her identity. Her hall of fame includes Schitt's Creek where she portrays the role of Alexis. Through the sitcom, she has been able to grow her fans and followings.
In her Instagram alone, she has 16.2k followers while her Twitter followers count is 9.5k.
She earned her first on-screen acting credit in 2007 when she appeared in the TV film No Brother of Mine.
For the CBC series, Schitt's Creek, she was nominated for Canadian Screen Award for Best Actress in a Comedy in 2016. The series has won multiple awards since it premiered in 2016.
In early 2016, the series was renewed for a third season by CBC, it began airing in January 2017.
Annie Murphy's past projects include Rookie Blue, Flashpoint, Good God, The Story of Jen, Beauty and the Beast, and Blue Mountain State. She has also worked in theatre in Montreal and Toronto.
See Also: Jill Rhodes Hannity, Wiki, Bio, Married, Husband, Kids, Divorce
Murphy wrote, produced, and acted in The Plateaus (2015), a CBC web series, which also featured Elisha Cuthbert, Jay Baruchel, Sam Roberts, and Kevin MacDonald. Annie also co-hosted the first episode of "This Hour Has 22 Minutes".
She currently stars in Schitt's Creek for CBC/ITV. She stars alongside Eugene Levy, Daniel Levy, Catherine O'Hara, and Chris Elliott as Alexis Rose, the daughter of Levy and O'Hara.
Is Annie Murphy Married? Boyfriend, Husband
Annie seems to be a private person and has managed to keep details of her marriage away from the public.
She is, however, married to her husband, Hollerado singer (frontman) Menno Versteeg. The actual date of their marriage and dating details, when they met is not known.
Despite all the secrets, we can still enjoy looking their love life through her social media accounts. She constantly shares her daily life and some special moments through her Instagram and Twitter account. Her social account username is @annefrances in both media.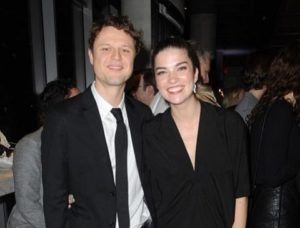 There are no records of Murphy's divorce or separation issues. So, we can say that the couple is living a blissful married life without participating in any kind of controversies or anything like that.
Comparing herself to her character, Alexis, a former self-obsessed socialite who was forced to relocate to a small town after her family lost their fortune.
Murphy has also experienced a turnaround in fortune. After her Toronto apartment burned down, she and her husband, Hollerado frontman Menno Versteeg, wound up in a situation, like that of her character's.
"We lost everything that we owned, and went to live in my husband's grandparent's attic," she recalls, "but it was an experience that I honestly wouldn't go back and change. It really did give me a big reality check in terms of what a person really needs."
Menno Versteeg is the Hollerado frontman. Hollerado is a Canadian indie rock band from Ottawa Ontario.
Menno founded the band in 2007 with his childhood friends and it consists of Menno Versteeg (lead vocals, guitar), Nixon Boyd (lead guitar, backing vocals), Dean Baxter (bass, backing vocals) and Jake Boyd (drums, backing vocals).
The group earned attention for their high-concept tours — including trips through China and South America, and a memorable "Meet the Mayor Tour." They won a staggering $250,000 in a Ottawa battle of the bands' contest.
They were nominated for the Best New Group Award at the 2011 Juno Awards.
Annie Murphy Height, Feet
Although neither her height nor body measurements are not known, she is a considerable tall lady with a beautiful body. Her feet is rated five stars on wikifeet.