Having descended from a dynasty of showbiz and entertainment – with her father, mother, grandfather, and uncle into one aspect of entertainment or the other – Amber Tamblyn was definitely made for showbiz. But even though she has found a career path in the "family business", Amber has refused to bask in the family's glory but is rather carving out her own niche and creating a name for her self in the industry. Read all about her career journey and also some personal life details here…
Amber Tamblyn's Biography
Amber Tamblyn made her entrance into the world on the 14th of May 1983. Even though it was a quiet entrance, she would grow to become a lady known globally through her talents. She was born in the United States of America, precisely in Santa Monica, California. Her love for entertainment was inherent in her gene as she was born into a family who was all about the entertainment industry. With a combination of her parents – Russ Tamblyn and Bonnie Murray – it was almost a certainty that Amber Tamblyn was going to end up an entertainer.
Amber's father, Russ, as an actor was featured in the musical film Seven Brides for Seven Brothers (1954) and the crime drama West Side Story (1961), while her mother, Bonnie, was an artist and a singer before switching careers to become a teacher.
Acting Career
The General Hospital star started performing on stage at the age of five while attending an unorthodox school known as Santa Monica Alternative School House (SMASH). While there, she participated in well over 13 plays. It was while acting in one of those plays – playing the role of Pippi Longstocking – at the age of nine (in her fourth grade) that she was discovered by a casting agent, Sharon Debord, who was also a family friend.
Amazed by, Amber's acting skills, he convinced her father, Russ, to allow her show up for auditions as he was initially unwilling to let his daughter go, fearing how she would handle the idea of being deemed not good enough. But the opposite was the case as she went on to make appearances in Biker Poet (released in 1994), Live Nude Girls and Rebellious  (both released in 1995).
She has since then gone on to become a star in her own right. Her sojourn in the world of acting also saw her pick up the movie role as Tibby Rollins in The Sisterhood of the Traveling Pants (2005). She rose to prominence with her appearance as Emily Quartermaine in the medical TV series General Hospital which began airing in 1963. Amber Tamblyn further upped the tempo when she also featured in the series Joan of Arcadia as the lead character named Joan Girardi. This performance earned her award nominations like the Primetime Emmy and Golden Globe.
Husband – David Cross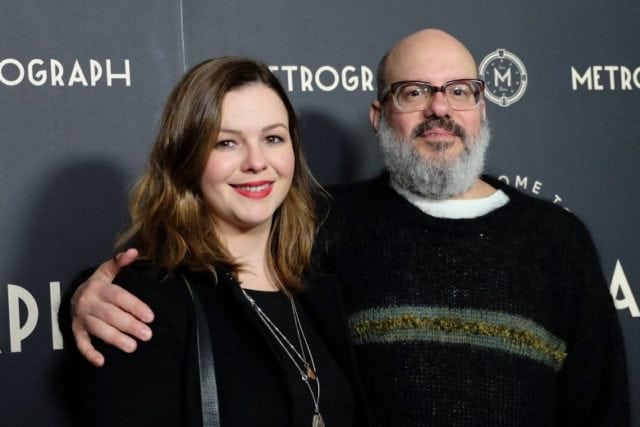 Amber Tamblyn is off the relationship market as she has been taken and the man responsible for that is none other than comedian David Cross. Having met and started dating in 2007, the couple has been married since 2012. They got engaged a year earlier in August 2011 and then took their relationship further by tying the nuptial knots on October 6, 2012.
Read Also: Who is Elena Anaya? 6 Important Facts You Should Know About the Actress 
Their only child so far – Marlow Alice Cross – was born years later on February 21, 2017. Her husband, David Cross is basically a comedian and an actor.
Other Fact About Amber Tamblyn
Amber Tamblyn's full name is Amber Rose Tamblyn. Her horoscope is Taurus (May 14). She holds American nationality and she belongs to white ethnicity.
Her height stands at 5 feet 7 inches (1.70 m) while she has a weight of 57 kg (125 lbs). Her body measurements are 34-26-35 (chest-waist-hip) all in inches. While her dress and shoe sizes are not available, her bra size in 34B. Tamblyn has brown eyes and she also has brown hair.
Tamblyn admitted that the 2016 US Presidential campaign season caused a little misunderstanding in their home because even though herself and her husband are Democrats, they were torn between their preferred candidates. While Tamblyn was a Hillary Clinton supporter, her husband, David Cross was a staunch supporter of Senator Bernie Sanders.
Information available about her net worth is not coordinated. While some websites report that she has a net worth of $3 million, others say Amber Tamblyn is worth $8 million.
She is also a poet and has written several poems and has a couple of books on the literature genre such as Free Stallion and Dark Sparkler. She co-founded a non-profit organization for poetry called Write Now Poetry Society in 2007. Amber has also written a novel titled Any Man.
When Amber first announced the birth of their daughter on Instagram, she caused a little frenzy when she said the name of the baby "Dauphinoise Petunia Brittany Scheherazade Von Fünkinstein Mustard Witch RBG Cross Tamblyn-Bey jr." Thank goodness it turned out to be a joke. What a name that would have been!
There is a huge gap in the age difference of the couple and her husband has joked about it on interviews saying the age gap made it so difficult for him to ask her (Amber Tamblyn) out.