Having descended from a dynasty of showbiz and entertainment — with her father, mother, grandfather, and uncle into one aspect of entertainment or the other – Amber Tamblyn is definitely made for showbiz.
Although she has found a career path in the "family business", Amber has refused to bask in the family's glory but is rather carving out her own niche and creating a name for her self in the industry. Take a look here at all she has been able to achieve and is still looking forward to.
Amber Tamblyn's Fact Sheet
Amber Tamblyn's Career Achievements
Amber Tamblyn made a quiet entrance into the world on the 14th of May 1983, with no one knowing she would grow to become a lady known globally through her talents. Her love for entertainment was inherent as she was born into a family that was all about the entertainment industry. With a combination of her parents — Russ Tamblyn and Bonnie Murray – it was almost a certainty that Amber was going to end up an entertainer.
Amber's father, Russ, as an actor was featured in the musical film Seven Brides for Seven Brothers (1954) and the crime drama West Side Story (1961), while her mother, Bonnie, was an artist and a singer before switching careers to become a teacher. She decided to follow the same path by becoming an actress. Here is a timeline of her career thus far:
1988 – Theatre acting and discovery
The General Hospital star started performing on stage at the age of 5 while attending an unorthodox school known as Santa Monica Alternative School House (SMASH). While there, she participated in well over 13 plays. It was while acting in one of those plays – playing the role of Pippi Longstocking — at the age of 9 (in her fourth grade) that she was discovered by a casting agent, Sharon Debord, who was also a family friend.
1995 – She started her professional career
Amazed by, Amber's acting skills, Sharon convinced her father, Russ, to allow her show up for auditions as he was initially unwilling to let his daughter go, fearing how she would handle the idea of being deemed not good enough. But the opposite was the case as she went on to make appearances in Live Nude Girls and Rebellious in 1995. This launched her career as a professional actress.
1999 – Amber Tamblyn landed her first award
The actress landed her first award in her career that was still young after she landed the YoungStar Awards for her role in General Hospital. She would again win the award in year 2000 for Best Performance by a Young Actress in a Daytime TV Program.
Even though General Hospital has remained one of Amber's biggest roles, in 2003, she appeared in another big project when she got the role of Joan Girardi in Joan of Arcadia. she remained a part of the show until 2005 when it came to an end.
This was the year that she was really unwrapped with many accolades most especially for her role in Joan of Arcadia which earned her a Saturn Award for Best Actress on Television as well as Golden Globe Award, Primetime Emmy Awards, Satellite Awards, Teen Choice Awards, and Young Artist Awards nominations.
2005 – She became an author
Although she had released two chapbooks before now and had participated in poetry readings, Amber released her first collection of poems; Free Stallion: Poems in 2005. She would go on to release yet another book of poetry in 2009, Bang Ditto. The book received pretty good reviews.
2018 – Amber Tamblyn released her first novel
By 2019 when she published her latest book Era of ignition which is a biographical work, she had already had other works including her first novel Any Man which was released in 2018. The work became an instant success, earning her an Audie Award for multi-voiced Performance nomination.
2016 – She made her directorial debut
In 2016 Amber had her directorial debut with the release of the film, Paint it Black. The film is based on the work of Janet Fitch which was released in 2006. Apart from directing the film, she also co-wrote it with Ed Dougherty.
2020 – Amber is set to appear in Y
In 2020, she will make an appearance in the Drama series, Y. Amber will portray Mariette Callows which is based on the comic series with the same name. By this point, she has already appeared in over 24 TV shows and over 20 films.
From all that she has been involved in, Amber has accumulated a net worth that is estimated at $3 million.
Intriguing Details About Her Marriage To David Cross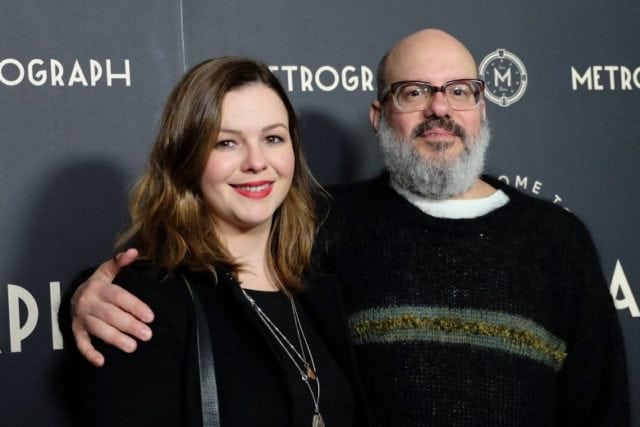 Needless to say, Amber Tamblyn is a very beautiful woman who could easily attract almost any man. She is, however, not available in the dating market as she is a married woman.  In 2012, she walked down the aisle with comedian David Cross. The couple first met in 2007 and afterward, they started dating and got married 5 years later following an engagement in 2011.
The couple is now blessed with a daughter — Marlow Alice Cross who is their only child. She was born on February 21, 2017. Following the birth of her daughter, the actress and poet took to her social media to announce the name of her new angel as "Dauphinoise Petunia Brittany Scheherazade Von Fünkinstein Mustard Witch RBG Cross Tamblyn-Bey jr." This caused a lot of excitement on the social media platform before Amber later revealed it was only a joke. What a name that would have been!
Many years after the two got married, they have managed to remain ever close even though there is an age gap of 20 years between them with Cross as the older of the two.
Apart from David Cross, the actress was once said to be in a relationship with one other person, Jason Ritter. Nothing much has been provided about their relationship.