Amber Lancaster is an American model, interior designer, and actress best known for her role as Jenny Swanson on The Hard Times of RJ Berger and also for being among the models on The Price Is Right from 2008 to date.
Amber Lancaster has made a name for herself in the entertainment industry with her dexterity. A model, actress, and interior designer, Amber had the zeal for the screen right from a very early age. Born Amber Leigh Lancaster on September 19, 1980, she grew up as an only child in her hometown of Tacoma, Washington state.
At the tender age of six, Amber ran free talent shows in her neighborhood for entertainment value. She would also visit nursing homes to entertain and make friends with the occupants.
She attended Franklin Pierce High School, putting her plans for a modeling career into motion. She was graced with the title of Miss Washington Teen USA in 1998. With all her activity, she was rewarded with a spot as a professional dancer in the Sea Gals, the Seattle Seahawks' cheerleading squad. She stayed with the squad for five seasons before she moved to Los Angeles with dreams of pursuing her dancing and modeling career.
Summary of Amber Lancaster's Biography
Full name: Amber Leigh Lancaster
Gender: Female
Date of birth: September 19, 1980
Place of Birth: Tacoma, Washington, U.S.
Amber Lancaster's Age: 42 Years Old

Ethnicity: White
Nationality: American
Zodiac Sign: Virgo
Sexual Orientation: Straight
Marital Status: Divorced
Amber Lancaster's Ex-Husband: A.J. Allodi ​(m. 2017; div. 2020)
Amber Lancaster's Children: Russell Levi Allodi
Education: Franklin Pierce High School in Tacoma
Amber Lancaster's Height in Inches: 64.9
Amber Lancaster's Height in Centimetres: 165 centimeters
Amber Lancaster's Net worth: $500 thousand
Famous for: Her role as Jenny Swanson on The Hard Times of RJ Berger and for being a model on The Price Is Right.
Amber Lancaster's Instagram: amberlancaster
Twitter: Amber Lancaster
Facebook: Amber Lancaster
Amber Lancaster's Fact Card
All We Know About Amber Lancaster and A.J. Allodi's Relationship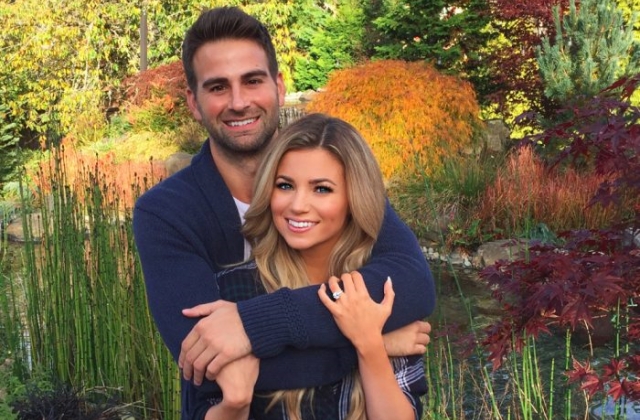 Amber Lancaster was in a seemingly loving marriage with her now ex-husband A.J. Allodi, a Los Angeles-based businessman. The two met through mutual friends, Melissa Ordway and Justin Gaston. Melissa Ordway is also the wife of American singer-songwriter Justin Gaston. Amber and Melissa worked together at CBS and one night in mid-November 2015 they all ended up together at the same restaurant.
It was at the restaurant that Allodi asked Melissa to introduce him to Amber. After that night, the two didn't see each other until the middle of January 2016. It was after their second meetup that the sparks really flew and they became inseparable.
Ten months later, on October 21, 2016, the couple got engaged. The engagement didn't quite go the way Allodi had originally planned it to be. The businessman had wanted to propose to his then-girlfriend in the Bahamas in November instead. However, in early October, news about Amber's grandmother's ill-health reached them. Plans were changed and a trip to see grandma happened instead.
The Couple's Engagement and Marriage
Allodi said in an interview that he got very nervous when he wanted to ask Amber Lancaster to marry him. When he brought out the ring and went on one knee, he said he pretty much started rambling because he 'blacked out.' While down on a knee professing his love and telling her how she'd changed his life, Amber went down on her knees with tears and laughter to remind Allodi to actually ask her to marry him. She said yes to his proposal and the weekend was spent celebrating with family and friends that were around for her grandmother.
The couple got to exchange their vows on October 7, 2017, in Palm Springs, California.  According to the couple, it was the most incredible day for them to spend with their loved ones and they were very content with it. The wedding ceremony was officiated by Go Country 105's radio host Graham Bunn. Wedding guests included Drew Carey, Jessica Hall, Justin Gaston, Melissa Ordway, and Kenny "The Jet" Smith.
Before she got married to A.J. Allodi, Amber Lancaster was in a three-year relationship with American actor, Zack Conroy from 2010 to 2013. Born on April 19, 1985, Zack Conroy is best known for his role as James Spaulding in the soap opera Guiding Light, for which he got a Daytime Emmy Award nomination for Outstanding Younger Actor. Before Conroy, she was with Zach Gilford from 2008 to 2009. Born on January 14, 1982, Zach Gilford is an American actor best known for being Matt Saracen in the NBC sports drama Friday Night Lights.
Pregnancy Issues and Childbirth
All indications showed that the new couple was quite happy with each other after tying the knot. Fast forward to two years later, and Amber Lancaster announces via Instagram on April 15, 2019, that she and her husband were expecting their first child in October.
However, complications arose during the pregnancy due to the preeclampsia Amber had been diagnosed with. Preeclampsia is a pregnancy disorder that is characterized by hypertension and albuminuria—a kidney disease. Because of the condition, Amber had to deliver her son nine weeks earlier than her projected due date. On August 3, 2019, Amber Lancaster and A.J. Allodi's son, Russell Levi Allodi was born. Later the same month, the model made it known that she had to undergo a hysterectomy—a procedure to remove her uterus—due to complications during her son's birth.
Shortly After Russell Was Born, Amber and A.J. Parted Ways
About two years after they tied the knot (in September 2020), Amber Lancaster and A.J. Allodi reportedly split. Unfortunately, details of their separation are yet to be known, however, there are allegations that A.J. cheated on the actress with another woman.
Meanwhile, before news of their separation made its way to the public, Amber had already stopped posting pictures of herself and A.J. on her Instagram account. This was shortly after she had their baby. She also noticeably started living as though she was single. That was when rumors of an affair began making the rounds online.
There were speculations that her husband started seeing another woman not up to one year after they tied the knot and that while his wife and son were in the ICU and NICU respectively, he was with his mistress.
This rumor did not come as a surprise to many of Amber's fans. According to a comment made by one fan on one of Amber's posts on Instagram, they knew A.J. was being unfaithful to her when he left her and their child at home on Christmas morning of 2019 to go workout at the gym.
Although there are reports that the model filed for divorce from her husband, it is still not clear if their union has been officially nullified. However, it seems Amber has moved on already with another man.