If there's one thing this California born comedian can do, it's making anybody laugh. Ali Wong has been pushing comedy since 2005. She has had successes, failures, and struggles like anyone else in her personal life. However, as she showed in her hugely successful Netflix special, these experiences only made her stronger.
Ali Wong wears many hats, and successfully too. She is an actress, stand-up comedian, screenwriter, and author. On both sides of her Netflix success, she has appeared in television shows such as Savages, Inside Amy Schumer and American Housewife.
Wong was born on April 19, 1982, in Pacific Heights, Los Angeles. She was born to a Vietnam immigrant mother, Tam Wong, and an American born anesthesiologist father, Adolphus Wong.
Wong was student class body president at San Francisco University High School. she graduated in 2000 and went on to UCLA to study Asian American studies. There, she discovered her love for stage performance during her time with UCLA's LCC Theatre. Ali was granted a scholarship to further her study in Vietnam after she graduated.
Ali's Career
Ali cut her teeth in stand-up comedy after graduation at the Brainwash Cafe. She was just 23 at the time. Her development would take her to New York where she performed regularly. Sometimes, up to 9 sessions a night.
Her relentless comic endeavours earned her a spot on Variety's "Top 10 Comics to Watch" in 2011. Wong, whose comedy can be defined as "hilariously raunchy", has also seen her efforts bring her fame beyond the world of stand-up comedy. She has appeared on talk shows like The Tonight Show, Chelsea Lately and comedy tv series like John Oliver's New York Stand Up Show. She was also on NBC's Are You There, Chelsea?, and MTV's Hey Girl in 2012 and 2013 respectively.
Her work has seen her collaborate with celebrities like Vanessa Redgrave, Salma Hayek, and  Kelly Reilly. She also was involved in the making of the Fresh Off the Boat in a writer's capacity. A role she fulfilled for three seasons for the sitcom series. Wong also did the voicing for the character Betty Bird in the 2016 animation movie.
Her greatest success yet came when Netflix released her stand-up comedy special Baby Cobra in 2016. The show features a heavily pregnant Ali Wong as she tackles all the pregnancy hurdles that come her way. She also talked about her sexual adventures and why feminism is not for her. The series was filmed at the Neptune Theater in Seattle and was released on Mother's Day. She is also working on a sequel to her Netflix comedy special.
See Also: Dave Chappelle Wife, Net Worth, Kids, Family, House, Son, Wiki, Sister
Beyond that, the comedian is also working on a book. She said the book compiles experiences throughout her life from childhood to adulthood. According to her, the experiences did not feel right for stand-up but were perfect for a book that people could enjoy in their own time.
Who is Ali Wong's Husband?
Wong shares a similar industry with her father-in-law, but not with her husband, Justin Hakuta. Justin's father Ken Hakuta was a well-known TV personality and inventor in the 80s. He was known as "Dr Fad" on a very successful children's show that was all about science and invention. Justin is half-Filipino, from his mother's side, and half-Japanese from his father's side.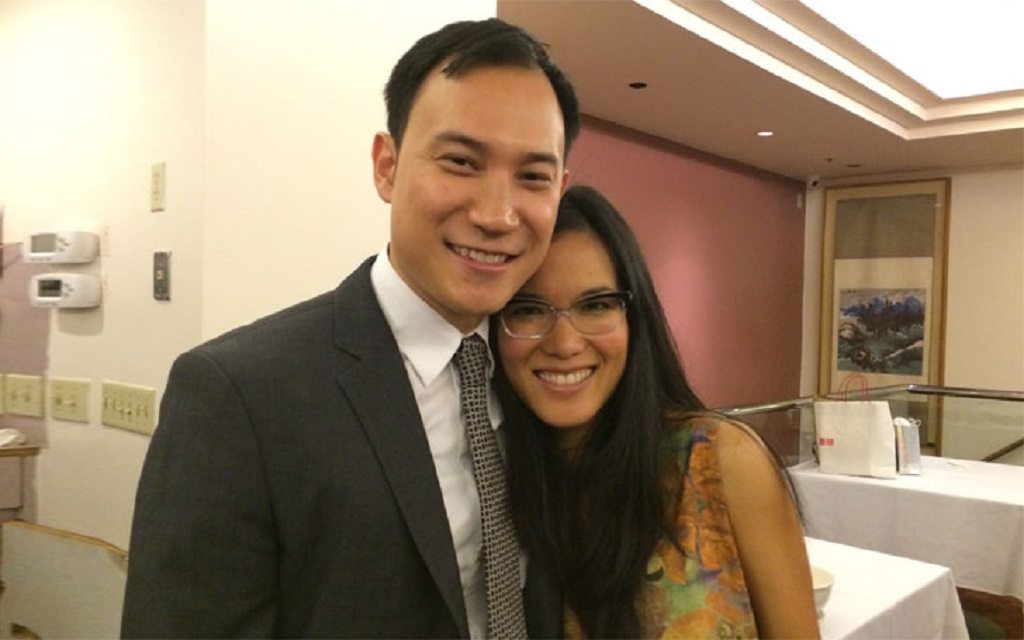 Wong's husband graduated from Washington's Sidwell Friends School in 2000. He then did a program abroad in Mexico which culminated in 2003. After that, he got a Bachelor of Arts and an MBA from Carnegie Mellon University and Harvard Business School, respectively.
As seen on his LinkedIn page, Justin has held several employment positions that have helped boost his career. He has worked in different capacities for DIRECTV, Cargomatic Inc., and GoodRx. His most recent job update on LinkedIn is that of the Vice President of Product at GoodRx.
See Also: Trevor Noah Girlfriend, Mother, Parents, Family, Height, Wiki, Gay, Married 
From his social media efforts, it can be deduced that Justin Hakuta is either a sort of recluse or is all about his wife's career, or both – that's all he ever posts about.
Baby and Family Life
Wong met Hakuta at a wedding and hit it off pretty instantly. Ali describes that she felt a sort of "cosmic connection" and knew that he was a catch. They got married on November 27, 2014.
Ali and Justin welcomed their first child, a girl into the world in November 2015. They named her Mari, a name that was inspired by Japanese organizing consultant and author, Marie Kondo.
The couple is very much in love and there have been no rumours about extra-marital affairs or divorce. Ali Wong has expressed several times during interviews that Justin is super-important to her. She once brought little Mari up on stage with her for a show. In one of the interviews, she excitedly talked about how she can't wait to watch replays of her shows with her daughter in the future.
The family never pass on an opportunity to spend time with each other. As Wong's and Justin's Instagram accounts will show, the family of three regularly go on family trips. Sometimes Justin follows his wife on her tours. This family is definitely having a blast.
Ali's Net Worth
There isn't any concrete knowledge available about Wong's net worth. Different unverified online sources have stated her net worth to be anywhere between $1.2 million and $2 million. We are yet to substantiate any of the figures.