Alexa Dellanos is a 27-years-old American Instagram model, YouTuber, social media personality, and upcoming actress. She became popular by posting beautiful pictures of herself on her Instagram account but is now best known for her influencing activities.
Two things are true about Alexa Dellanos: she has a famous mother and makes a living as a social media influencer. The Instagram model is one of the many people who gained attention through the pictures they share online only to channel the popularity towards influencing potential buyers of products or services on social media.
While her activities in influencer marketing have become what she is most known for, there are lots of facts that are worth knowing about Alexa. For instance, she is interested in becoming an actress and has played a character named Eve in an episode of a TV mini-series titled #ThisIsCollege. 
With over 4.5 million followers on Instagram as of September 2021, it is only natural that practically everything about Dellanos piques the interest of a lot of people. While there are those who are just obsessed with the pictures she shares, many more have become curious about the kind of upbringing she had, how financially rewarding her career has been, who she is dating, and what have you.
Profile Summary of Alexa Dellanos
Full Name: Alexa Victoria Dellanos
Nationality: American
Date of Birth: December 30, 1995
Age: 27 Years Old
Occupation: Instagram Model and Influencer
Father: Dr. Alejandro Loynáz
Mother: Myrka Dellanos
Boyfriend: Alec Monopoly
Height: 5 Feet 2 Inches (1.57 m)
Weight: 54 kg (119 lb)
Bust-Waist-Hips: 36-25-35 inches
The Instagram Model Is The Only Child of Myrka Dellanos and Dr. Alejandro Loynáz Who Divorced When She Was Four Years Old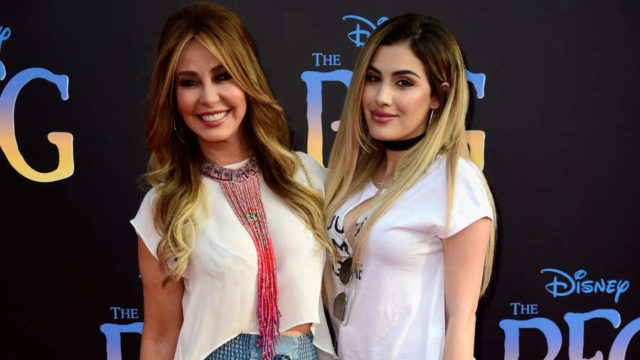 It was on the 30th of December 1993 that the Instagram model was born to Myrka Dellanos and Dr. Alejandro Loynáz. While much is yet to be learned about her father, it's no secret that her mother is a Cuban American socialite and author who works as a journalist and television/radio host.
Myrka Dellanos was born in Philadelphia, Pennsylvania, on the 27th of May 1965. The 58 years old graduated from the University of Miami in 1986 with a degree in Journalism and stormed the limelight in 1992 when she was hired to co-host Primer Impacto, a famous Spanish-language television news program of Univision.
Myrka hasn't slowed down since then and has become one of the most popular American journalists of Cuba extraction. The success she has enjoyed in her career has eluded her love life. She might agree that the only significant good thing that has come out of her romantic relationship is her famous daughter Alexa. It was sometime in 1991 that the journalist got married to the man with whom she had Alexa, Alejandro Loynáz.
Two years into their union, they welcomed the Instagram model. But unfortunately, they couldn't give her any siblings. Myrka and Alejandro's marriage hit the rocks for reasons that have remained unknown to the public, leading to divorce in 1998 when Alexa was only four years old. With the end of their marriage, Myrka gained primary custody of Alexa but her father remained a part of her life.
Alexa Dellanos Had a Great Relationship With Her Father Who Passed Unexpectedly In 2018
As hinted earlier, many things are not known about Alexa Dellanos' father, but we can confirm that he was a doctor who passed away unexpectedly sometime in 2018. Like Myrka, Alejandro remarried after their seven-year marriage fell apart. Regardless, they remained on good terms and this possibly had a lot to do with the child they had together.
When Alejandro passed in 2018, Myrka told People Espanol that they rarely talked because he was married and she felt it wasn't right for her to be talking to him. However, she related that he treated her nicely anytime she took Alexa to him and would always invite her to come in.
How the doctor lost his life was never disclosed but from what his daughter and ex-wife shared, it was an unexpected and sudden death that left Alexa in disbelief and heartbroken. In several Instagram posts which seem to have been deleted, Alexa mourned the passing of her father whom she described as her "best friend," "protector," and "hero."
The model detailed that Alejandro was healthy and strong; that they had lots of plans for the future as she honored his memory and unconditional love which she said was Alejandro's most important gift to her.
She Has Had Two Step-fathers, One of Whom Was Abusive
Based on what is known, it wouldn't be wrong for one to suggest that Alexa Dellanos had a pretty rough childhood. First, her parents parted ways when she was only four years old. Even though they did their best to give her a normal upbringing, her mother's attempt to find another partner would expose Alexa to something they probably never wanted her to witness.
Following the end of her marriage to Alexa's father, Myrka Dellanos would be romantically linked to several men, some of whom she married. You wouldn't have to search hard to find that she had a very publicized relationship with Luis Miguel, the famous Puerto Rican-born Mexican singer from 2003 to 2005, this was after her marriage to her second husband, David Matthews, and before her third marriage to Ulysses Daniel Alonso. What this means is that her daughter has had two step-fathers.
The marriage between Myrka Dellanos and David Matthews was short-lived; it took off in 2000 and crashed in 2002. The next year, the journalist began dating Luis Miguel and a few years after they broke up in 2005, precisely on the 8th of April 2008, she got married to Ulysses Daniel Alonso. The marriage didn't witness a year as they divorced the following year over claims of domestic violence.
Alexa Dellanos Initially Wanted To Become a Journalist Like Her Mom 
Alexa Dellanos' mom Myrka Dellanos has inspired a lot of people to pursue a career in journalism and her daughter was almost one of them. Apart from her stint as the co-host of Primer Impacto, she has had a far-reaching influence in the field working in other capacities, and has gained some coveted recognition over time.
For instance, her influence gained the attention of President George W. Bush who appointed her as a member of the Freedom Corps. Such reputable honor is enough to make anyone dream of being another Myrka Dellanos and this was probably the case with Alexa.
While details of her academic pursuits are literally far-fetched, it is said that Alexa was inspired so much by her mother that she tailored her education towards journalism. Her goal was to become a popular figure in the field and she even interned with several local stations. But as fate would have it, she discovered Instagram and influencer marketing which changed the course of her career.
It all started when Alexa created an Instagram account where she shared sexually attractive pictures. With time, people began to frequent and follow her page for more of such pictures. A few years later, she had pulled over a million followers and was approached by several brands who wanted to reach more potential customers through her page.
With that, it dawned on Alexa that she could make three times what she was expecting to make as a broadcast journalist from being a social media influencer. This marked the death of her journalism aspirations and it doesn't seem she regrets her decision.
The Instagram Star Pockets At Least $5,000 Per Sponsored Post on Instagram
If you have to be told that the Internet has become a cash cow for many people, you should be worried the world has left you behind. People have become millionaires through Social Media Platforms like YouTube, TikTok, Instagram, Facebook, and more. Alexa Dellanos is a testament to that.
When she discovered that being a social media influencer could pay her way more than her dream career, she kissed journalism goodbye and completely devoted herself to growing her social media reach, especially on Instagram. In 2019, her Instagram followers had grown to 1.4 million and she was cashing out big time from it. Reports have it that the model disclosed that she was making at least $64,000 per year from the platform.
According to Insider, she disclosed that she charges at least $5,000 to share any sponsored post on her Instagram page. These posts are majorly from hotels, makeup and skincare companies, and clothing brand. Alexa divulged that she doesn't disclose the posts are ads and that she doesn't take every offer she gets. She said she sees it as a representation of who she is and only posts things she would want to share on her page even if she wouldn't be paid for it.
When the Instagram model disclosed her earnings from the social media site, she only had 1.4 million followers which have now tripled to 4.5m. This means she has more reach and commands a higher figure from promoting or recommending products and services on the platform.
Alexa Dellanos' Height Is 5 Feet 2 Inches (1.57 m) and Most American Women Are Slightly Taller Than Her
Based on the pictures she shares online, one might conclude that the Instagram model is a tall woman, this is not so. Alexa Dellanos, for a woman, is only of average height. In fact, most women in the United States of America are taller than her by at least one inch. According to various credible platforms, the average height for women in the North American country is 5 feet 3 inches.
While the model wouldn't be counted among tall women in the United States, she would be described as tall in nations like Guatemala and The Philippines. It is said that the average height for women in the countries is 4 feet 10.84 inches (1.49 m) and 4 feet 10.89 inches (1.50 m), respectively. Even as Alexa is not as tall as she seems in her pictures, one would agree it hasn't made her less of the person she is.
Some people might even assert that her height is perfect for her curvaceous figure which complements her blond hair and light brown eyes. Standing at 5 feet 2 inches, the model is believed to maintain her weight around 54 kg (119 lb) and her bust-waist-hips reportedly measure 36-25-35 inches. As you would soon learn, her coveted figure isn't natural.
She Has Had Multiple Cosmetic Surgeries to Enhance Her Looks
Most people in her line of work are known to go under the knife to improve on their physiques only to relentlessly contend that their looks are natural; Alexa Dellanos wouldn't do things that way. She has long opened up that she had several cosmetic procedures to improve her looks and has even attributed the increasing number of followers she is gaining online to that.
In one of her multiple interviews, the model stated that she had surgery to enhance what she already had and it went a long way in helping her gain a strong fan base. While she pointed out that cosmetic enhancement doesn't benefit everyone, she stressed that it has improved her quality of life meaningfully.
It is estimated that she has spent at least $17,000 on these surgeries. Alexa specified that she enhanced her butt a little and detailed that she spent $15,000 on breast augmentation in 2018 and another $2,000 on lip fillers.
As much as the Instagram model has insisted that enhancing her looks has had a positive impact on her career, she would agree that it has come with some downside that ranges from being trolled online to being stalked and receiving di** pics from strangers.
Alexa Has Been Dating Alec Monopoly For Over Three Years 
With the number of followers Alexa Dellanos has accumulated online, and the kind of pictures she shares, no one needs to be told that she has a lot of admirers who would give an arm to date her. The Instagram model oozes sex appeal and it has left a lot of people curious about her love life.
Surprisingly, Alexa wouldn't indulge this curiosity and has largely kept her love life private. Regardless, it is believed that she is dating a graffiti artist known as Alec Monopoly. How and when their relationship began has remained an untold tale but they have been together for over three years.
While there are several pictures of the two together on Alec's Instagram page, you will find none on Alexa's. Because of this, people have wondered if they are really dating or if Alec is in the relationship alone. Time would tell what the situation really is for the two. Alec is also popular on Instagram with over 1.2 million followers as of September 2021.