Marriage is a huge milestone in the lives of many. Those who embark on the sacred journey usually make a commitment to stay together, for better or worse, amidst uncertainties and blessings, as long as they can. Yeah, in a typical Hollywood style and setting, as long as they can because divorce always beckons when irreconcilable differences present. For the Orville star, Adrianne Palicki, who was married to Scott Grimes, the death of her marriage came rather earlier than it started.
Colleagues turned lovers, Palicki and Grimes started dating sometime in 2018. They went public with their romance at the San Diego Comic-Con in July of the same year, making it Instagram official the following day. By January 2019, they were engaged and in May, they had their nuptials. Two months after vowing to infinity and beyond, the love birds whose relationship seemed to be in bliss garden shocked fans with their divorce news. What went wrong? Read on as we tell the untold story of Adrianne Palicki's short marriage and sudden divorce.
Adrianne Palicki's Fact Card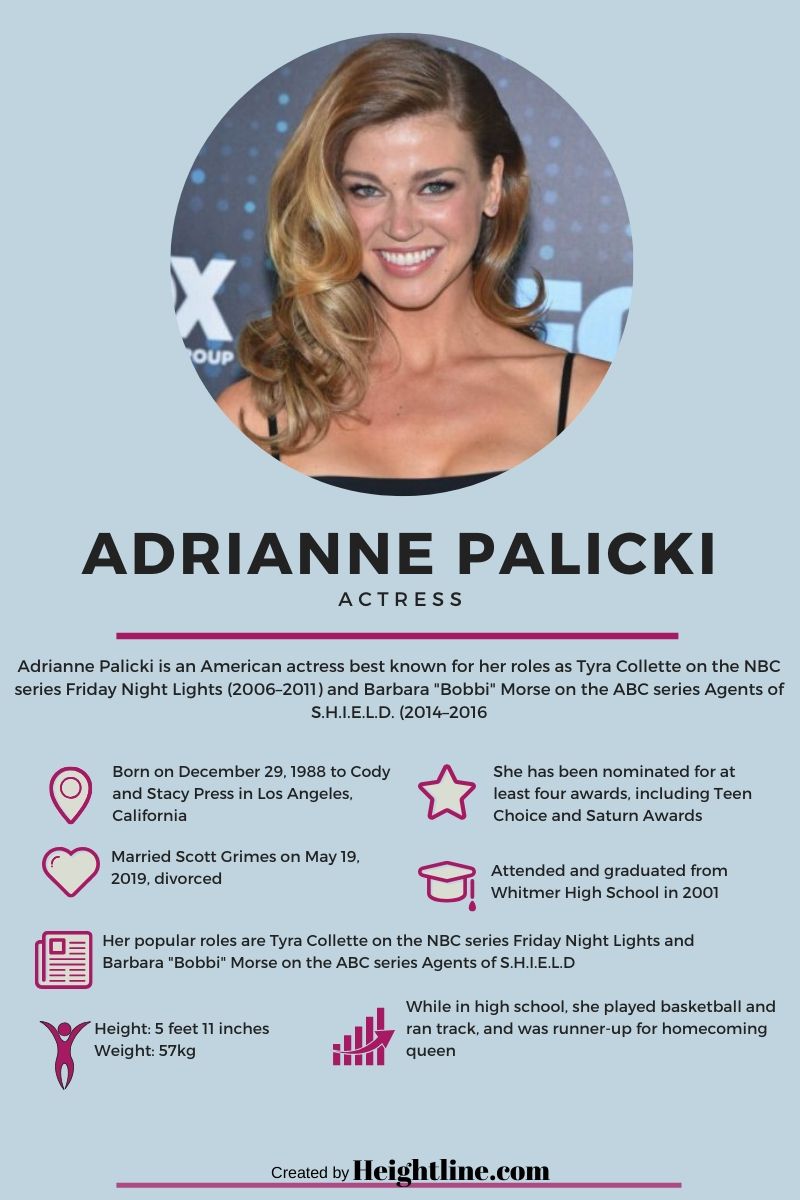 How It All Began
Palicki has been linked to a number of men in the past including actor Alan Tudyk who she dated in 2009 and co-star D.J Cotrona from 2011 to 2013. Then in 2014, she announced her engagement to Jackson Spidell, a stuntman she met on the set of John Wick.
While we eagerly listened for the wedding bell to ring, news broke that she called off their wedding in 2015, dashing every hope we might have had for a soon-to-be nuptial. Palicki stated that she had to take the major decision to call things off due to some major issues in the relationship that she ignored. She further added that it's okay to walk away when people realize that they are not meant to be together.
Better a broken engagement than a broken marriage, we reasoned at the time. Adrianne Palicki, however, held on to the belief that her Prince Charming would come around when he will, and while she waited, she reveled in her singlehood and focused on her work.
Her ultimate love story started on the set of the hit TV series, The Orville where she met her would-be husband, Scott Grimes. The duo started off as colleagues on the set of Seth MacFarlane's Fox space-themed series and eventually started dating. Palicki plays the role of Commander Kelly Grayson while Grimes stars as Lieutenant Gordon Malloy.
Adrianne Palicki's Short Marriage
After enjoying singlehood for some time, Adrianne Palicki was spotted with Scott Grimes in the Comic-Con party on 21 July 2018, sparking off dating rumors. They further fuelled the rumors by posing for the camera without letting go of their hands and going Instagram official the following day. By January 2019, we got to find out that Grimes was the prince charming she waited for.
They announced their engagement in January and exchanged their vows four months later, on May 19, 2019, in a romantic Austin, Texas ceremony. Palicki shared the exciting news on Twitter, with fans sending in their congratulations and best wishes for the couple.
Sadly, two months after, the John Wick actress was already singing the divorce anthem. She filed for divorce in July 2019, ready to call it quits on the long-term vow she made to a happily ever after, thus, returning to singlehood sooner than she got into marriage.
What Led to Their Sudden Divorce?
American comedian, Rita Rudner once said that "In Hollywood, a marriage is a success if it outlasts milk." She couldn't be far from the truth. Adrianne and her husband, Scott Grimes made the headlines in July 2019 when they announced their divorce, less than two months after saying "I do."
The unpleasant news supposedly came as a surprise to The Orville fans being that the duo was seen at the San Diego Comic-Con the weekend before the news broke. All seemed to be rosy in their marital villa. However, as per a reliable source, things seemed to have gone awry before the convention as they both ditched their wedding rings during the appearance in July 2019.
Neither of them has opened up about the reason they decided to part ways. While it was Palicki's first divorce though she called off her wedding once, Grimes has gone the road twice before. He was previously married to Dawn Bailey with whom he shares two kids in the 1990s and Megan Moore from 2011-2017.
Are They Coming Back Together?
Palicki and Grimes would definitely come back in the third season of The Orville which is set to air in 2020 but the exciting part is that they could also return as a couple, off the screen. They hinted at reconciliation during their appearance together on a panel at the New York Comic Con in October 2019.
Eagle-eyed fans were quick to notice that while they ditched their wedding rings in the last con which they attended together in late July, and even had an actor sitting between them, this time, the duo was wearing their rings again. Also, they were even sitting together. The convention holds a very special place in the couple's heart as it was where they first went public with their relationship. To further confirm our speculations, Palicki requested that her filing be dismissed, and in November 2019, a judge granted her request.