Taela is the wife of Peyton Meyer, a Hollywood actor known for appearing in Disney Channel movies and TV series. It is not clear when the pair started dating, but they got married in 2021. Meyer's wife, whose real name is Taylor Mae LaCour, is a 26 year-old singer, songwriter, model, and social media personality.
Taela is a very private woman and mostly puts forward her music career rather than her private life. On special occasions, she shares pictures and videos of special moments with her loved ones but deletes them after a while. Her music career contributed to bringing her to the limelight, however, she became more famous after it was revealed that she was with Peyton Meyer.
Summary of Taela's Biography 
Full Name: Taylor Mae LaCour
Nickname: Taela
Gender: Female
Date of Birth: 25th of May 1997
Taela's Age: 26 years old
Ethnicity: Mixed
Nationality: American
Zodiac Sign: Gemini
Sexual Orientation: Straight
Religion: Christianity
Marital Status: Married
Taela's Husband: Peyton Meyer
Taela's Children: Two
Taela's Height in Inches: 5 feet 6 inches
Taela's Height in Centimetres: 167 cm
Taela's Weight: 50 kg
Famous for: Being a singer and the wife of Peyton Meyer
Taela's Instagram: @imtaela
How Old Is Taela?
Taela is 26 years old. She was born Taylor Mae LaCour on the 25th of May 1997 in the US state of Missouri where she was also raised. We don't have details with regards to the identity of her parents, siblings, and the schools she attended.
What we do know is that from a very young age, Taela was already passionate about doing music. She stands at a height of 5 feet 6 inches and maintains a weight of 50 kg.
Her Relationship with Peyton Meyer Became Public in February 2021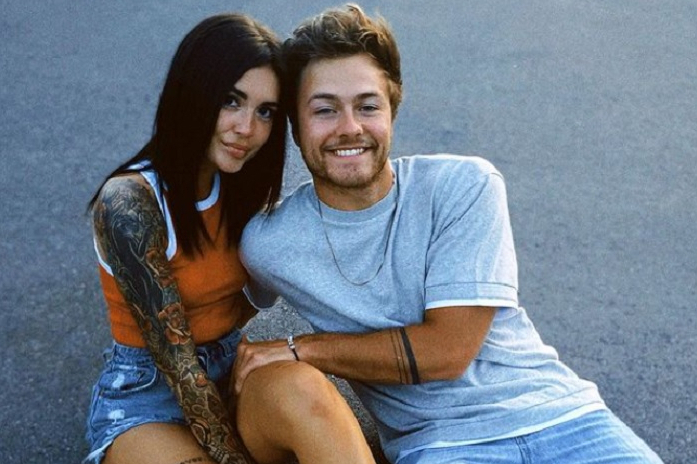 Taela and Peyton kept their relationship private at the beginning as such we do not have details about how they met and whether they both had the 'butterflies in my tummy' experience at first sight. However, Taela gave her TikTok followers a hint about who she is dating when she took part in the #ChildhoodCrush challenge on TikTok by revealing who her childhood crush was.
To the surprise of fans, her childhood crush was Peyton Meyer who at that time was featured in Disney's Girl Meets World and Dog with a Blog. She also revealed that he was her boyfriend at the time too. This video gathered a lot of engagement and had more than 3 million likes. By the 14th of February 2021, Taela revealed that she and Peyton were dating.
After they made it official that they were dating, the duo became a little more open about their relationship with fans as they began to share pictures and videos of each other on social media.
Taela Got Married to Peyton Meyer in October 2021
The news about Taela and Peyton Meyer's relationship was not as surprising as that of their marriage. Although fans knew they were dating, they were not thinking that the lovebirds would tie the knot so quickly. In October 2021, both Taela and Peyton Meyer took to Instagram to share the good news about their marriage with their fans.
In the caption of Peyton's wedding pictures which he shared on Instagram, he mentioned that he did not like the idea of marriage but meeting Taela changed his view of marriage and he is so grateful to her.
Taela also shared pictures of their wedding and also used the medium to tell her followers that she was expecting a child with her husband. Twitter users were so surprised, especially ladies who seemed to have a crush on Peyton, however, they were happy for him and wished him a happy married life with his wife.
Taela is a Mother of Two
Taylor Mae LaCour's marriage to Peyton Meyer has been fruitful as she is a proud mother of a son for the actor. But her son for Mayer is not her only child. Before she started dating Peyton Meyer, Taela was in a relationship with someone whose identity she is yet to reveal. The said relationship produced a son and when she got married to Peyton Meyer, he became her first son's stepfather.
By the time she was getting married to Peyton Meyer, they were already expecting their first child together and in March 2022, they welcomed their son into the world who they named Ziggy. According to Peyton, two years before the birth of Ziggy, he sat at his kitchen table and kept asking what his next challenge would be and for him, Ziggy was the answer to the questions he asked.
Neither Taela nor Peyton Meyer is open about the lives of their sons. They do not share regular pictures or videos of their boys.
Taela and Peyton Meyer are Still Married But are Separated at This Time
Although Taela is very private about her life, from time to time, she and Peyton give their fans a glimpse of what their life as a couple is like. Sadly, in June 2022, the singer took to TikTok to tell fans that she is currently separated from Peyton Meyer. They are still legally married but they have just decided to be apart from each other in the meanwhile.
According to Taela, sharing information about what life has been for herself and Peyton Meyer as a couple is very difficult for either of them. She reveals that both of them have to deal with the demand that comes from their career and it has not been so easy for them.
She also revealed that they are both still married and are very in love with each other which is not far from the truth as fans could watch her shed tears while she spoke in the video. She further promised to keep her fans updated as her marriage situation unfolds.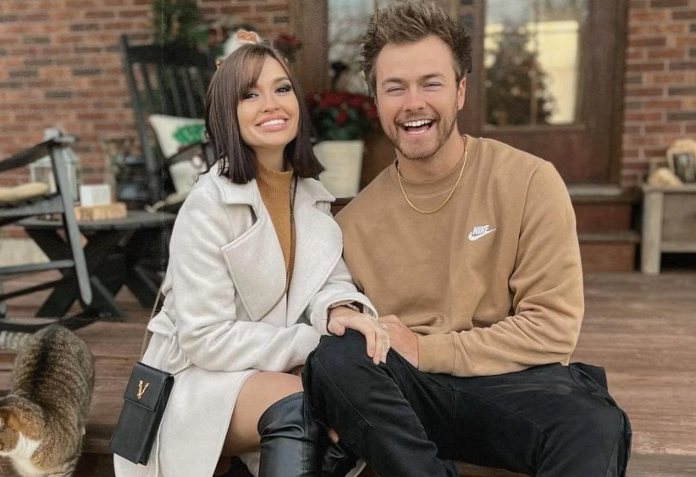 Talea's Husband Has Been Involved in a Social Media Scandal
In August 2021, a Twitter handle known as 'TikTok Leak Room' released exclusive videos of Peyton Meyer. This Twitter handle is well known for releasing exclusive and controversial content about celebrities.
According to reports, the videos released were gotten from Peyton's OnlyFans account and contain explicit content of him in a compromising position with an unrecognized lady. There are rumors that the lady in question was Taela, however, neither Taela nor Peyton Meyer has confirmed this allegation.
The Singer Has a Thriving Music Career
Taela is a seasoned singer and songwriter. Her childhood passion for music inspired her decision to move to Nashville where she pursued her music career. She released her first single titled Bang in 2019 and in 2022, she released another single titled Drugs with You.
In February 2022, she was the cover of 'Fresh Finds' on Spotify. She was so excited that she took to TikTok to share the good news with her fans. In early 2022, she released another single titled Trophy.