Vivian Liberto, born Vivian Dorraine Liberto, was the first wife of Johnny Cash, an American country singer-songwriter. She was born in the city of San Antonio, Texas, in the United States, on the 23rd day of April 1934. Liberto was brought up alongside her brother Raymond Alvin Liberto (1932–2008) and sister Susan Fyle in a Roman Catholic family by their parents – Irene Robinson Liberto (1913–1979) and Thomas Peter Liberto (1905–1971).
Vivian Liberto was a devoted mother, talented writer, and homemaker who became popular due to her marriage to her first husband, Johnny Cash
According to DNA test, Vivian Liberto was actually descended from a black slave, this is contrary to the erroneous belief that she was of Sicilian, German and Irish heritage
She authored the book: 'I Walked The Line: My Life With Johnny' which documents her marital journey with her ex-legendary country singer husband and her own side of the story of their failed marriage. Regardless of her connection to Johnny Cash, Vivian was a privacy lover; she spent her life raising her kids after their divorce and engaging in other humanitarian activities outside the spotlight until the day she drew her last breath.
The Truth About Vivian Liberto's Ethnicity
Vivian's ethnicity was one aspect of her personal life that attracted so much attention from the public during her lifetime. Controversies surrounding her racial identity did not only earn her death threats and abusive campaigns but also stirred an uproar against her husband and family among white supremacists.
Liberto was actually descended from a black slave, contrary to the erroneous belief that she was of Sicilian, German and Irish heritage.
The homemaker's descent suddenly became a subject of public interest in October 1965 when a newspaper photo of Johnny Cash and Vivian looking like a black woman surfaced. The photo, which showed them walking down the steps of a courthouse together, led to people criticizing Cash and accusing him of wasting his money on black women and drugs, with many boycotting his concert.
Although Johnny's manager came out to defend him and also attest to Liberto's ethnicity, most white supremacists didn't believe him. Vivian's parents also insisted that their daughter was Italian-America and to this day, her children have continued to refute the claim that their mother was black.
What We Know About Her Relationship With Johnny Cash
Vivian Liberto's days with her first husband were characterized by sweet and sour adventures. The two stood by each other in their dark days, spent many years together as husband and wife and played their roles as parents to their kids before they eventually called it quits.
Vivian was seventeen years old when she met Johnny Cash, a talented country singer famed for expressing his views on issues affecting Native and Black Americans through his songs. Their first meeting took place on the 8th day of July 1951, in San Antonio, precisely at a roller-skating rink. Johnny, at that time, was working for Air Force as a radio announcer and a part-time musician. After talking for some time, the two became friends and subsequently fell in love with each other. Cash and Vivian spent only three weeks together, after which the left for overseas for Air Force training.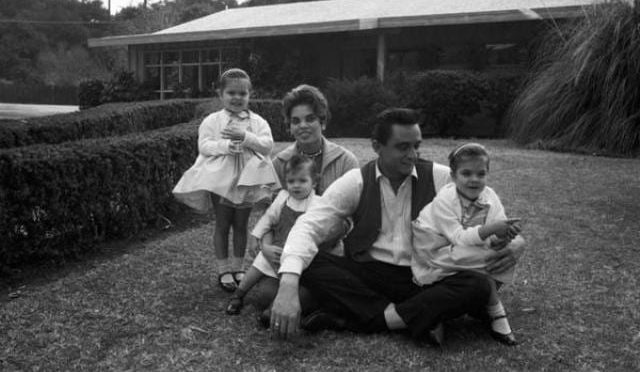 Johnny didn't meet Liberto again after he left for the training until the next three years. They kept in close contact with each other during that period through hundreds of love letters they exchanged. Cash eventually returned to the United States in July 1954 and later tied the knot with his sweetheart on August 7, 1954, at her hometown of San Antonio, Texas.
The couple would move to Memphis, Tennesse, where Johnny eventually got a job as a home appliance salesman. Even though he was struggling as a musician at the time, Cash kept pushing on until 1955 when he earned his career breakthrough with his single, Cry Cry Cry. The couple later acquired a 12 acres property in Casitas Springs, California, where they had their last child.
Not long afterwards, Cash's marital relationship began to develop a crack due to his new-found fame which pushed him into taking a lot of alcohol, drugs, and women. His extra-marital affair with co-country singer June Carter was another major factor that led to conflict and discord in his marriage to Vivian. Devastated by her husband's new lifestyle, Liberto filed for divorce from him in the year 1966 and it was finalized the following year.
The couple's thirteen years of marriage produced four children named Cindy Cash (born July 29, 1959); Rosanne Cash (born May 24, 1955); Tara Cash (born August 24, 1961); and Kathy Cash (born April 16, 1956).
Rosanne is an amazing author and an accomplished singer-songwriter. She kicked off her career in 1978 and has been making waves since then. Cindy is also doing great as a singer while Kathy and Tara are actresses.
Her Last Days
Vivian Liberto spent the remaining days of her life raising her kids outside the spotlight after her failed marriage to Cash. She got married for the second time to a police officer called Dick Distin in 1968, one year after her first marriage legally came to an end. Liberto would move to Ventura alongside her kids and second husband, where she lived a quiet and peaceful life.
She remained married to Distin until the day she drew her last breath on May 24, 2005. Their relationship was characterized by love and happiness, even though it did not produce children. Vivian Liberto passed away at the age of 71 at Community Memorial Hospital in Ventura due to complications arising from lung cancer. She was surrounded by her family and friends, including Distin, grandchildren, children, and her parish priest.
Prior to her death, she served her community in various capacities, including as a volunteer at the Ventura County Medical Center, and the president of the Garden Club of San
Buenaventura. She also rendered selfless services to unwed mothers. Liberto's life was an inspiration to many. The mother of four is said to have inspired the hit song, I Walk The Line (1958) while the love story between her, Johnny Cash, and country singer Carter is the subject of the movie, I Walk The Line.