Jionni Lavalle is a TV personality, businessman, and athlete who is best known as Nicole 'Snooki' Polizzi's husband. He is 5'5″ tall which makes him significantly taller than his wife who has a petit figure at 4'8″ but both are considered short.
Almost everyone knows a thing or two about Snooki, a reality TV star who came to fame through her role in the MTV reality show, Jersey Shore. Snooki was a fan favorite and she would go on to feature in the show's many other spin-off series even though her actions generally caused her to be the target of public disdain. During her time on the show, she got involved with a few men but didn't have any luck in finding love until she met Jionni LaValle, the man she would end up marrying and starting a family with.
Despite going through rough patches like every other couple out there, Jionni and Snooki appear to be a match made in heaven. The two, who both qualify to be described as short, have a lot of things in common. Perhaps, this is what has ensured that they remain together.
Jionni LaValle Bio and Profile Summary
Full Name: Jionni Joseph LaValle
Gender: Male
Date of Birth: March 20, 1987
Jionni LaValle's Age: 36 Years Old
Place of Birth: East Hanover, New Jersey, U.S.A.
Ethnicity: Caucasian
Nationality: American
Zodiac Sign: Pisces
Sexual Orientation: Straight
Religion: Christianity
Marital Status: Married
Jionni LaValle's Wife: Nicole "Snooki" LaVelle (nee Polizzi)
Jionni LaValle's Children: 3 (Lorenzo LaValle, Giovanna LaValle, and Angelo LaValle)
Jionni LaValle's Parents: Janis LaValle, Joe LaValle
Siblings: Janelle LaValle, Joe LaValle, James LaValle
Jionni LaValle's Height in Inches: 5 feet 5 inches
Jionni LaValle's Height in Centimetres: 165 cm
Jionni LaValle's Weight: 137 lbs (62 kg)
Jionni LaValle's Net Worth: $200,000
Famous For: His Marriage To Snooki and Reality TV Career
Jionni LaValle's Instagram: jlavalle5
Twitter: jshorejionnil
Facebook: Jionni LaValle
Jionni LaValle Was Born and Raised In New Jersey
Jionni LaValle is a native of New Jersey. He was born in East Hanover on March 20, 1987, making him 36 years old. Alongside his three siblings; Janelle, Joe, and James, Jionni was raised by his parents; Janis and Joe LaValle, who are of Italian descent.
While there isn't so much available information about what Jionni's early life was like, and what his parents did for a living, we do know that he attended Hanover Park High School. He comes from a family of wrestlers (his father was a wrestler) and so was a part of his school's wrestling teams, both at Hanover Park and at Centenary College where he received his higher education. He reportedly majored in Sports Management and hoped to become either a teacher or coach someday.
He Makes A Living As A Businessman
As earlier mentioned, Jionni LaValle wanted to be either a teacher or coach but he ended up getting into the world of business. This decision proved to be the best one that he had ever done as he has turned out to be quite successful. Snooki's husband owns several ATM businesses and a fashion line.
LaValle's ATM business is called JNL Fast Cash and he operates it in a couple of locations. He and his wife often put out ads on their social media pages about the business, asking if there are locations in need of an ATM. While it is not exactly clear how he gets paid, the businessman probably receives a percentage of whatever transaction occurs on the machine. The locations where the machines are located might also pay him to bring them there as that will inadvertently direct traffic to their businesses.
Not one to not capitalize on an opportunity to make more money, LaValle followed in the footsteps of everyone associated with Jersey Shore to launch a clothing line. He operates the T-shirt line called NJ Fatman which produces t-shirts with inscriptions like "give me a scotch, I'm starving".
Jionni LaValle has enjoyed relative success in these endeavors as it is reported that he is worth over $200,000. Although his net worth is way below that of his reality TV personality wife who is worth about $4 million, he is quite comfortable with his earnings.
Jionni LaValle Met Snooki On The Jersey Shore Reality Show
Jionni Lavalle came to the limelight in 2009 when he began featuring in the popular MTV show, Jersey Shore. Following his appearance on the show, he appeared in other spin-offs like Snooki & J-Woww in 2012 and Nicole & Jionni's Shore Flip in 2016. It is reported that he also served as a producer of the shows.
During his time and work on the TV show, Jionni met and fell in love with Nicole Polizzi, aka Snooki. She was one of the most famous people on Jersey Shore and so everything about her was well documented, including her love life.
You would not have to search so much to find out that she had dated a few other people on the show, including Ronnie J. Ortiz-Magro Jr., Mike "The Situation" Sorrentino, and Russell Pitts. None of these relationships or hookups panned out to be anything serious until she linked up with Jionni.
Snooki and Jionni LaValle's relationship didn't move along as well as they would have hoped as the two had a few squabbles along the way. On one occasion after officially becoming a couple in 2010, the pair called it quits on their relationship and moved on.
This happened in September 2011 after an argument that occurred during Season 4 of Jersey Shore in Italy. However, they found themselves getting back to each other by February 2012, which according to Snooki meant that they were supposed to be together forever.
The Pair Got Married In 2014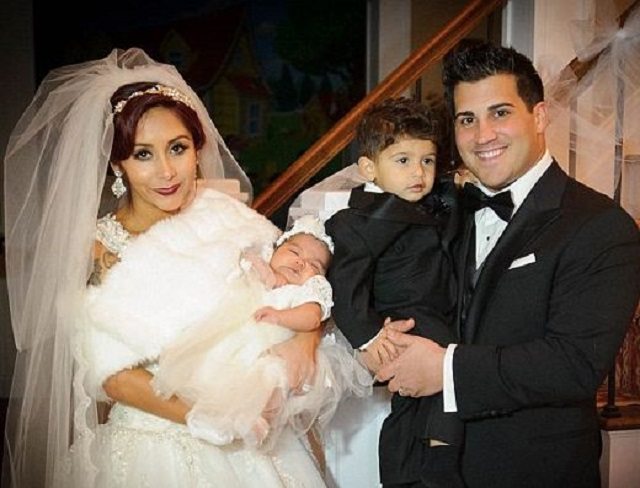 By 2014, Snooki and Jionni LaValle decided to take their relationship to the next level by exchanging marital vows. The couple announced their engagement in March 2012 and on November 29, 2014, they became man and wife. They got married at St. Rose of Lima Catholic Church in East Hanover, New Jersey. Following the church wedding, they hosted guests at a reception at The Venetian banquet hall in Garfield. The occasion was said to have been classic and traditional.
Following their union, the pair have remained happy together although they have been reports that they have had a few issues along the way. This report came after LaValle's absence from Snooki's social media profiles was noticed. The TV personality later addressed this, explaining that her husband doesn't want to have anything to do with the spotlight, even take pictures that she would post on her pages.
What Is The Height Difference Between Jionni LaValle and Snooki?
Both Jionni LaValle and his wife Snooki can be described as being short. This is because they are way shorter than the average height of people in their genders. In America, the average height of men is 5 feet 9 inches while for women it is 5 feet 4 inches. In the world as a whole, it is estimated that the average height for men is 5 feet and 7.5 inches while for women it is 5 feet 1.3 inches.
With Jionni being 5 feet 5 inches (1.65 m) tall, he is clearly shorter than most men in America and the world at large. The same can also be said for Snooki who is 4 feet 8 inches (1.42 m) tall, making her shorter than both women in America and those around the world.
They Have Three Kids Together
1. Lorenzo
Full Name: Lorenzo Dominic LaValle
Date of Birth: August 26, 2012
Age: 10 years old
Gender: Male
In August 2012, a couple of months after Jionni and Snooki announced their engagement, they welcomed their first child, a son named Lorenzo. The young man has taken to wrestling and is a big fan of the WWE as he has had a few WWE-themed parties in the past. Seeing that his father and grandfather had something to do with wrestling, this doesn't come as much of a surprise.
2. Giovanna
Full Name: Giovanna Marie LaValle
Date of Birth: September 26, 2014
Age: 8 years old
Gender: Female
While Lorenzo was born just after his parents announced their engagement, Giovanna was welcomed to the world about two months before Jionni LaValle and Snooki exchanged marital vows. At birth, she weighed in at 6lbs 7oz. Going by pictures posted on Instagram, Giovanna appears to be her mother's twin as mother and child look very much alike.
3. Angelo
Full Name: Angelo James LaValle
Date of Birth: May 30, 2019
Age: 3 Years Old
Gender: Male
Most of what the world has gotten to know about Jionni's kids came from his celebrity wife. In November 2018, she took to Instagram to announce that she and her husband were expecting a third child. By December of that year, the gender of the child was revealed to be a boy, and it was noted that he would be named Angelo. A couple of months later, on May 30, 2019, Snooki gave birth to a boy named Angelo James LaValle.
Some Interesting Facts About Jionni LaValle
What is Jionni Lavalle's Height?
Jionni LaValle's height is 5 Feet 5 Inches in inches and 165 cm in centimetres
What is Jionni Lavalle's Net Worth?
Jionni Lavalle has an estimated net worth of $200 thousand. Although his net worth is below that of his reality TV personality wife who has a net worth of about $4 million, he is quite comfortable with what he makes.
Is Snooki Still Married to Jionni Lavalle?
Yes, the couple are still married and have been happily married since November 29, 2014. There have been rumors for some time that things between them are headed downhill, but they've always cleared it up stating that they are still very much together and in love.
What Does Jionni LaValle Do for a Living?
Jionni Lavalle is a TV personality, businessman, and athlete