Samantha Thomas is the wife of Charlie Cox, the popular English actor who is best known for his role as Matt Murdock in Daredevil, The Defenders, and Spider-Man: No Way Home. Although Charlie's career has put him in the limelight for a long time, the same can't be said about his wife.
Samantha works behind the scenes and has maintained a low profile over the years. She came into the spotlight after marrying the Daredevil star in 2018. Since their marriage, the celeb couple has been together and has welcomed two children. Despite being married to the Daredevil star, Samantha Thomas is also successful in her own right. She currently works as the Executive Vice President at BRON Studios, New York. She has worked behind the scenes in the production of popular movies and TV shows such as Jessica Jones, The River, and Lost.
Profile Summary of Samantha Thomas
Full name: Samantha Thomas
Gender: Female
Ethnicity: White
Nationality: American
Sexual Orientation: Straight
Religion: Christianity
Marital Status: Married
Samantha Thomas' Husband: Charlie Cox (m. 2018)
Samantha Thomas' Children: 2, including  Elsie Cox
Famous for: Jessica Jones, The River, and Lost
Twitter: @ULittleWarrior
Samantha Thomas is an American TV Producer
Samantha Thomas was born and raised in the United States. However, when and where she was born are currently unknown. Because she is a very private person, information relating to her early life, where she grew up, the kind of childhood she had, and where she completed her basic and higher education cannot be found in the public domain. The much we know is that she is an experienced TV producer and has worked with some of the top production companies in the United States.
According to her LinkedIn and IMDb profile, Samantha Thomas started her career during the 2000s. At the initial stages of her career, she played minor acting roles in TV shows such as Young Americans (2000), The Substitute: Failure Is Not An Option (2001), and Boston Public (2003). Afterward, she kicked off her career as a producer, working as a production staff of TV shows, including Lost (2005) and What About Brian (2006).
Thomas served as an associate producer for Ugly Betty from 2008 to 2009 and Flashforward (2009-2010). She also produced a few episodes of My Generation in 2010, No Ordinary Family from 2010 to 2011, and The River (2012). In 2014, Samantha joined Marvel Television, where she served as the Vice President of Original Programming until 2019 when the company was dissolved to form the Marvel Studios.
Currently, she works as Executive Vice president at Bron Studios in Brooklyn, New York. She has been working in this capacity since 2019. She has produced highly successful movies and TV shows such as Luke Cage, Agents of S.H.I.E.L.D., Zero Hour, Jessica Jones, Iron Fist, Once Upon a Time, Kin, The Dirty Black Bag, Daredevil, etc. Interestingly, it was while working as a member of the production crew for Daredevil that Samantha met the love of her life, Charlie Cox.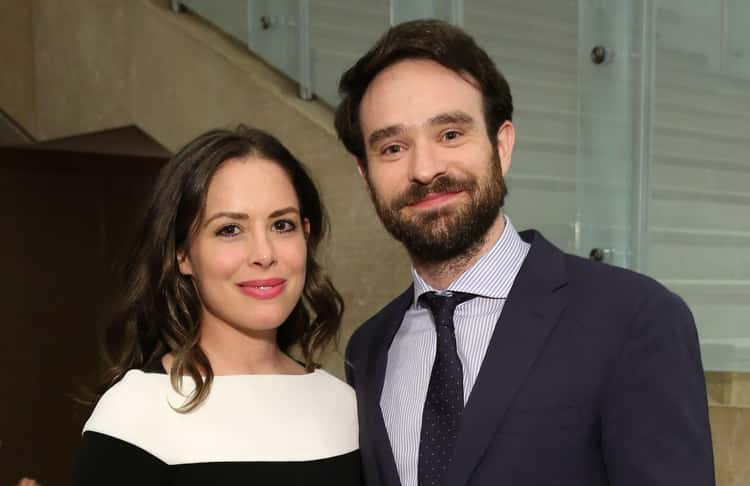 She Married Charlie Cox in 2018
As already mentioned above, Samantha Thomas is the wife of Charlie Cox. The couple exchanged marriage vows in 2018 after dating for a while. Although how they met and started a relationship has not been disclosed by the couple, some reports say that they met while working at Marvel Television. During the production of At the time, Thomas worked as the Vice President of Original Programming and among the production crew for Marvel's movie, Daredevil, which starred Cox as the titular character.
While they worked closely during the film's production, the duo was attracted to each, and seeing the connection they shared, they decided to hit things off. They even welcomed their first child in 2016 before finally making it down the aisle in 2018. Since their union, the couple has been enjoying a blissful marriage, and there are no signs of marital issues between them. Interestingly, Samantha isn't the type that enjoys sharing details of her personal life on social media, just like her husband, Cox.
However, there is Charlie Cox's Fan Page on Instagram, where you'd see pictures of his acting works and what he is up to career-wise. The happy family currently resides in Connecticut. However, they have lived in other cities, such as Los Angeles, New York City, and London.
Her Husband, Charlie Cox, is the Daredevil Star
While Samantha Thomas works behind the scenes, her husband is a super-talented English actor who garnered huge fame through his role as Matt Murdock or Daredevil in the Marvel Cinematic Universe series Daredevil. He is also famous for starring in other Marvel movies, such as The Defenders (2017) and Spider-Man: No Way Home (2021), among others.
Born in London on December 15, 1982, in London, England, Cox attended Ashdown House School in East Sussex and Sherborn School located in Dorset. After he left high school in 2001, Charlie moved to London, where he enrolled at the Bristol Old Vic Theatre School in Bristol in 2002. After completing his training, he made his professional acting debut in Dot the I in 2003.
Since then, he has continued to score more roles in top movies in London and the United States. Some of his popular movies and TV shows include Betrayal (2019), The Theory of Everything (2014), Boardwalk Empire (2011-2012), Stardust (2007), etc. Cox has also won a few awards, including  Screen Actors Guild Awards and Helen Keller Achievement Awards, and many nominations.
The Couple Has Two Beautiful Daughters
In addition to having a blissful union, Samantha Thomas and Charlie Cox have since expanded their family by welcoming two children. The couple welcomed their first child, a daughter named Elsie Cox, in October 2016. Currently, 7 years old, Elsie is fast growing into a beautiful young lady. Although she has not decided on her career path yet, we won't be surprised if she takes after her parents in the American entertainment industry.
Four years after Elsie was born, Samantha and Charlie welcomed yet another beautiful daughter in March 2020. However, the low-profile couple has kept the details of their daughter away from the media, including her name and face. While they keep their kids off the media, it is also important to note that their parents don't have official social media accounts. They have continued to live happily ever after.