Romina Garcia is an American internet personality best known for her controversial opinions about general issues. There were rumors that she died on January 6, 2016 (aged 19), but there has not been any concrete proof as to whether or not it was true.
Romina Garcia was a bizarre internet personality whose views and ideas posed an enigma to her fans for a couple of years. People spent their money and time on social media trying to decipher whether she was serious or just trying to be funny with her content. Even Dr. Phil invited her on his show just to make it clear to the viewing public that she was just an attention-grabbing weird young lady.
Romina who became even more popular after showing up on Dr. Phil's show was known for defending domestic violence, according to her, her boyfriend only hits her as an indication that he loves her. Another controversial quote of hers that says "if you are black, then you are not African", was just a way of getting underserved attention as the racist undertone in her message created an uproar in the media.
Summary of Romina Garcia's Biography
Full name: Romina Garcia
Gender: Female
Date of birth: 9th June 1996
Place of Birth: Las Vegas, Nevada in the United States of America
Romina Garcia's Age:53 Years Old
Ethnicity: White
Nationality: American
Zodiac Sign: Gemini
Famous for: Her controversial opinions about general issues.
Romina Garcia's Instagram: _rominakdashian
Twitter: Romina Garcia
Fact Sheet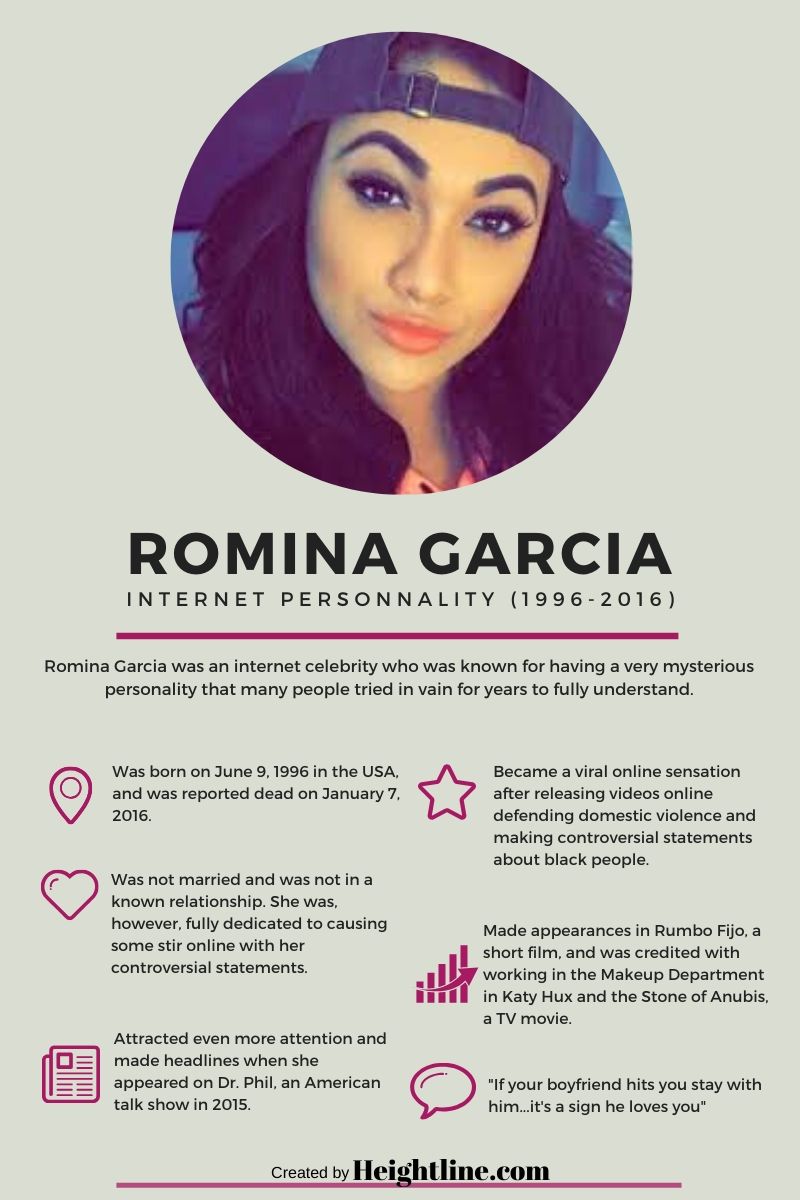 Background
The internet personality was born in Las Vegas, Nevada in the United States of America on the 9th day of June 1996. There is currently no available information on her background or the institutions of learning she attended but it is common knowledge that she became popular for her work on Katy Hux and the Stone of Anubis in 2007 and Rumbo Fijo in 2015. Her belief in her supposed resemblance to Kim Kardashian gave her the confidence to perform under the screen name Romina Kardashian
Details About Her Death
When the sad news broke through on the 7th of January 2016 that Lil Durk's side chick, Romina Garcia who was also known as Romi Kardashian was found dead in her hotel room from an overdose of heroin, it was kind of fishy. The Shade Room reported that Romina's death coincided with the day that Lil Durk released his new video titled My Beyonce.
More to the fishiness, Lil Durk was contacted about Romina's death by an infamous escort Jenna Shae, but his response was very cold and pointed to the fact that he was clueless as regards the identity of Romina.
The obvious question now is, how could Durk claim not to know Romina Garcia when a video of them in bed together exists. However, there are still some die-hard fans of the social media personality who strongly believe that she is not dead, rather she is hiding from her pimps and that her death was a hoax.
Other Facts You Need To Know
The controversial personality of Romina Garcia was and still continues to be a heated topic for most of her fans who find it hard to believe her sad end, however, below are facts about her that are worth knowing:
1. She was a Heavy Drinker
Romina was a heavy drinker who constantly bragged online to her fans that she is in love with Henny and Cuervo, but her choice drink is a mixture of tequila and cognac. It is speculated that her love for strong drinks might be because she likes to party with hip-hop artists and many of them love the Hennessy brand. Romina swore that she could finish a bottle of Hennessy with a lot of tequila and still be capable of standing straight and walking in a straight line.
 2. She Allegedly Stole Another Lady's Man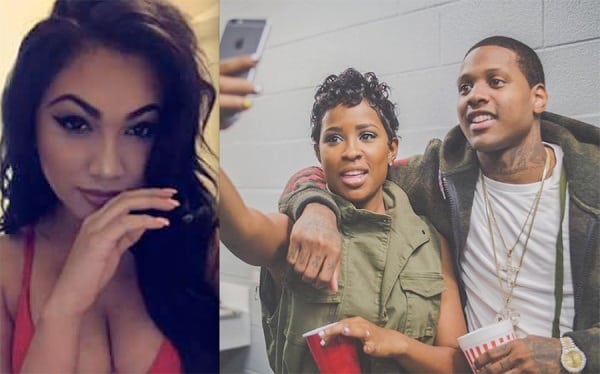 From all indications, the social media personality is notorious for stealing other women's boyfriends, otherwise, what would you say she was doing photographed in bed with Lil Durk a hip-hop artist who was then in a relationship with rapper Dej Loaf. However, for Lil Durk, dating two women at once is not unusual since the hip-hop scene is notorious for having side chicks, but Romina went as far as calling out Dej Loaf in her bedroom post with Lil Durk which was the real snag.
3. Online Tribute
After her ostensible demise, her fans put up an online tribute for the internet sensation who did nothing but piss a lot of people off. Even though she has been gone for a while now, the internet communities still insist on showing off her videos, some even claim that she did not die, while some claim that she is probably in hiding perhaps to keep away from her pimps
4. Some Think she was a Parody
Some people actually believe that Romina Garcia was nothing but an internet troll whose sole purpose was to satirize the life of a spoilt valley girl. That would definitely reduce all her stupid ideas and baseless claims to mere jokes.
5. Romina Lacked Respect for her Fans
For someone who achieved fame and popularity through her massive following on social media, Romina didn't seem to appreciate her fans at all. Even though she says that she loves her fans, her videos were suffused with insults to her fan base. Maybe it goes to buttress her philosophy that abuse means love, but one thing is clear, her entire following on the internet was just one big abusive relationship.
6. Adult Fun
It is on record that the internet personality seriously considered going into porn. Spending a better part of her time directing her fans in some pretty mature videos was a way of dealing with what she wanted to do but couldn't since her mother is active on social media and she was averse to disrespecting her mom.