Thomas Sanders is a popular social media personality, singer and actor. He began on Vine and became active on YouTube after Vine was shut down. He was known as Foster_Dawg on Vine mainly posting songs, comedy and pranks. He has won three awards and was nominated for a Teen Choice Award. In 2016, he released an album and a single in 2017. Thomas has co-hosted a special edition of the Disney XD show, Walk The Prank and other self-acclaimed shows on his channel.
Bio (Age, Ethnicity)
Thomas Sanders was born Thomas Foley Sanders on April 24, 1989, and his star sign as Taurus. Born and raised in the United States, Gainesville, Florida to be precise, Thomas has three siblings; Patrick and Christian, who are eight years older than him and Shea, who he is elder to by two years. He is of Irish descent and from a family of devoted Catholics. He attended an unnamed high school in Gainesville and later graduated from the University of Florida with a Bachelors degree in chemical engineering. He was initially known for his popularity on Vine where he commanded about 8.3 million followers, posting comedy videos, pranks and videos of him singing.
Thomas started his Vine account as Foster_Dawg, naming it after his dog but would later change it to his real name. He posted his first video on Vine in 2013 portraying Stewie Griffin in the Family Guy. The video went viral and his popularity began growing from then onwards. As a teenager, he began to harbor the ambition of becoming a musician and actor and has worked really hard playing characters in his community theatre and finally released an album in 2016. On YouTube, he has about 2.4 million followers but the figure is dwarfed in comparison to his followership on Vine because he just recently became active on his YouTube channel following Vine's shutdown in January 2017.
Read Also: Erika Costell Bio, Relationship with Jake Paul, Age, Height, Wiki, Net Worth
In 2014, he was awarded the favourite Vine celebrity. In 2016, he again won Streamy Awards for the Viner of the year and made the best YouTube comedian. He has featured other stars such as Dodie Clark, Lily Singh and Grace Helbig on his channel. He is hugely into music and acting as he plays at the community theatre and regularly performs in any local function. While on Vine, his most popular 'vines' were; Story Time, Shoutout Sunday and Pranks with Friends. On YouTube, Thomas regularly posts series like "Sanders Sides", live broadcasts, short films and comedy clips.
Sexuality – Is Thomas Sanders Gay?  Boyfriend
Thomas' sexuality is one part of him his fans are always eager to know. Some believe he is not gay, while others believe he is bisexual because he said both genders are great, but he cares more about a person's personality than gender. In 2017, Sanders opened up about his sexuality stating that he is gay and he was often confused as bisexual because of the characters he plays in his videos but he isn't. Information about his relationship status is unknown.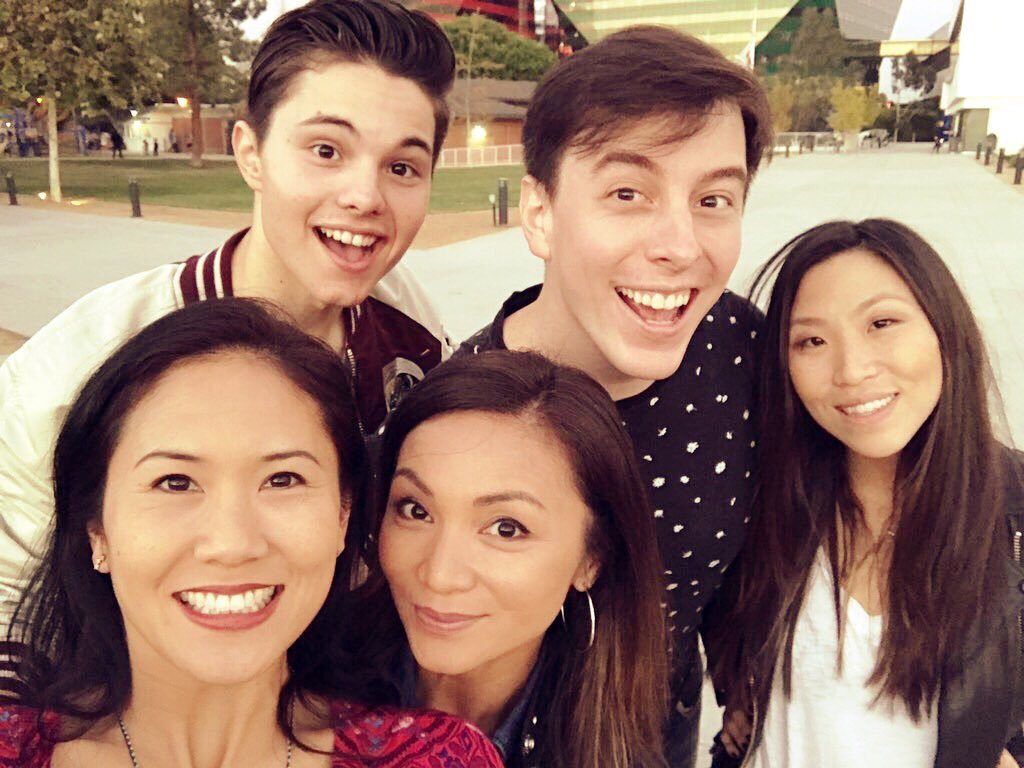 Height, Body Stats and Measurements
Thomas Sanders is a grown man in his prime and enjoys a lucrative career working in his neighborhood theatre and YouTube. He is a man with an average build, and his body measurements are 39-20-14 all in inches (chest-waist-biceps). He weighs 180 lbs and has brown hair. For height, Thomas is 5ft 10in tall.
Did You Know These Facts About Thomas Sanders:
Thomas Sanders stated Vine as Foster_Dawg. Foster being the name of his first dog
He is gay, not bisexual
Although he is quite successful in the social media world Thomas ambition is to become an actor and he is still regularly working at it with his regular plays at his community theatre and on his YouTube Channel.
Thomas is the third of four children in his family and they are all boys
Before his success on Vine, Thomas took up a job in an engineering firm after college but dropped it when success came calling with Vine.
Thomas has about 2.4 million subscribers on YouTube, 1.7 followers on Instagram, Snapchat and Twitter.
He earns about $3 million annually off YouTube
Thomas is applauded for his ability to effectively mimic anybody with his favorite character as Stewie a one-year-old animated genius from "Family Guy"
Thomas has been deeply involved in musical theatre like Into The Woods, The Producers an-+
PD Heathers; The Musical and has travelled to 17 states within the United States and Canada starring his own musical group, The Ultimate Storytime.
Thomas started a series on YouTube known as Sanders Side. The series addresses questions like how to deal with procrastination, anxiety, breakup, adulthood and responsibility. Thomas runs the show with other personalities such as; Prince Roman, Patton, Virgil, and Logan.
Thomas is a bass singer and always sings in his Vines and YouTube videos, even on his other social media platforms