What is GeorgeNotFound's height? GeorgeNotFound stands at a height of 5 feet 8 inches (1.73 m) and is 26 years old. He was born on November 1, 1996 in London, England
It takes most people years to achieve viral fame, but the likes of GeorgeNotFound have been able to do so in just under two years. From posting his first videos and getting a couple of thousands of views in 2019, the British gamer has grown to become one of the most notable Twitch streamers in the world. Known for his expertise in Minecraft, GeorgeNotFound is not letting his feet off the throttle anytime soon but continues spicing up things by taking part in several viral challenges.
He and his friends are known to go to extreme lengths to create some breathtaking challenges of their own. The British gamer and his pals are also not above making fun of each other, and one particular point they have often teased GeorgeNotFound about is the issue of his height. As we shall find out, he may not be a giant, but he is certainly not short either.
How Tall is GeorgeNotFound?
GeorgeNotFound stands at a height of 5 feet 8 inches (1.73 m). Although GeorgeNotFound has never come out to disclose his height, one of his pals and fellow popular streamer, Dream, has done the honors by obtaining his measurement using his iPhone. For those who do not know, there are certain categories of iPhone 12, namely the iPhone 12 Pro Series and the 2020 iPad Pro models, which have a lidar sensor that makes it possible to accurately measure someone's height while they are standing or even sitting down. Dream has one of those and one day while streaming with GeorgeNotFound, he utilized his phone to measure his pal's height. The measurement revealed that GeorgeNotFound is 5 feet 8 inches or 1.73 m tall.
The British streamer jokingly disputed this by claiming that he was 6 feet 2 inches tall but it was obvious that the phone had been accurate. GeorgeNotFound's height of 5 feet 8 inches means that he is certainly not a giant but he is not too short either when compared to his countrymen.
Statistics have it that the average English man is 5 feet 9 inches tall which means that GeorgeNotFound is only 1 inch shorter than most of his countrymen. This is also the same situation across the pond in the U.S. where statistics show that the average American man is also 5 feet 9 or 1.75 m tall.
How Old is the Popular Twitch Streamer?
The Twitch streamer was born George Henry Davidson on the 1st of November 1996, and is 26 years old. He hails from London, England, and prior to delving into streaming full-time, he completed a university degree in computer engineering. He then started by posting Minecraft videos on YouTube before moving on to Twitch.
GeorgeNotFound was able to garner viral fame thanks to his willingness to embark on several challenges connected to his favored game. One of his most popular videos involved getting shocked by an attached electric collar whenever he suffers a damage while playing. He has also filmed hot tub streams and an ice tub challenge.
The ice tub challenge involved fellow YouTubers, Dream and Sapnap, and saw the Londoner playing Minecraft while sitting inside a tub filled with about 500 pounds of ice clubs. Whenever he lost, more cubes were piled into the tub while a victory saw him get some water to relieve him from the pain. The challenge, without doubt, set Twitter alight and is a perfect example of what has propelled GeorgeNotFound to viral stardom. The Englishman now has more than 8 million subscribers on Twitch. His followings on YouTube, Instagram, and Twitter also run into millions. GeorgeNotFound has also won several Minecraft championships and has a thriving merch line to his name.
The gamer's career has not been without hiccups though as his account has been banned severally. Ironically, the ban is not due to any overt transgressions but complications arising from his name. His main account has the handle GeorgeNotFound while his alternate account is titled ThisisNotGeorgeNotFound. Twitch principles interpreted this alternate account as an account set up to troll his main account and thus banned it. This ban also extended to his main account, as a result of Twitch's suspension evasion rules, but he was able to sort it out and regain his account later.
Who is Taller Between GeorgeNotFound and Dream?
Anyone who follows ongoings in the Twitch community will know that GeorgeNotFound and Dream are frequent collaborators. Dream also specializes in Minecraft and is popular for his series, Minecraft manhunt and speedrunning Minecraft. His dexterity has seen him accumulate millions of subscribers across seven channels. His views also run into billions. Dream has recently faced backlash as a result of cheating allegations but he has blamed this on mods which he had no idea led to increased drop rates.
When it comes to Dream's height, there are multiple figures out there and one reason for it may be the fact that the streamer never reveals his identity. Nevertheless, a deleted Tweet of his put his height at 6 feet 4 inches or 1.93 m while some other sources put his height at 6 feet 2 or 6 feet 3 inches. Whichever it is, one thing that is certain is that Dream's height hovers in the 6 feet region which makes him taller than his friend, GeorgeNotFound.
GeorgeNotFound or Sapnap: Who is Blessed with More Height?
Another good pal of George's who is also taller than him is Sapnap. The American streamer is 5 feet 10 inches tall which makes him about two inches taller than his good friend. Luckily, both men have not allowed the fact of a few inches get in the way of fruitful collaborations. Sapnap also continues to thrive individually with his account blowing up in just under two years thanks to various Minecraft challenge videos such as Minecraft but Our Damage Is Shared, Minecraft but Half the World Is Missing, Minecraft but Mobs are Randomly Hostile, Minecraft but the Speed Rises Every Second, and Minecraft but We are all Color Blind.
Is GeorgeNotFound Taller than BadBoyHalo?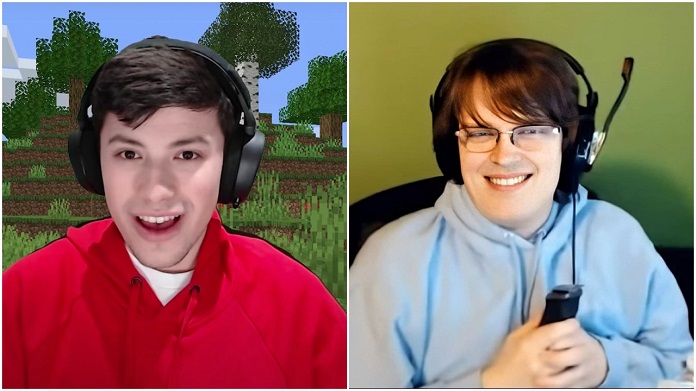 BadBoyHalo is also another Minecraft specialist who is part of the Dream gang. The American YouTuber mainly posts content consisting of Minecraft videos. He has also been known to delve into the realm of storytime clips. The issue of BadBoyHalo's height is quite controversial. He has stated that his listed height on his driver's license is 5 feet 9 (1.75 m) but that he is actually 5 feet 8 inches (1.73 m). Some of his peers disagree and have stated that he is 5 feet 6. Of course, these people may just want to tease him and so, it is better to rely on his own assertions. Going by those assertions, it means that he and GeorgeNotFound are of the same height.