Hollywood couple Patrick J Adams and Troian Bellisario both have an estimated net worth of $10 million each even though Patrick has appeared in more movies than his wife.
Patrick J Adams is a Canadian actor who shot to fame playing the role of a smart fraud lawyer, Mike Ross, in the USA Network hit legal drama, Suits. He is also a film director and an avid photographer. He has proven his versatility in the industry as many of his performances have been met with rave reviews.
His career resume, level of fame, and wealth he has acquired indicate that Adam has come a long way from the days he was a student studying acting at the University of Southern California. His wife Troian Bellisario studied fine arts at the same institution and they are now both celebrated figures in Hollywood. Patrick only became a professional actor in 2001 but Troian has been an actress since 1988 when she was three years old.
Her career has earned her coveted gongs like the Teen Choice Awards and Young Hollywood Awards among others. Albeit not as much as his wife, Adams has received a few awards like the Bucharest ShortCut Cinefest Award for Best Actor which he won in 2021 for his role in "Three Days Gone: Based on the Life of Lucas Snow (2020).
Many years earlier (in 2012), his role in Suits earned him a Screen Actors Guild Awards nomination for Outstanding Performance by a Male Actor in a Drama Series. Patrick J Adams and Troian Bellisario have been married for many years and apart from prying into their private life, people have had the need to compare their net worth and career attainments.
Patrick J Adams and Troian Bellisario's Net Worth $10 Million Each
Patrick J Adams was born on the 27th of August 1981 in Toronto, Ontario, Canada to Rowan Marsh and Claude Adams. His father is a journalist and Adams attended Northern Secondary School, a public high school in Toronto. Unfortunately, Adams' parents divorced while he was a teen and as a result, he decided to relocate to Los Angeles at the age of 19. In LA, Adams attended the University of Southern California from where he earned his Bachelor of Fine Arts. Adams was one of the most outstanding students at the school and as a result, was a recipient of the Jack Nicholson Award in 2004.
Patrick J Adams began his career a year after landing in Los Angeles. He began first on stage and worked on Edward Albee's production of The Goat (or Who is Sylvia?) which was played at the Mark Taper Forum. Adams began his screen career by appearing in short films and TV shows. He had small parts in popular TV shows like Numb3rs, Friday Night Lights, Without a Trace, Lost, NCIS, Ghost Whisperer, and more. All of these roles prepared him for the co-lead role of Mike Ross in Suits which became his much-needed breakthrough. Patrick J Adams left the show at the end of its 7th season. But by then he was already a multi-millionaire.
The story is different for his wife Troian Bellisario, she was born in Los Angeles on the 28th of October 1985 to parents who are popular figures in Hollywood. Her mother Deborah Pratt is an actress and TV producer and her father Donald P. Bellisario is a celebrated producer admired for creating popular series like NCIS, Magnum, P.I., JAG, Quantum Leap, and much more. Considering who her parents are, it is not difficult to see how Troian became a part of the acting business when she was three. She has remained active in the industry since then and is best known for playing Spencer Hastings in Pretty Little Liars.
Thanks to the many roles they have played since their acting careers took off, Patrick J Adams and Troian Bellisario have a combined net worth of $20 million, $10 million each. And as you would soon learn, they didn't make all of that from what they have thus far earned for portraying various characters. The couple has also made money through other means in the industry.
Patrick J Adams and Troian Bellisario's Net Worth Come From Directing and Producing Several Projects
Paychecks from acting roles are the biggest contributors to Patrick J Adams and Troian Bellisario's net worths. Adam's highest paying acting gig since the start of his career, or at least as of this writing, is Suits. He earned at least an estimated $50,000 per episode of the show. For Bellisario, it's Pretty Little Liars. Based on what has been reported on various platforms, she earned as much as $42,000 per episode of the series.
Beyond giving life to characters in various small and big-screen projects, the couple has also directed and produced several projects which have added a significant amount to their net worths. As a producer, Adams produced no fewer than 78 episodes of Suits. He first co-produced 16 episodes between 2013 and 2014; and produced 62 episodes between the latter year and 2018. In 2017, he produced eight episodes of Pillow Talk, a television series that starred him in a lead role as Ryan. Patrick J Adams is also the producer of the 2018 short film, We Are Here. He directed the short film and also directed four episodes of Suits between 2015 and 2017.
Also a director and producer, Troian Bellisario has produced shorth films like Exiles, We Are Here, Like Turtles, and the 2017 feature film, Feed. Her works as a director include a 2017 episode of Pretty Little Liars, a 2018 episode of Famous in Love, the short film Life on Mars, and three episodes of Good Trouble which she directed between 2019 and 2021.
They Equally Earn from Screenwriting
Various factors determine what a screenwriter makes, but for writers who are members of the Writers Guild of America, the average pay is estimated to be around $110,000. With that, one can assert that Patrick J Adams and Troian Bellisario have made a significant sum from screenwriting. This is especially true for Troian who wrote the scripts of productions like Exiles, Feed, We Are Here, and Like Turtles.
The Suit actor is also a scriptwriter but to the best of our knowledge, he only has one credit in this regard – for the short film We Are Here. What the couple has made from scriptwriting may not be known to the public but it has contributed to their wealth.
Who Has a Longer Filmography Between Patrick and Troian?
Patrick J Adams and Troian Bellisario have both spent decades in the movie industry and have featured in dozens of small and big screen projects. But while Patrick became a part of the industry as an adult at the age of 20, his wife has been a member almost all through her life. As stated earlier, she began acting when she was three. Considering this fact, one might quickly conclude that Troian has a longer filmography. But this is not so.
From records of their works available in the public domain, Patrick takes the lead. As of April 2021, he has pulled off 53 acting roles in short movies, feature films, and television series. In essence, he has played 13 roles more than his wife who has 40 credits as an actress.
Troian Has Received More Awards Than Her Husband
True, Patrick has a longer filmography when compared to Troian's, but that does not mean he's more successful and accomplished. For some people, the number of awards a performer has received tells how fruitful their career has been. If we must subscribe to that sentiment, then one would be left with no option but to declare Troian as the most successful among the two.
She has been nominated for no fewer than 15 awards since her career took off and she has won at least seven for them, including two Teen Choice Awards and most recently, the Best Actress in a Short Film Award of the Northeast Film Festival. She received the award in 2020 for her role in Like Turtles. As far as we know, Patrick has only been nominated for two awards: Screen Actors Guild (2012) and the Bucharest ShortCut Cinefest Award for Best Actor. He won the latter in 2021.
List of Their Most Popular Movies 
| | |
| --- | --- |
| Patrick J Adams' Movies | Troian Bellisario's Movies |
| Suits (2011 – 2019) | Pretty Little Liars (2010 – 2017) |
| Luck (2011 – 2012) | Lauren (2012 – 2013) |
| Sneaky Pete (2019) | NCIS (2005 – 2006) |
| The Right Stuff (2020) | First Monday (2002) |
| Legends of Tomorrow (2016) | Tequila and Bonetti (1992) |
| Clara (2018) | Suits (2014 – 2015) |
| Room for Rent (2017) | Where'd You Go Bernadette (2019) |
| Car Dogs (2017) | Clara (2018) |
| Rage (2009) | Feed (2017) |
| Weather Girl (2009) | Martyrs (2015) |
| 2:13 (2009) | C.O.G. (2013) |
| Extreme Movie (2008) | Peep World (2010) |
| Christmas in Boston (2005) | Billboard Dad (1998) |
| Old School (2003) | Last Rites (1988) |
Work Brought Patrick J Adams and Troian Bellisario Together In 2009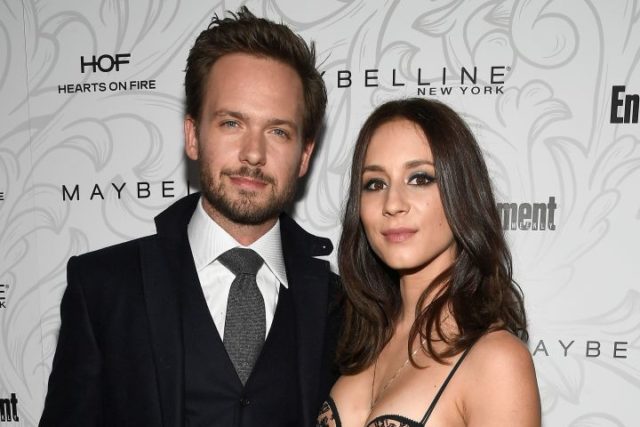 Somewhere deep down in the hearts of Suits fans was a wish that Patrick Adams and Meghan Markle would tie the knot in real life, just like their characters in the series. However, when they didn't, the fact that they looked equally adorable with their real-life flames helped with the heartache.
While Meghan to the surprise of us all went on to marry Prince Harry, Adams kept it simple and married a fellow entertainer, actress Troian Bellisario. Unsurprisingly, how the couple met and the circumstances surrounding the beginning of their relationship has been a subject that piques the interest of many.
Well, like most Hollywood couples, it was work that brought the two together. Patrick J Adams met the love of his life in 2009 on the set of a play titled Equivocation. This was before they both got their big breaks in Suits and Pretty Little Liars. As the story goes, Troian was cast to play a character to whom Adams' is romantically attracted. They got talking, became friends, and were soon romantically involved with each other as well in real life.
Troian Broke Up With Patrick One Year Into The Relationship But He Won Her Back
The couple split about a year they began dating. Based on what Patrick would later divulge, it was Troian that ended the relationship. The Suits actor wanted her back, so when he got an invite to audition for her show, he decided to use it as an avenue to win back the love of his life. His plan worked as Adams reunited with Troian after he was cast in a guest role in Pretty Little Liars; this was in 2010.
Patrick J Adams and Troian Bellisario resumed dating and soon developed a yearly tradition of holding what they called a Fort Day. It began a certain day Adams invited Bellisario over so they could relax in a pillow fort that he had built. The couple would later choose Fort Day for the hashtag for their wedding and took turns explaining the hashtag on their Instagram pages.
Roughly three years after they resumed dating, the couple showed that they have plans to spend the rest of their lives together. On their Fort Day of 2013, they bought their first house together. According to Bellisario, Adams asked her to become his wife that same day, and she accepted. But then, the public didn't know they were engaged until February 2014 when it circulated they were getting set to get married. Neither of the two confirmed or dismissed the reports but Bellisario was seen wearing a diamond ring and that was all the confirmation people needed.
The Hollywood Actors Got Married In December 2016
A few years after they got engaged, Patrick J Adams and Troian Bellisario walked down the aisle. The wedding was held on the 10th of December 2016 and was indeed a fort day as it featured a camp theme. Guests arrived at the venue two days to the wedding day and camped out on white tents set by the beach.
Per Popsugar, Patrick J Adams wore a navy Ralph Lauren suit while his Mrs looked pretty in a flowing dress by Cortana and a tiara by Amaroq. Based on what the couple has been sharing on their social media pages, theirs have been a happy marriage. Adams has grown deeper in love with his wife as much as she adores him.
After they got married, the couple purchased their four-bedroom, six-bathroom Los Feliz home in Los Angeles. It was reported that they parted with $3.89 million to own the 3,900 square-foot property in 2017. On the 8th of October 2018, Patrick and his wife welcomed their first child together, a daughter named Aurora Adams.
Key Take-Aways
Patrick J Adams and Troian Bellisario have a combined net worth of $20 million, they are both worth $10 million each.
Acting is the major source of their wealth but they also make money from producing, directing, and scriptwriting.
Patrick became a professional actor in 2001 at the age of 20 but Troian has been acting since she was three.
The Suits actor has a longer filmography but his wife has won more awards.
The couple met in 2009, got engaged in 2013, got married in 2016, and welcomed their first child together in 2018.