At first, the idea of making a career out of YouTube sounded awkward to Marina Joyce but watching Sam Pepper's videos put great ideas in her head and she decided to give it a shot. Subsequently, her eccentric personality endeared her to numerous fans who always come back for more of her catchy eye makeup tutorials and innovative dress-up videos.
She became a YouTuber in August 2010 and so far, she has built a strong fan base that consists of more than two million subscribers. The British internet sensation has endeared herself to her fans by always sending out words of encouragement about not giving up as a result of a bad situation. This kind of explains why her fans swung into action when they thought she was going through hard times. While some speculated she has been kidnapped, others opined she is struggling with drugs. Let's set the record straight as you keep reading.
Who Is Marina Joyce?
Beyond her glittery eye makeup and fancy dress-up sessions, there are several other interesting things to know about the YouTube sensation. On the 1st of February 1997, Marina was born in North London, England, and was named Marina Rose Iris Alice Louise Joyce at birth. Her family background is not much of a public affair but we gathered that Cheryl Joyce is the name of her mother and her father is missing from the picture. Marina has two siblings named Elliot and Antony.
While there are no available details about her educational background, Marina has always been open about her encounters with bullies in school. Her personality was the main reason why she was targeted and this made her lead a lonely life. But in true Marina style, she never let the downsides pull her down, she found a way to be happy against all odds. She further used the opportunity and popularity she has on YouTube to educate her fans on how to stay happy and cheerful even when life throws lemons your way.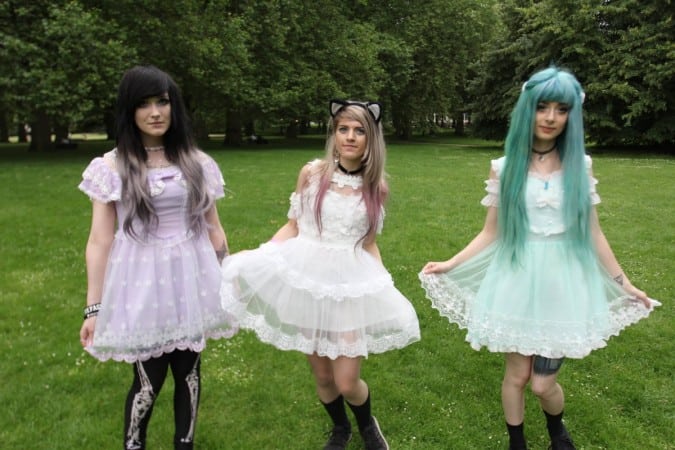 She initially used YouTube as a safe haven where she can pass some time before the positive vibes she got from popular British YouTuber Sam Pepper made her see a future a career on the platform. Her channel iRaindropsx was created in August 2010, however, her first video upload came a few years later, precisely on July 31, 2012. Her debut video dubbed Bathroom Vlogging? introduced her as a 15-year-old with an eccentric and bubbly personality. This won the hearts of viewers who kept coming back for more of her uploads which she kept rolling in. Her videos focus on everything beauty and fashion, her first makeup tutorial was uploaded with the title – Super Long Eyelashes Makeup Tutorial. The video was a hit and increased her popularity on the platform.
Her channel now boasts more than 2 million subscribers with a lot of versatile videos that say volumes about her creativity. Videos like Types of kids at school, 10 lazy things we all do, How to make a boy fall in love with you can be seen on her YouTube channel. She basically touches on different aspects of everyday life and that makes her work stand out from the pack.
Read Also: Tiffany Del Real Bio, Age Height, Net Worth And Family Life Of The YouTuber
Is Marina Joyce Dead, Was She Really Kidnapped?
In 2016, internet users expressed their concern when the British vlogger appeared to have shown a sudden change in the way she talks during her video sessions. As a result, she became a trending topic on social media with fans suggesting she may have fallen victim to kidnapping or may even be under the influence of drugs. Social media detectives swung into action, leading to the hashtag #SaveMarinaJoyce hogging the trending lists in the bid to solicit for help for the supposed troubled star. A particular episode on Twitter saw users scrutinise Marina's video on Date Outfit Ideas where they claimed she appeared to be filming the video under duress, in other words, a kidnapper was somewhere behind the camera and that explains her uneasy movement during the video and some bruises that she had on her hand.
Notwithstanding the speculations making the rounds, Marina later intervened to clear the air. She reassured all the people who were concerned about her safety, saying she's absolutely fine. According to her, the bruises were a result of a fall in the forest. Apparently, she didn't encounter any kidnapping and wasn't struggling with drug overdose or anything relating to them. It was later confirmed by the police that Marina Joyce is alive and well.