Have you ever thought about why Mandi Gosling is famous even though she is not a Hollywood superstar or someone who is well-known in the entertainment industry? Well, she has her brother – Ryan Gosling – to thank for her immense popularity within and outside the movie industry.
For so many years, Mandi has walked the red carpet of several star-studded events with her actor brother and this explains why she metamorphosed to a household name in showbiz. The first time she was spotted with her brother on the red carpet, her presence left many tongues wagging, with so many online users questioning who Ryan's 'mysterious busty date' was.
The blonde beauty has always been at her brother's side. As far back as 2006, the two attended the Gotham Awards and ever since, they have made it together to several celebrity-packed events including the Screen Actors Guild Awards in 2008 and recently the 2017 Oscars Awards, where her presence, once again, led to many asking about Eva Mendes' whereabouts. Eva is Ryan's long-time partner and the mother of his kids.
Mandi Gosling is not always in front of the camera like her brother but she is quite unique in her own right and way. You'll get to know her more in this piece.
Who is Mandi Gosling – Ryan Gosling's Sister
As we mentioned earlier, Mandi is Ryan Gosling's sister. She first came to the attention of a mainstream audience after she stepped out on the red carpet with him some years ago. She was born on January 1, 1977, to Thomas Ray Gosling (father) and Donna Gosling (mother) in Canada.
Her father was a traveling salesperson for a paper mill while her mother worked as a secretary who later became a high school teacher in 2011. Her parents, who were Mormons, are of mixed race – English, Irish, Scottish, and French-Canadian descent.
While growing up, she moved to different cities along with her younger brother (Ryan) due to the nature of their father's work. Some of the cities she lived in include Ontario, Burlington in Ontario, and Cornwall.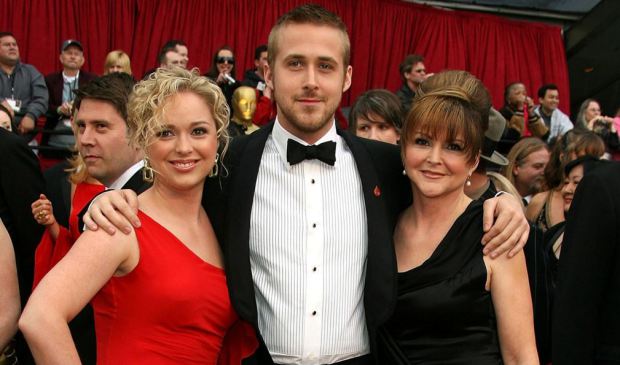 Mandi's parents got divorced when her brother was 13 years old. This ugly development led to her helping her mother to raise her brother. As Ryan would always admit, Mandi and his mother really helped in shaping his life and making him 'think like a girl'.
Regarding her education, she studied at California State University, Northridge and graduated with a degree in journalism and political science in 2011. She is said to have received the Judge Julian Beck Award as the Most Outstanding Graduate.
Check Out: Yandy Smith Bio, Net Worth, Kids, Who is the Husband? Here are the Facts 
Unlike her younger brother, there's very little information about the beautiful blonde's private life and her absence from social media makes things a bit difficult. However, she shares videos on YouTube once in a while, some of which include solo performances.
Gosling may not have the attention of a wider audience on her side but she sure does a lot of work behind the scenes. If reports online are anything to go by, then we can confirm that she works as a producer on Dateline – thanks to her background knowledge in the theater.
Here's All You Need To Know about Mandi Gosling
1. It appears Ryan Gosling is Mandi's only brother as there's no report about her having any other younger or older sibling.
2. She is a doting aunt to her brother's two little daughters who he had with his long-term partner Eva Mendes. Ryan and Mendes began dating after meeting at the filming of the American crime drama The Place Beyond the Pines. The couple first publicized their relationship in 2011 when they had their first kiss in the public. Their union, which has spanned over six years, has produced two beautiful daughters – Esmeralda Gosling (born on September 12, 2014) and Amanda Gosling (born April 29, 2016).
Although the La La Land star and Mendes share two daughters together, they've not legally tied the knot and are not engaged. But their fans are positive they will say "I Do" someday.
3. Mandi is very close to her brother. She loves the A-lister so much that she's very happy about his success and the strides he has made in Hollywood and in his career at large.
4. The Dateline producer could possibly be single as she is not in any open relationship neither does she have other documented relationships.
5. Mandi Gosling reportedly played influential roles in the production of Pharrell Williams' Grammy award-winning song Happy.