Mandi Gosling is an accomplished producer, theater performer, and singer best known as Ryan Gosling's sister. Mandi Gosling was born in London, Southwestern Ontario, Canada on 1st January 1977 to Donna Gosling (mother) and Thomas Ray Gosling (father).
Mandi's popularity soared after she attended the 2017 Oscars with her younger brother, Ryan Gosling, as his date.
Her appearance at the star-studded event earned her a lot of attention and since then, the public has never lost interest in her. Even though Mandi is not a Hollywood superstar, she has been able to hold sway as one of the most admired ladies in the entertainment circle.
Who is Mandi Gosling?
Full Name: Mandi Gosling
Date of Birth: 1st January 1977
Age: 46 years old
Place of Birth: London, Ontario, Canada
Nationality: Canadian
Ethnicity: Mixed
Education: California State University
Occupation: Producer
Parents: Donna Gosling (mother), Thomas Ray Gosling (father)
Siblings: Ryan Gosling (brother)
Marital Status: Single
Mandi Was Born in London, Ontario 46 Years Ago
Mandi Gosling was born in London, Southwestern Ontario, Canada on the 1st of January 1977 to Donna Gosling, a high school teacher, and Thomas Ray Gosling, a traveling salesperson. She has since gained American citizenship but is of Scottish, English, French-Canadian, and Irish descent.
The young lady began singing at an early age. While growing up, she took singing and ballet lessons and also performed at various stage shows with her brother.
She Helped in Raising Her Famous Brother
Growing up, Mandi and her brother lived in different cities due to the nature of their father's job. Their parents separated when Ryan was 13 years old which led to Mandi helping her mother to raise her brother. The actor once revealed that he was so close to his sister that he was influenced by her attitude as a young boy.
Though the actor has the attention of a wider audience on his side, he maintains a cordial relationship with his sister. Mandi has been very supportive of her brother's Hollywood career from day one. She is also proud of the successes he has recorded so far both within and outside showbiz.
Mandi Gosling Studied Journalism and Political Science
Despite her early singing and acting aspirations, Mandi went on to study journalism and political science at California State University, in Northridge, Los Angeles. She received her Bachelor's degree from the university in 2011 before pursuing a career in show business.  Ms. Gosling now works as a producer with the American TV news magazine, Dateline.
Some of her major works in the industry include Dateline NBC (1992) and Miss Advised (2012). She is also credited for the casting of Pharrell Williams' music video for "Happy" which won a Grammy Award for Best Music Video in 2015.
However, because she lives a greater part of her life away from the media, one cannot tell how simple or how extravagant her life is. Even though she has an estimated net worth of $1 million, Mandi does not flaunt her wealth on social media.
Similarly, she is also mute on details about her love life. Mandi may be single as she has not been linked to any lover both in the past and present. Being a private individual, she has never opened up about her love life. As such, it'd be naive to make any conclusion about her relationship status. It is very possible she has a partner but has decided to keep it a secret.
Other Facts About Ryan Gosling's Sister
Aside from being the sister of a renowned actor, Mandi has got a lot of interesting things going on in her life. The facts below will tell you more about her.
1. Mandi Gosling Is The Godmother Of Ryan Gosling's Children
Mandi Gosling is the godmother of Ryan's beautiful daughters: Esmeralda Gosling (born September 12, 2014) and Amanda Gosling (born April 29, 2016). The actor had the girls with actress Eva Mendes. The pair started a serious relationship after meeting at the filming of the movie, The Place Beyond the Pines. Though Ryan and Mendes have been together since 2011, the actor is yet to pop the question or lead his partner to the altar.
2. She Is No Stranger To The Red Carpet
Mandi Gosling is the queen of red carpets. She has walked the red carpet of award ceremonies on several occasions with her brother. As far back as 2006, the siblings attended the Gotham Awards together. They were seen at the 2017 Oscars Awards, the 2008 Screen Actors Guild Awards, and the 79th Academy Awards.
The blonde beauty often steals the show with her gorgeous looks and stunning dress each time she accompanies Ryan to award ceremonies. Her appearance at the 2017 Oscar Awards did not only earn her wider media coverage, it also increased her popularity and fan base.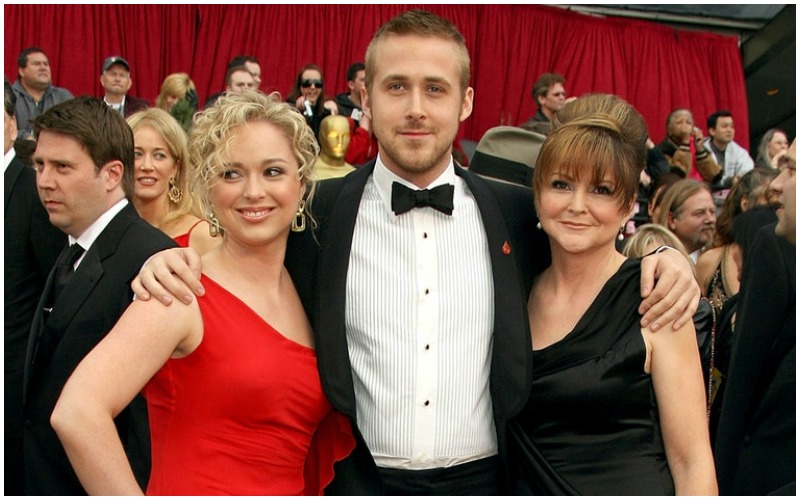 3. She Has Received the Judge Julian Beck Award
Yeah, Mandi Gosling is a recipient of the Judge Julian Beck Award. She won the prestigious award for being the Most Outstanding Graduate of California State University, Northridge in the year 2011.
4. Mandi Gosling Has a Modest Social Media Presence
The assistant producer is present on different social media platforms. However, she is not very active on them. Her YouTube channel where she posts work-related videos has a decent number of subscribers for an upcoming/would-be YouTuber with a couple of videos. On the other hand, her Instagram page still lacks what can be the description of a celebrity with a few hundred followers and the same also goes for her Twitter page. Be that as it may, it can be taken to be that Mandi is not a social media crazy person.
Summary of The Key Facts About Mandi Gosling
Biography
She was born on the 1st of January 1977 and has only one brother whom she is older than by three years
She is an American citizen of Scottish, English, French-Canadian, and Irish descent
Mandi is famous as an Assistant producer and the sister of Hollywood actor Ryan Gosling
Mandi and her brother grew up in London, Canada. They were raised by their mother and her brother confesses that she has greatly impacted his life
Personal Details
Her zodiac sign is Capricorn
She has brown eyes and blonde hair
Mandi is 5 feet 7 inches tall, but her weight is not known
There is no detail about who she is currently dating (if any). She is not married, and she does not have any child
Social Media Profile